Hmmm . . . where were we? Oh, yes!
HERE!
So then, amazing authors and illustrators, editors and agents, were EVERYWHERE. It was as if they had all converged at at the
SCBWI Conference
, although some behaved better than others.
Here's three time Newbery Honoree, and this year's Golden Kite winner for fiction,
Jenni Holm
and her friend having some quality quiet time (inside and outside) . . .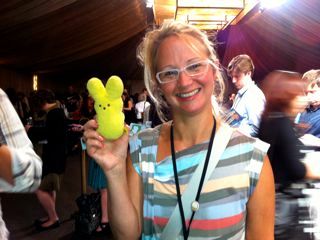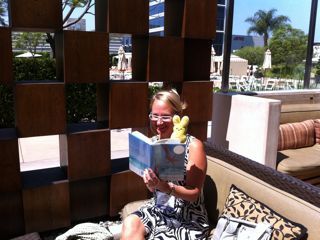 Sadly, the same cannot be said of Printz winner
Libba Bray
and her husband/agent
Barry Goldblatt
. I believe they were discussing who's turn it was to do the dishes . . .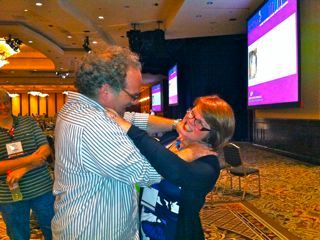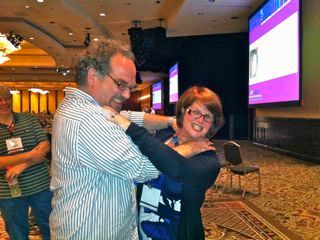 Luckily for all, they remembered there were no dishes to be washed and they made up rather nicely . . .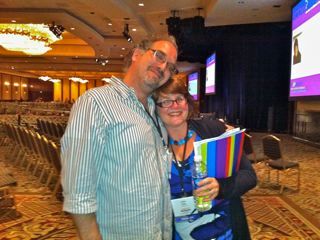 Peepy was thrilled to see author, friend, and NPR Wait Wait . . . Don't Tell Me producer
Emily Ecton
. (Here's what happened when I
went to one of the shows.)
Anyway, Peepy begged to be on the radio, but her audition did not go well.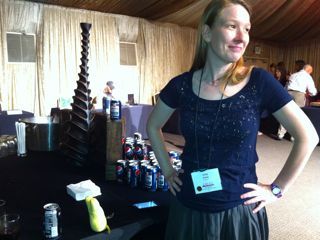 We crashed an illustrators social and observed them running around the room waving cards in the air. Speaking of illustrators, we ran into our friend and sorta neighbor
Lisze Bechtold
. . .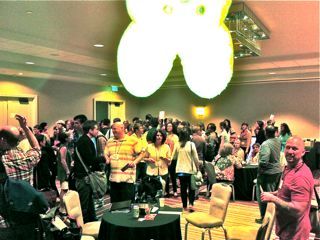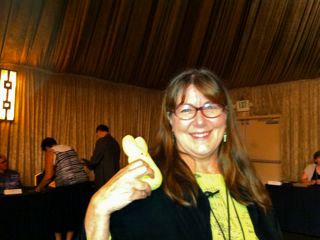 The illustrators' portfolio review yielded some marvelous talent. Here's the room while the judges were doing their thing . . .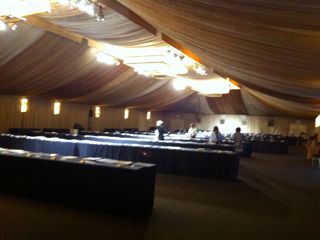 Lin Oliver
interviewed Judy Blume
, and we were all laughing and crying and in in awe of Judy . . .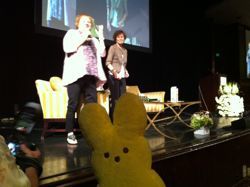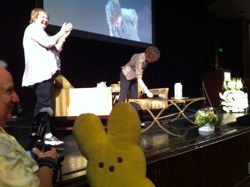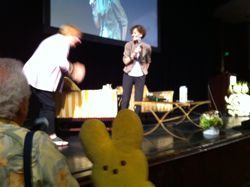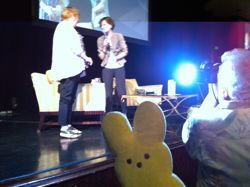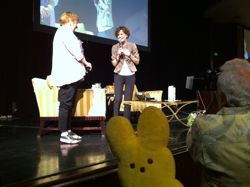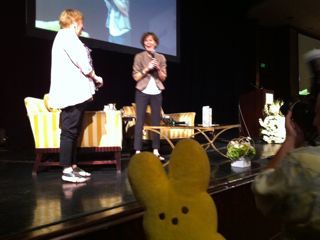 Arthur Levine, my editor extraordinaire, celebrated the 15th Anniversary of
Arthur A. Levine Books
with a lunch (and dessert) with his authors who were attending the conference. Look! It's his summer intern,
Bobbie Pyron
, me,
Arthur
,
Greg Pincus
,
Mike Jung
,
Martha Brockenbrough
and
Dan Santat
. . .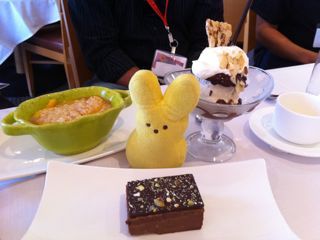 The bookstore did a brisk business, especially since all the authors and illustrators were on hand to sign their books . . .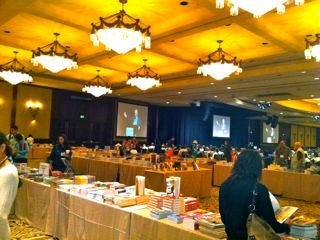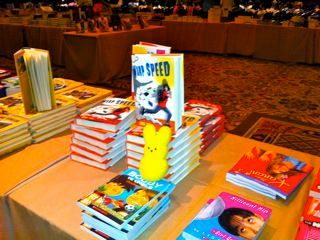 Well, hey! It's
Ellen Hopkins
! And look,
Sarah Davis
who illustrated my American Girl
KANANI
books was there, too!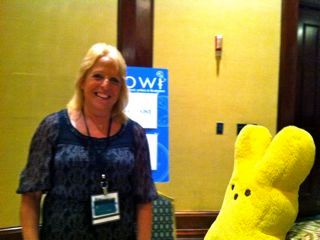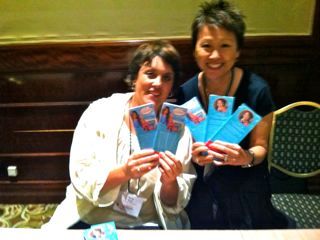 Why, there's
Norton Juster
with
Peepy!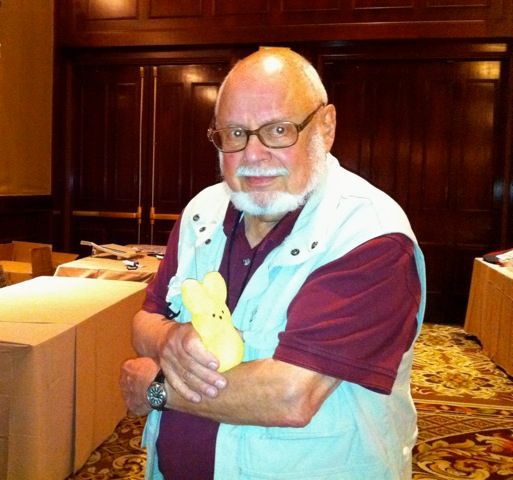 Illustrator
Ken Min
asked me to draw
Spock ears
when I signed his copy of
WARP SPEED
. And later, I was so busy yapping to someone that I spelled my name wrong . . .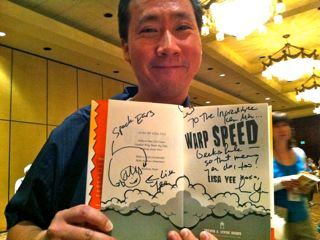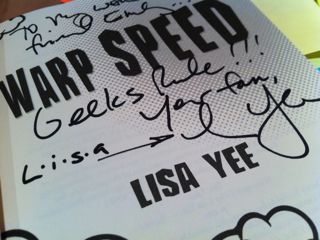 The
Gotham Group
had a party and we were invited!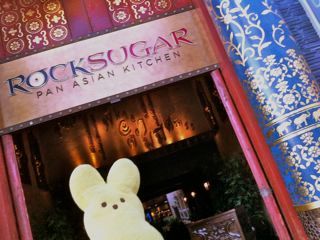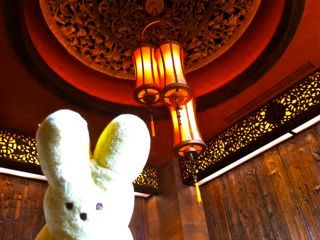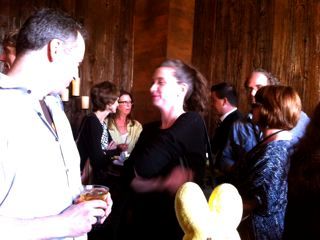 From there, we went directly from that party to another --the SCBWI 40 Winks gala . . .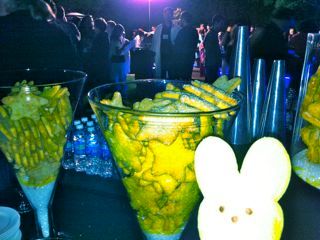 We saw
Linda Sue Park
(who dresses the same day and night),
Jim Averbeck
(who sleeps in his underwear) and
Jay Asher
(who dresses like a bunny at night) . . .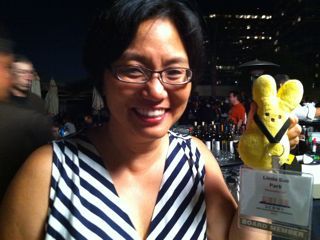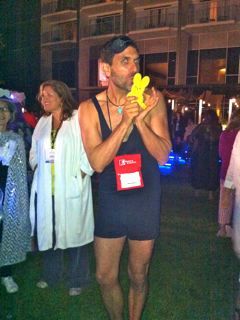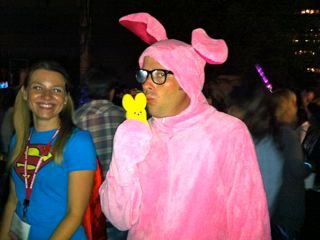 Sara Etienne
was a wild thing, and
Tina Nichols Coury
channeled her inner tooth fairy, plus we saw Winkin, Blinkin and Nod, Goodnight, Gorilla, The Princess and the Pea and others . . .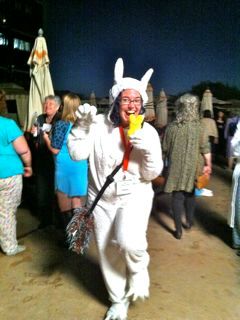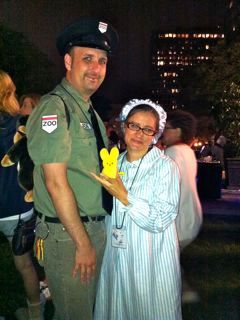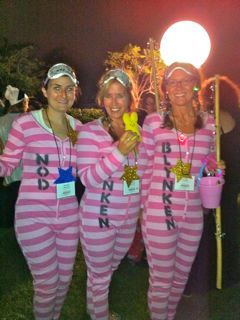 It was a blast introducing Emily Ecton and agent
Brenda Bowen
. Earlier this year Brenda was on Wait Wait . . . Don't Tell Me and Emily had produced the show --- but the two had never met in person before!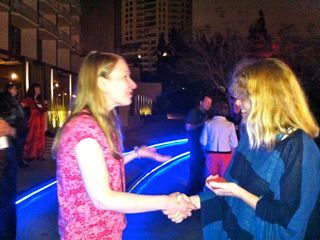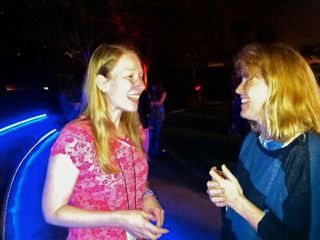 Much more went on, and we'll blog about that soon. In the meantime, here's Peepy and
her friend Henry Winkler
. (He wore yellow in her honor.)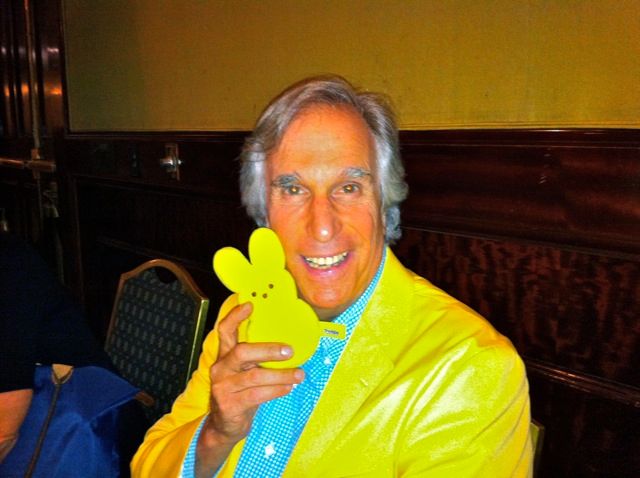 Disclaimer: No proofreaders were harmed (or even used) in the creation of this blog.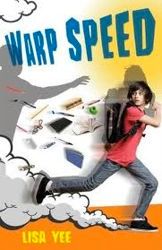 CLICK HERE
to find out about Lisa's newest book, WARP SPEED!!!
Lisa Yee
Subscribe to Lisa Yee's Blog and get her fresh baked blogs e-mailed to you!

Or you can click this for a RSS feed...
Because of an excessive amount of stupid annoying spam, I have disabled all comments. However, you can contact me via my website by
CLICKING HERE