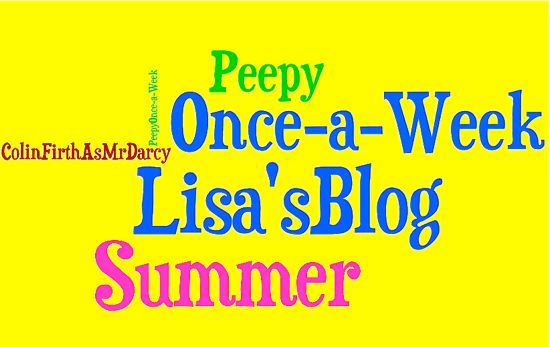 It's that time of year again. Yes, the American Library Association Conference, hence to be known here as
"ALA."
The last time we were at ALA
this happened
and
that, too
. . .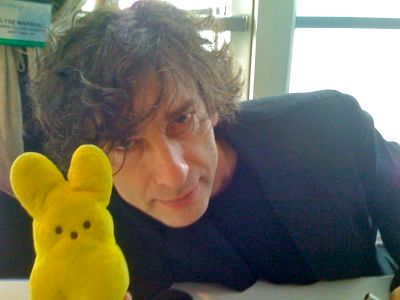 This year it was in Anaheim. We know, because we braved the LA traffic to get there . .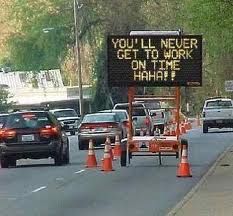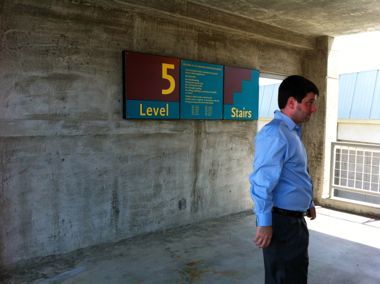 (Disclaimer: I don't know the man in the photo. I took the picture to remind myself where I parked.)
As soon as we arrived, we ran into our friend, illustrator
Ken Min
. Luckily, he wasn't hurt. Then we went to registration, where we had already been stered in advance . . .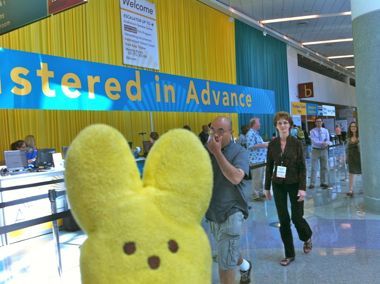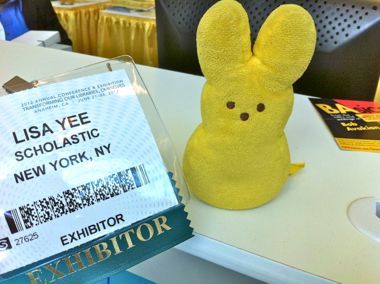 (The badge lists where the company is from, not where you or I are from.)
We met Rob Bittner,
our Guardian Angel
, for lunch. Because he's from Canada and I'm from the USA, we ate lunch at the International House of Pancakes . . .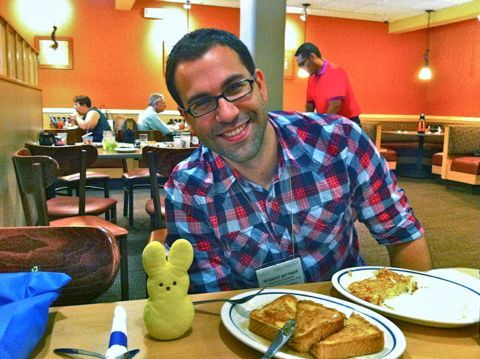 After breakfast, which we ate for lunch, it was time to explore! The convention floor was crowded with people and books and librarians and books . . .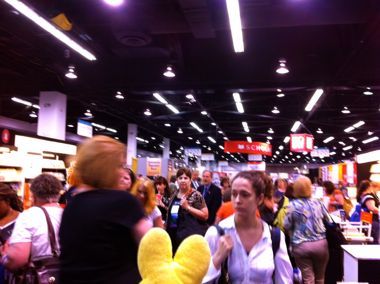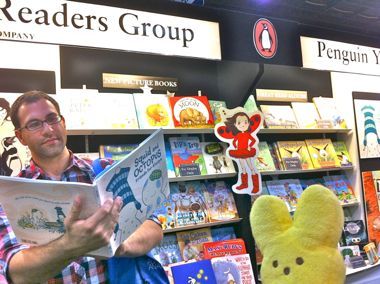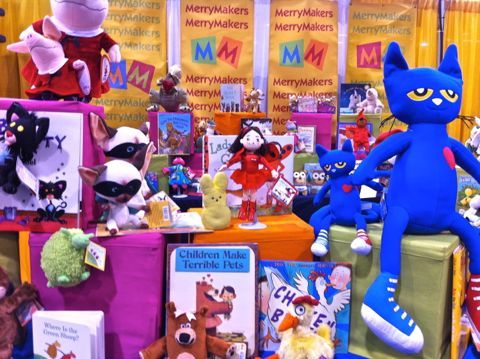 Look! It's librarians!!! Here's the bloggeful
Betsy Bird
, and there's note-y
Travis Jonker
. . .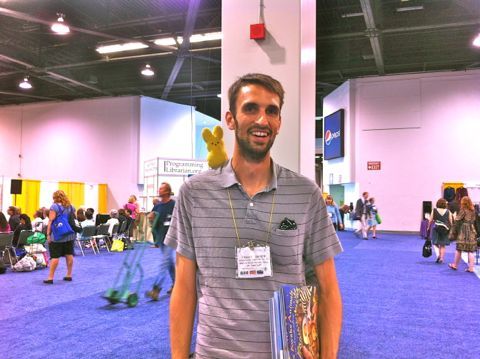 Authors were everywhere, too. Hello, bestselling authors
Marie Lu
and
Melissa de la Cruz
!
Peepy
was relieved that six-time Emmy winner turned author/illustrator
Mo Willems
wasn't (too) mad at her. Especially because she's
his replacement
. . .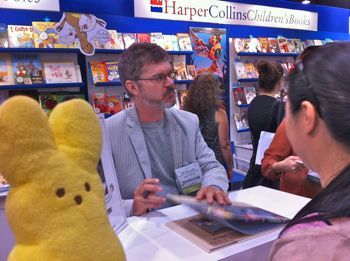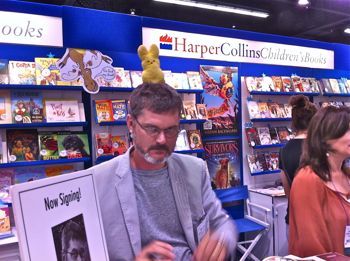 At Scholastic we saw our editor (and
my dear friend JK Rowling's
editor)
Arthur Levine
, conferring with his debut author
Mike Jung
. . .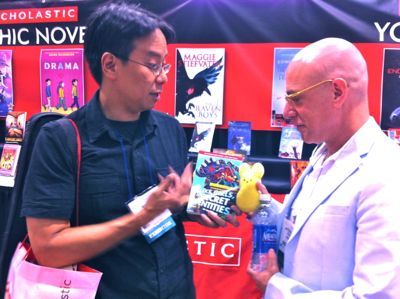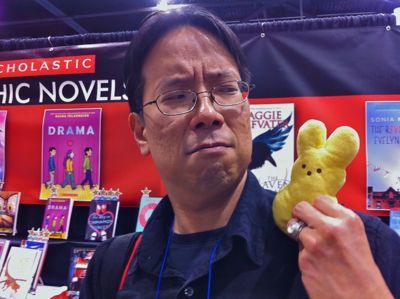 We turned around and look who we saw! Yes,
Weston Wood's
own
Paul Gange
, who introduced Peepy to lots of important stuff; and Scholastic's
Library and Educational Marketing
Dude, John Mason . . .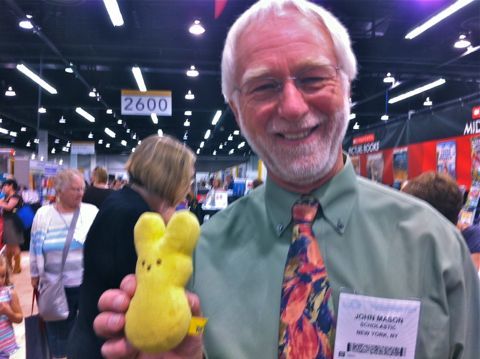 There was quite a commotion as Caldecott Medalist winners
Allen Say
and
Brian Selznick
, with NY TIMES bestselling author
Maggie Stiefvater
, all signed books at once -- and they all had to share a pen!!! (Part of that last sentence isn't true.)
Here's Allen and Brian and Maggie . . .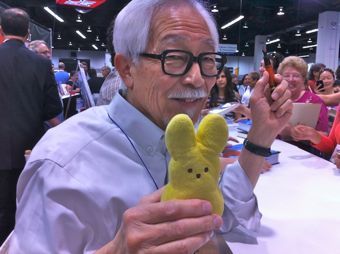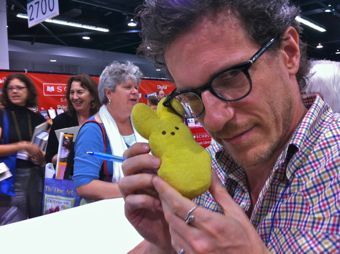 We went in search of Sasquatch or
Dan Santat
, whichever we could find first. Sadly, we didn't see either, although we saw clues as to where one or both of them were . . .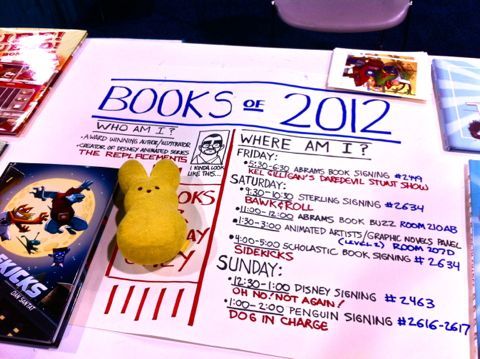 But we did see
Nancy Holder
and NY TIMES bestseller
Ally Condie
. . .
(Ally and I have 50 - 75% of these things in common: 1) we have the same agent, 2) we are both red belts in karate, 3) we were both at ALA, 4) we both took the Evelyn Wood speed reading course.)
I was thrilled to finally meet Prinz Award Winner and National Book Award finalist
Gene Luen Yang
, and former National Ambassador of Young People's Literature,
Jon Scieszka
, was thrilled (slightly) to see Peepy again . . .
Next Blog: More ALA awesomeness!!!!!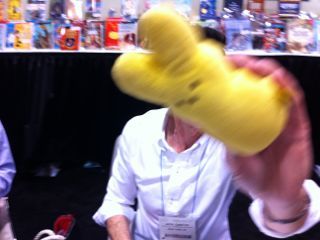 (Find out who the famous author is behind the Peep.)
UPCOMING JULY STUFF . . .
July 15 -
COMIC-CON
Panel - HEROES FOR THE MIDDLE-GRADE READER (AND YOU, TOO!): Middle Grade Books That Will Rock Your Socks Off, Sunday, 2:45p.m. - 3:45p.m., Room: 5AB
July 27 - South Pasadena Library Writing Workshop for Kids
July 30 -
Once Upon a Time Bookstore
- Get Your Pens Out Writing Club
===========================
Disclaimer: No proofreaders were harmed (or even used) in the creation of this blog.
Want to check out Lisa's NEW AND IMPROVED website? Simply
CLICK HERE
.
Interested in having Lisa speak at your school, library or conference?
CLICK HERE
for more information.
Lisa Yee
Subscribe to Lisa Yee's Blog and get her fresh baked blogs e-mailed to you!

Or you can click this for a RSS feed...