I'm in New York right now, getting ready for the Ultimate Author Smackdown, er, Showdown. Yep. It's gonna be me against the guys. But more on that later.
First, this . . . Chicago was a blast! I'll be posting photos of the famous authors I met/stalked on the convention floor, and of the presentations. But on this blog I wanted to talk about something very important to authors. Food!!! Met up with my good friend Jordan Sonnenblick and we stuffed our faces and discussed world politics, geometry and how to fix the economy --or maybe we talked books . . .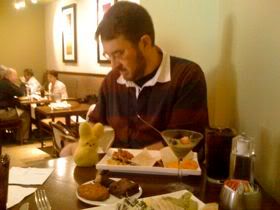 On another night there was the most fantastic Scholastic Family Dinner. Author-type attendees included Ann M. Martin (did you know there's a new Babysitters Club series - a prequel!), Deborah Wiles (we were both Thurber House Writers-in-Residence), Barbara Kerley and this mystery person . . .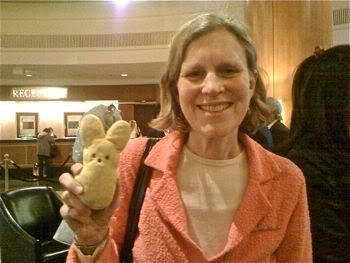 (Kat Falls was there, too. But she ran too fast for me to get her photo.) Oh! Oh! Here's they mystery author who was trying to hide in the shadows. It's Blue Balliet!!!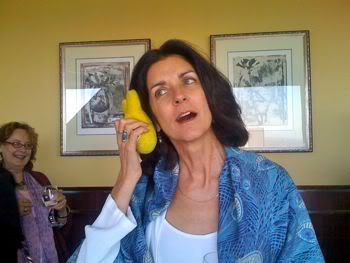 (Peeps loves her and immediately began telling her some secrets.) The totally scrumptious dinner was held at the Signature Room on the 95th Floor . . .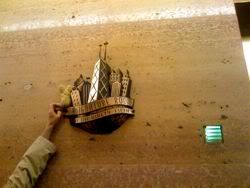 And check out this expertly photographed, National-Geographic-quality, time lapse photography of the view . . .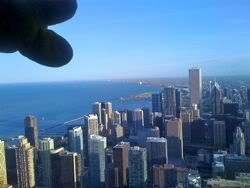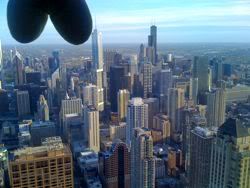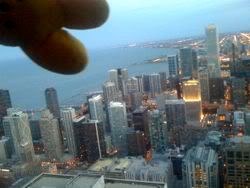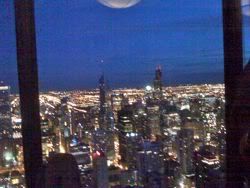 And if that view wasn't fab enough, look what was brought in as eye-candy. Yes! It's the dudes from Scholastic Book Fairs, President Alan Boyko, Ed Masessa, Senior Manager (and author) and VP of sales, Bill Barrett . . .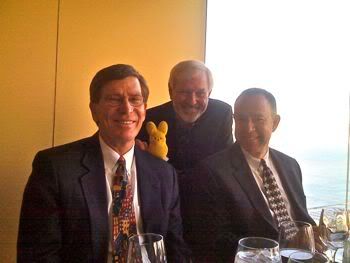 Other Scholastic-ites were there and it was so fun to nosh and mingle . . .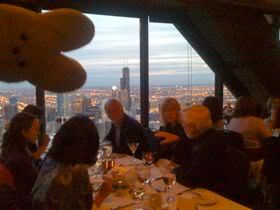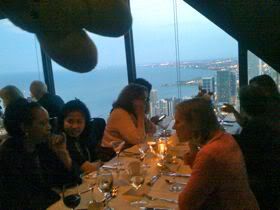 (If you look carefully at the last photo, you can see Kat sitting next to my editor, Arthur Levine.) Later, Suzanne Murphy, veep and publisher of trade publishing and marketing, did this TOTALLY AWESOME THING . . . Suzanne introduced the authors in REVERSE ALPHABETICAL ORDER!!!! (Finally, for once in my life, I got to be first!!!)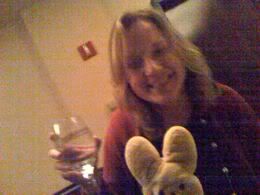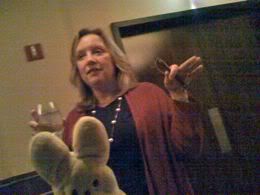 Ah, what a night! On another evening, it was time to think about studying for Scholastic's Ultimate Author Showdown. I mean, kids have come up with author-stumping-book-questions!!! However, Gordon told me that he wasn't going to study . . .
So, I thought, if Gordon's not going to study, then neither am I. And instead I went out to eat with Andrea Beaty and Emily Ecton . . .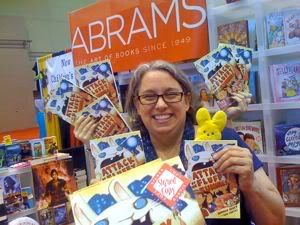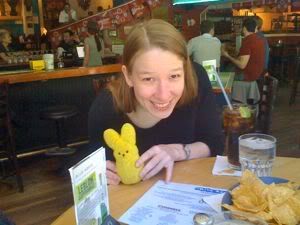 However, as we got to eating, I started thinking about the gameshow again, and how I don't want to humiliate myself in front of the zillions of people watching it LIVE on the web. (But I didn't want to study either.) Oh man, this is going to be sooooo embarrassing. Like the time I was on Jeopardy! and lost on a literature question!!! What? Oh, wait. That's right. It wasn't me . . . it was Linda Sue Park who was on Jeopardy! . . .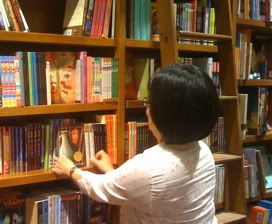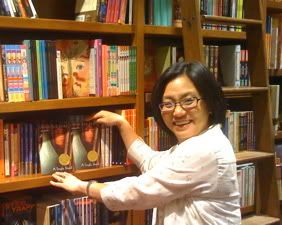 Still, it coulda been me. So then BING!!! I thought to myself, "Myself, Emily is also the producer of one of your favorite NPR shows -- Wait, Wait . . . Don't Tell Me! Ask her for tips!!!!" Yes, Peepy and I have even been to the show when George Takei was guest . . .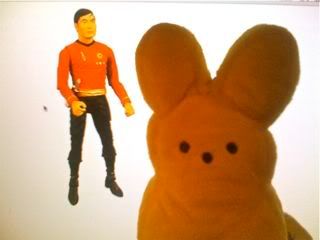 Emily and Andrea immediately got to thinking up brilliant strategy for me (I asked Andrea to help cause she's way smart and writes scholarly tomes like her newest, Attack of the Fluffy Bunnies, illustrated by Dan Santat who is illustrating my Bobby Ellis-Chan series) . . .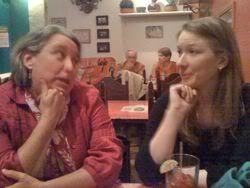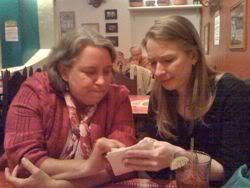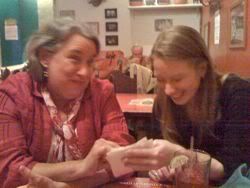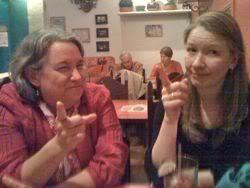 Their advice? "Have fun!" Be sure to watch us on the web on Friday, or if you're in the NY area (or even if you're not) come to the Scholastic Store on Saturday at 3 p.m. to meet the authors and watch us do the show live with a kid from the audience as our teammate!!!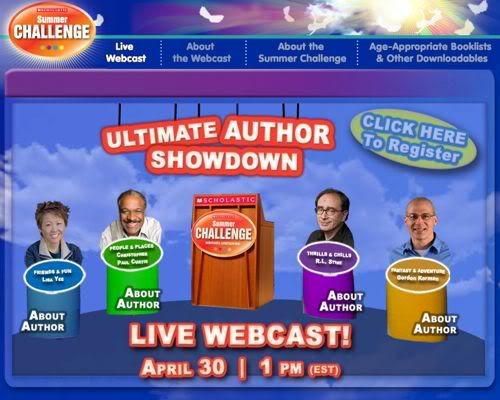 Oh! And hey, guess who the readergirlz author for May is going to be? Here's a hint . . .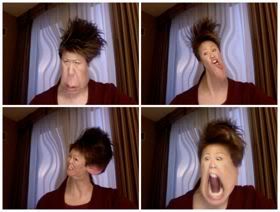 Disclaimer: No proofreader were harmed (or even used) in the creation of this blog. Lisa Yee

Create Your Badge
Subscribe to Lisa Yee's Blog and get her fresh baked blogs e-mailed to you!
Or you can click this for a RSS feed...