The Olympics were here, but we missed it. However, we did see Kate and William watering the lawn . . .
So then,
last blog
I promised a video of the
SCBWI
Summer Conference Flash Mob. Here's what everyone looks like when they are perfectly still . . .
And here's what they look like when they are
flash mobbing
!!!
The whole thing was masterminded by the Newbery winner
Linda Sue Park
dan and her pal, writer
Jolie Stekly
. Here they are at dinner.
Peepy
is assuring them that the flash mob will be fine and that there is nothing to worry about . . .
CLICK HERE
to read Linda Sue's blog about how they pulled this amazing fete together!!!!
I know! Flash mobs make me hungry, too. So let's look at some photos of author/illustrator-type people having lunch, shall we?
Here's my frequent Lunch Pal,
Dan Santat
(on right) with
Ethan Long
, who was visiting from Orlando . . .
Then,
Ken Min
, invited me to dine with him and Nathan Fillion, so how could I refuse? (Nathan and I have
history
.)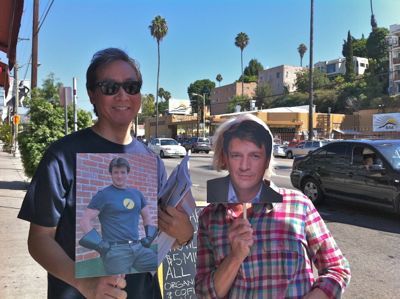 Other KidLit folk heard about it and joined us . . .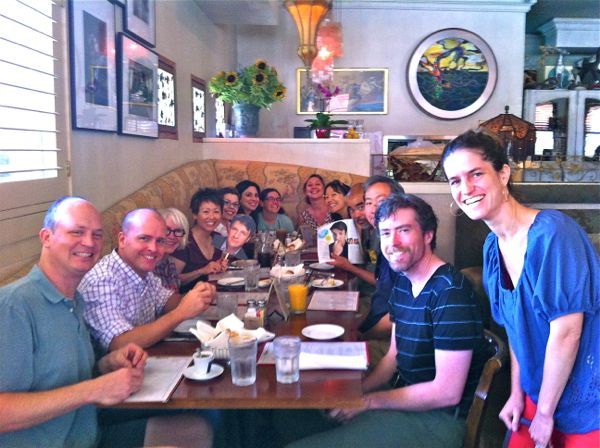 (
Dan Krall
, Ethan Long,
Mary Peterson
,
Martha Brockenbrough
, Nathan Fillon,
Julia Shahin Collard
,
Sara Wilson Etienne
,
Paige Pooler
,
Rita Crayon Huang
, Dan Santat, Ken Min,
Wilson Swain
and
Karyn Raz
)
But wait! What was that? School has started??? It seems like it was just summer, and you know what that means, right?
Correct! Summer writing workshops given by Moi. Here we are at the
South Pasadena Public Library
. . .
My writing students were looking at my Moo cards. Moo what? This is
Moo
. . .
(Tiny little cards that I give out as business cards/bookmarks/calling cards.)
So then, I suggested that everyone to get comfortable to write, and they did . . .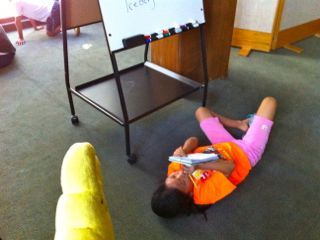 A couple of days after that, we headed to one of the oldest indie children's bookstores in the country,
Once Upon a Time
, in Montrose, CA, for another writing workshop . . .
The kids were soooooo talented!!!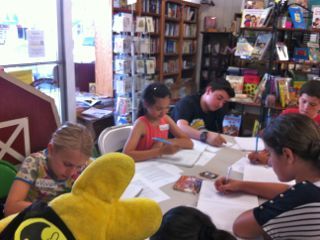 I love Once Upon a Time. They always give me stickers!
It's always great to visit an indie bookstore, isn't it?
Next up, we'll visit an indie bookstore in Pasadena that just celebrated their one year birthday in Peeptastic style!!!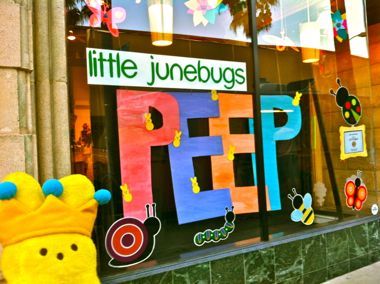 ===========================
Wheeeee . . .
BOBBY THE BRAVE (SOMETIMES)
is now out in paperback!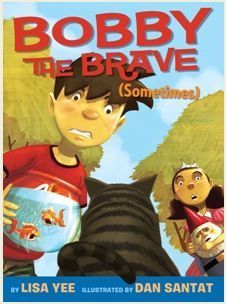 September events:
Brooklyn Book Festival
South Dakota Festival of Books
Disclaimer: No proofreaders were harmed (or even used) in the creation of this blog.
Want to check out Lisa's NEW AND IMPROVED website? Simply
CLICK HERE
.
Interested in having Lisa speak at your school, library or conference?
CLICK HERE
for more information.
Lisa Yee
Subscribe to Lisa Yee's Blog and get her fresh baked blogs e-mailed to you!

Or you can click this for a RSS feed...