After
Pennsylvania
my Peep and I went to the
SCBWI - LA Illustrator's Day
. . .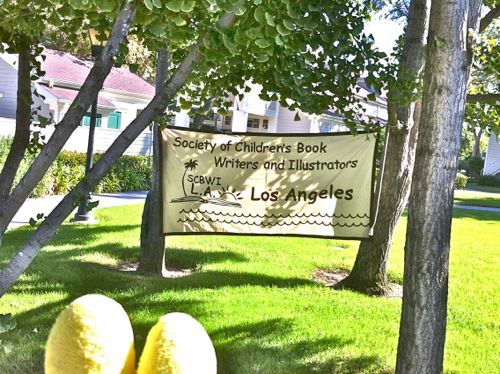 SCBWI
stands for Society of Children's Book Writers and Illustrators -- the largest children's book organization in the universe. We (I say we because I'm on the board along with these
amazing authors/illustrators
) have over 20,000 members.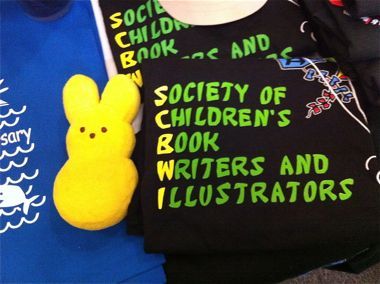 It was held at the beautiful Clairbourn School. I love that place have have spoken there a few times including the time
we saw (or didn't see)
Pseudonymous Bosch . . .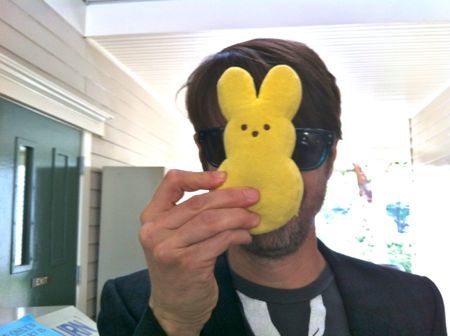 Another time
when we spoke there, we had lunch with Academy Award winning actress Marlee Matlin. She knew my books and asked if she could join us!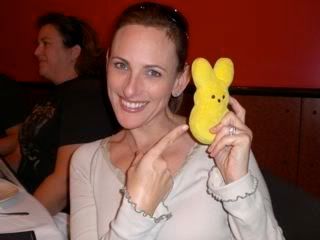 (Marlee has the best complexion of anyone I've ever met.)
I've also keynoted there for SCBWI - LA Writer's Day. My editor
Cheryl Klein
spoke at that event, too. Here are Cheryl and I with my other editor,
Arthur Levine
. And here are Arthur and Cheryl having an typical editorial meeting . . .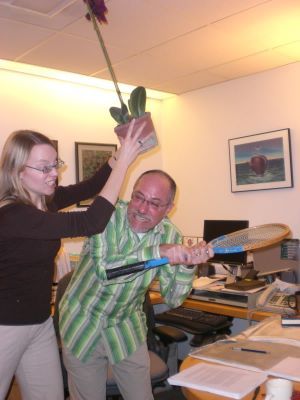 Then there was the time we spoke
to the PTA
. . .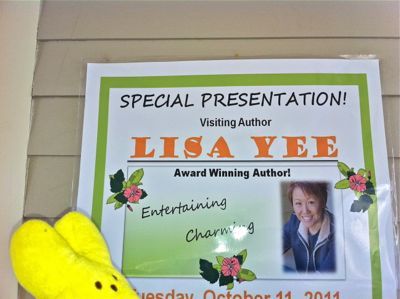 However, on this day, the day we started with before we got all nostalgic, the illustrators ruled! Here's
Mark Fearing's
back, and then his front . . .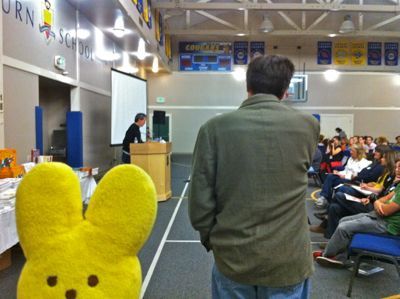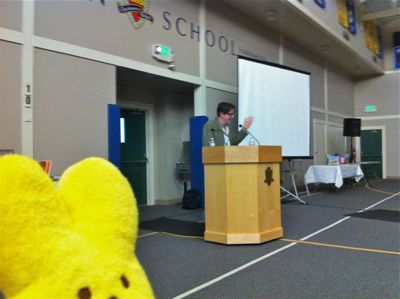 The full day included portfolio reviews, agent and illustrator insights and more . . .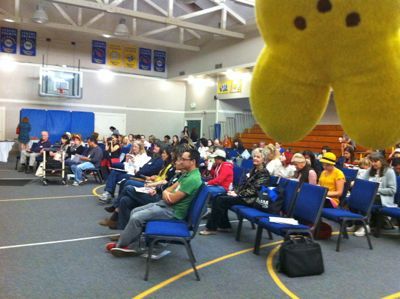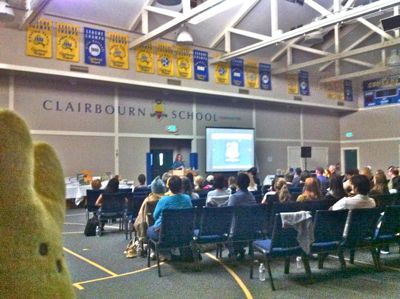 Peepy
was so helpful. She critiqued portfolios and even sold books . . .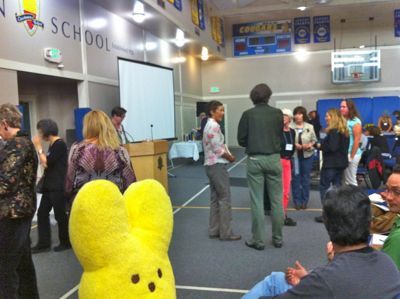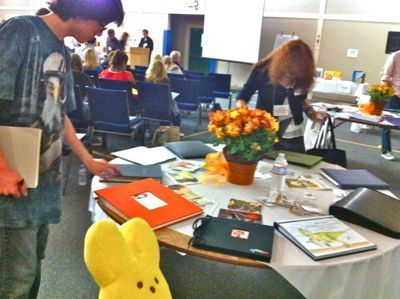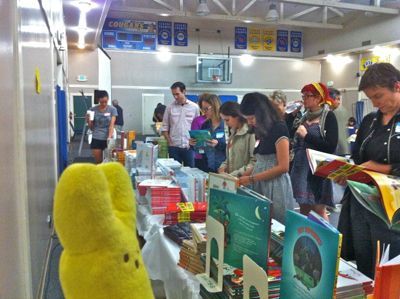 She worked very hard, and was pleased when her dear friend,
Lee Wind
, offered her some lovely refreshments . . .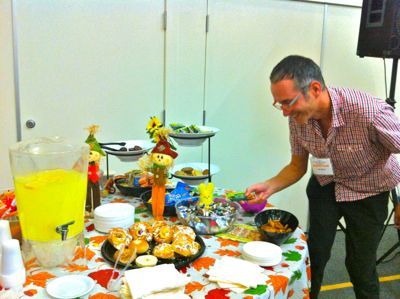 We were so excited to hear author/illustrator
Peter H. Reynolds
speak. Last year-ish
we visited
his store, The Blue Bunny . . .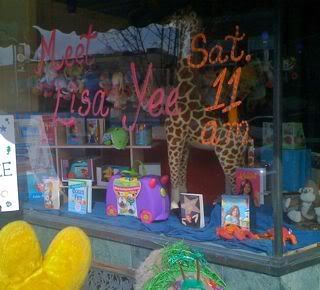 Peepy's dear friend, famous world traveler, Priscilla, lives there. So if you stop by, be sure to say "hello" to her!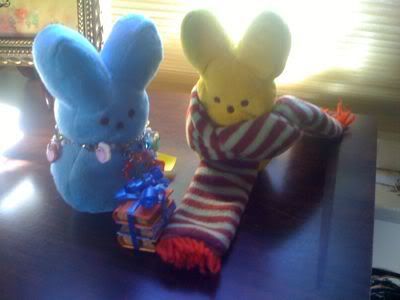 Fun Fact: Peter also illustrates
Megan McDonald's
JUDY MOODY books! And Megan and I wrote for American Girl together! (She wrote the Julie books, and I wrote
Ivy Ling's book
.) Here's Megan . . .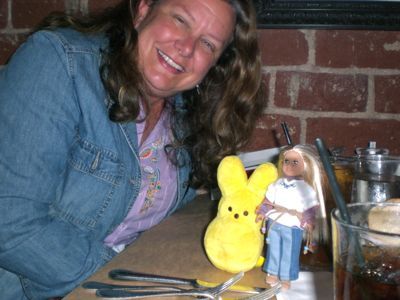 Look! It's
Ivy on Oprah's show
!
Oops! Back to Los Angeles and Illustrator's Day. Here's Peter and his identical twin, Paul . . .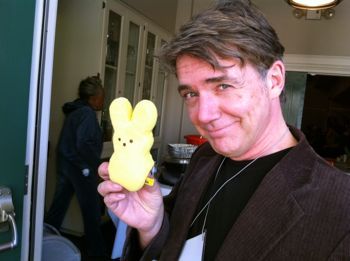 Or, wait. Maybe this is Paul, who's the CEO of
FableVision
, and Peter, who's founder/CEO . . .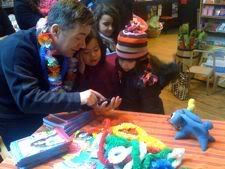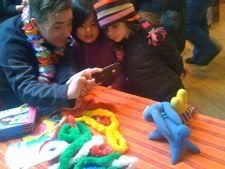 When it came time for him, meaning Peter, not Paul, to draw,
Peepy
was his inspiration . . .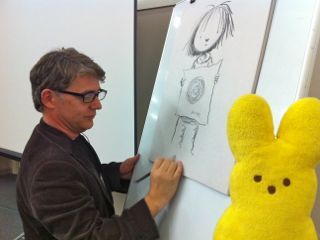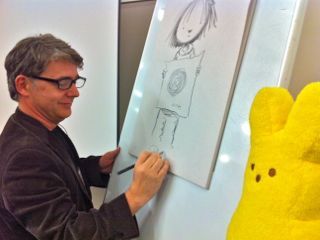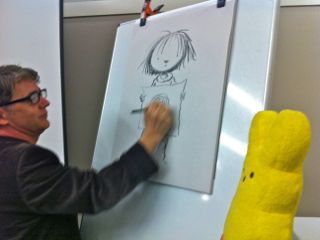 Then again, isn't she everyone's inspiration?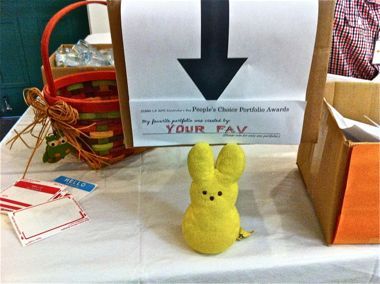 HAPPY THANKSGIVING, EVERYONE!!!!
(I actually bought this for someone one year.)
===========================
Oh, look! These books make lovely
holiday gifts
. . .

Disclaimer: No proofreaders were harmed (or even used) in the creation of this blog.
Want to check out Lisa's NEW AND IMPROVED website? Simply
CLICK HERE
.
Interested in having Lisa speak at your school, library or conference?
CLICK HERE
for more information.
Lisa Yee
Subscribe to Lisa Yee's Blog and get her fresh baked blogs e-mailed to you!

Or you can click this for a RSS feed...