Where were we? Oh!
Here . . .

So then, here' more behind-the-scenes and on-the-spot reporting of what went on, and yes (!!!) it's in no particular order. Oh. And I am aware that some of the photos are unusually large, but am too lazy to fix them.
We went to tres swanky party hosted by Steven Malk of
Writers House
. . .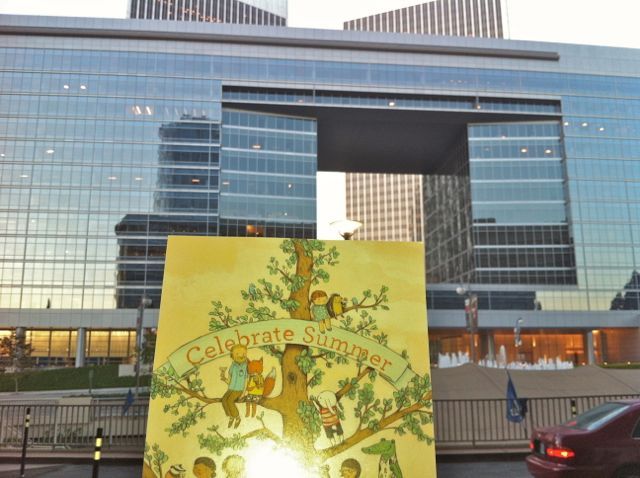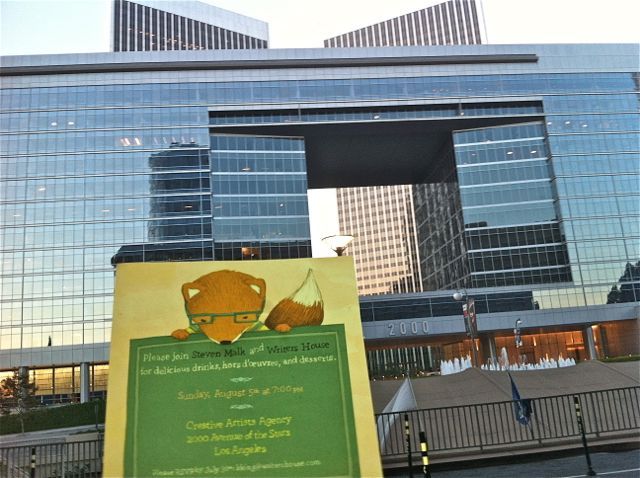 (I'm represented by Writers House agent Jodi Reamer, so they pretty much had to let me in.)
There were soooo many great workshops. Here are some of the ones we attended . . .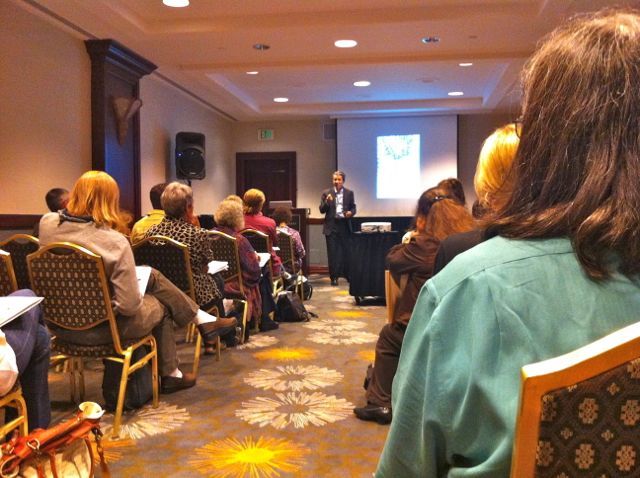 (Above: Scholastic Book Fairs' Ed Masessa and Heather Biggs, Newbery Honorees Gary Schmidt and Eugene Yelchin, and
Hat Man
Jon Klassen)
What's that sign on the bathroom? Why it's because THE FOURTH STALL won the Sid Fleischman Humor Award. Here's this year's winner Chris Rylander with the first winner of the award . . .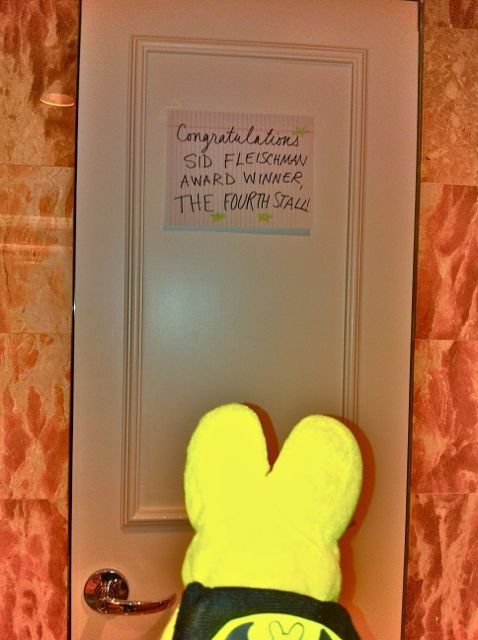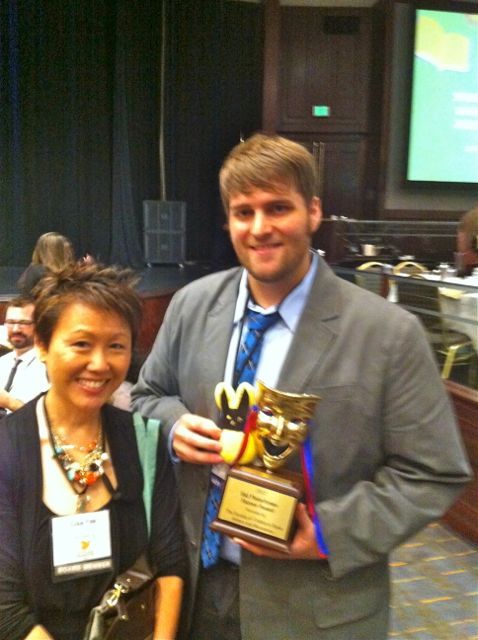 Also at the Golden Kite Luncheon, I got to sit with my author-ly pals . . .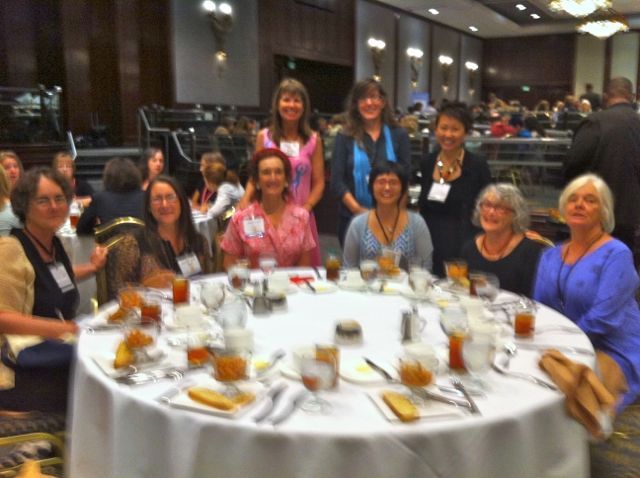 (From left: Susan Patron, Amy Goldman Koss, Sonya Sones, April Wayland, Linda Sue Park, Kerry Madden, Angelina Jolie, Susan Rubin, Ann Whitford Paul.)
Speaking of lunches, what's for dinner?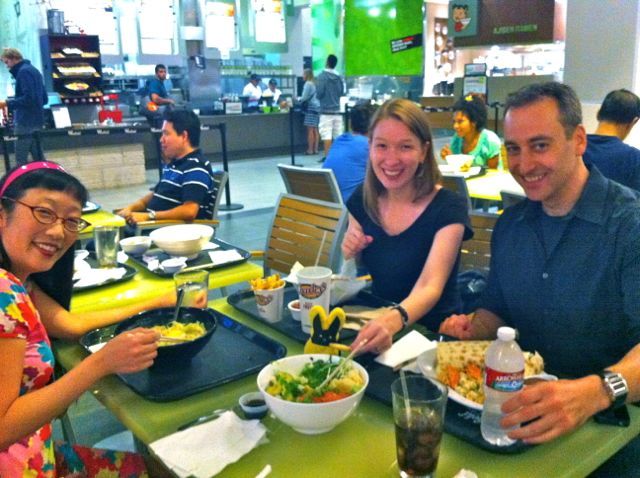 (That's Paula Yoo, Emily Ecton and Michael Reisman dining at the food court across the street from the conference. We discussed which one of us would run for President of the United States this year.)
On another night, Linda Sue Park, Jolie Stekly and I went to this super
glam restaurant
. It was so chic that we're still not sure what we ate . . .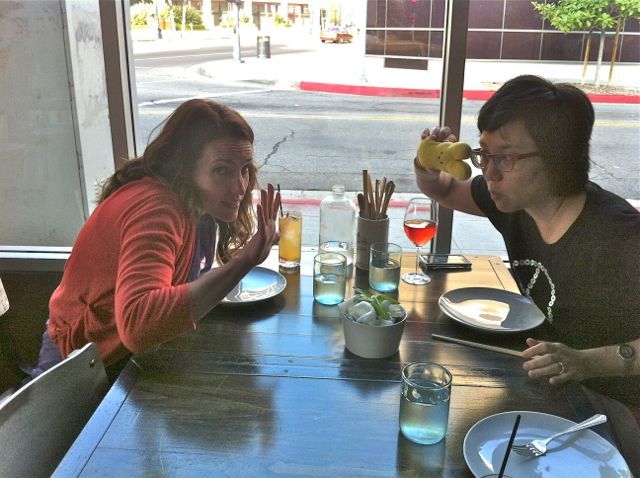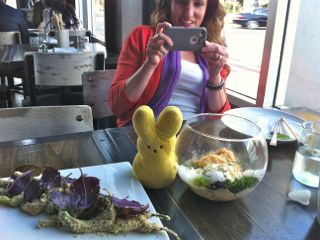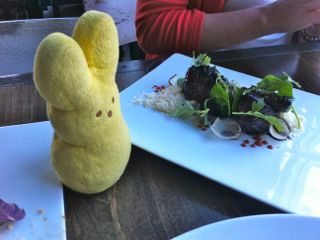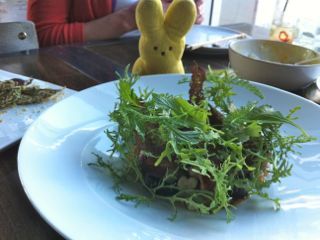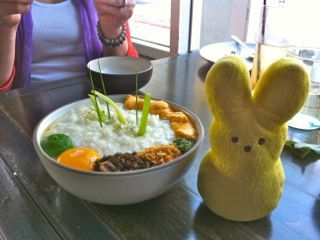 One thing is certain, though. The meal was a thousand times better than the
horrific dining event
that happened to Linda Sue, Arthur Levine and I at the conference a couple of years ago.
Dinner was right before the SCBWI Hippie Hop party where mild-mannered children's book people went wild. No, really. If you don't believe me, see for yourself . . .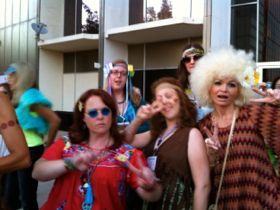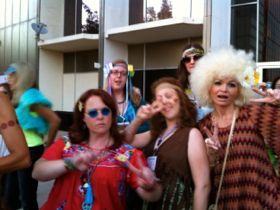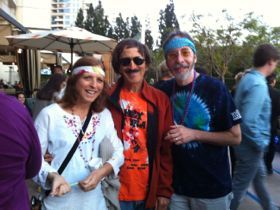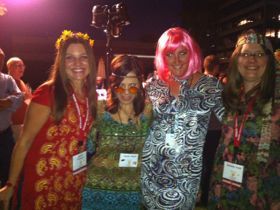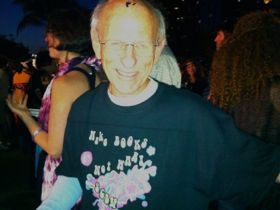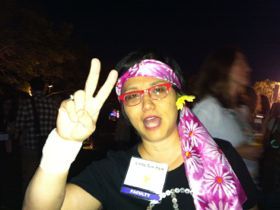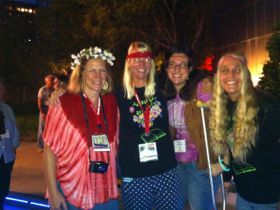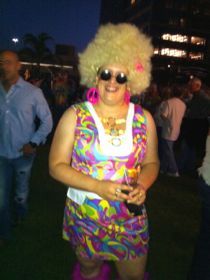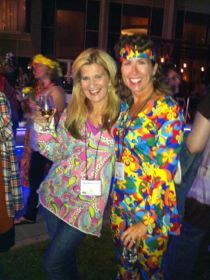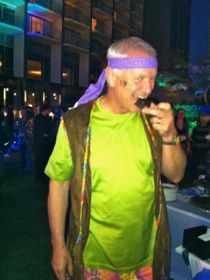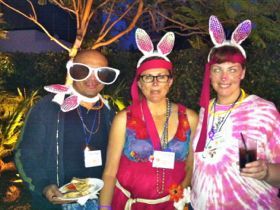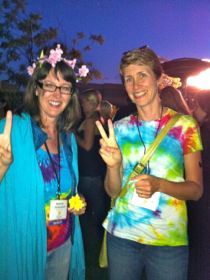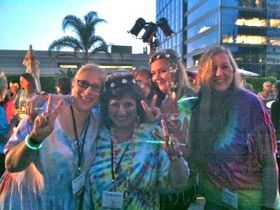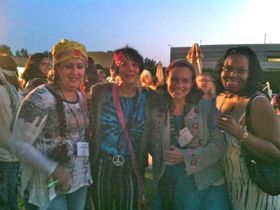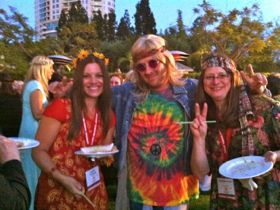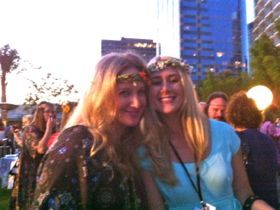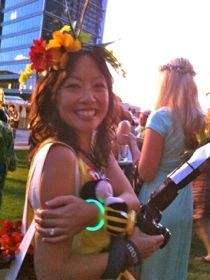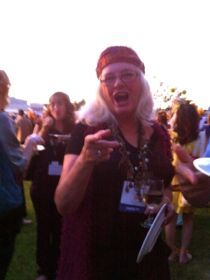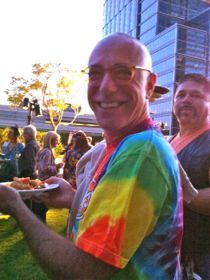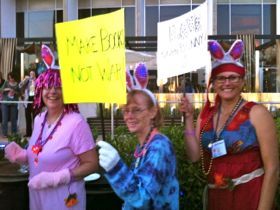 But the culmination of the evening was a FLASH MOB!!!! Super secret e-mails had gone out earlier to all but Lin Oliver and Steve Mooser, founders of SCBWI. Here's what over 400 people dancing in-sync to The Age of Aquarius look like . . .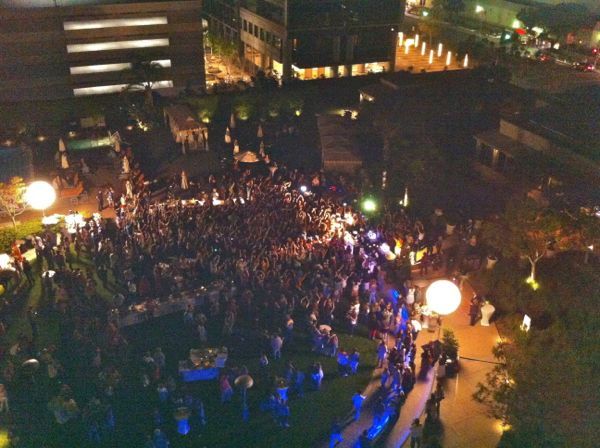 (We'll post footage of actual flash mobbing on a future blog.)
After the conference was over, the faculty, regional advisors, SCBWI staff and board convened to collapse (and to eat and have fun) . . .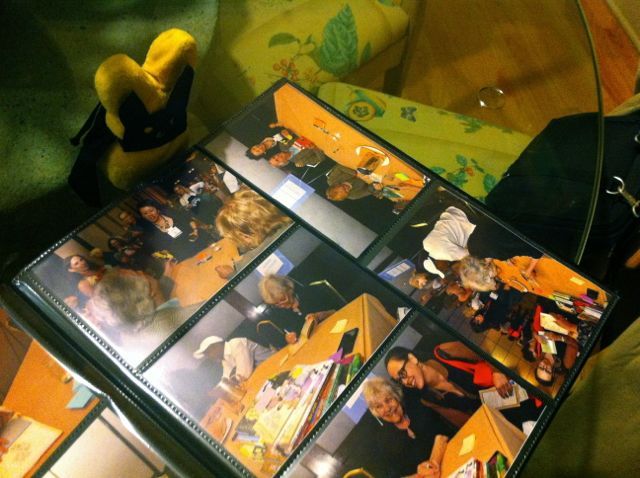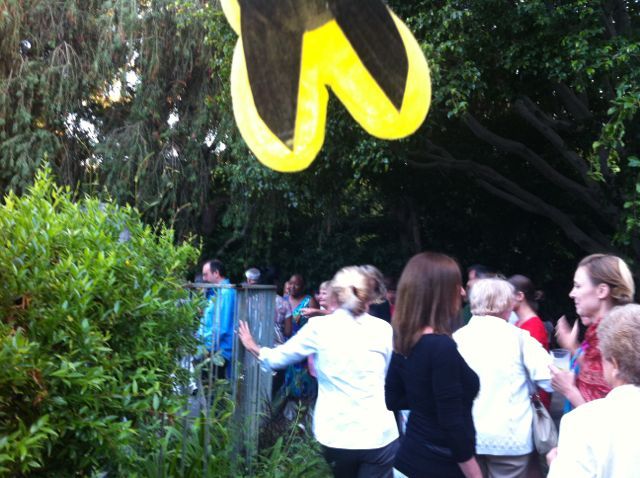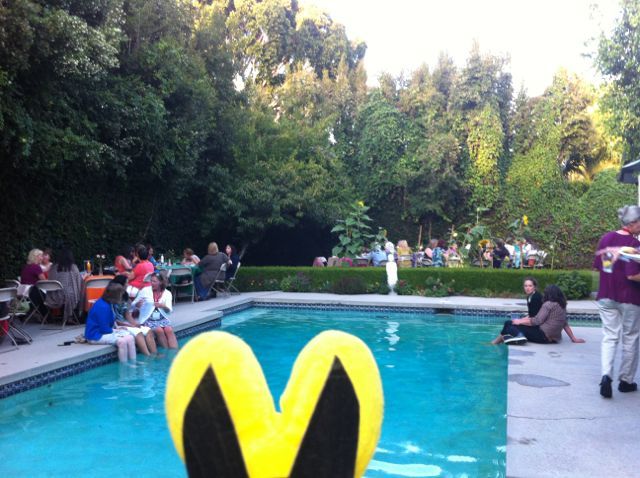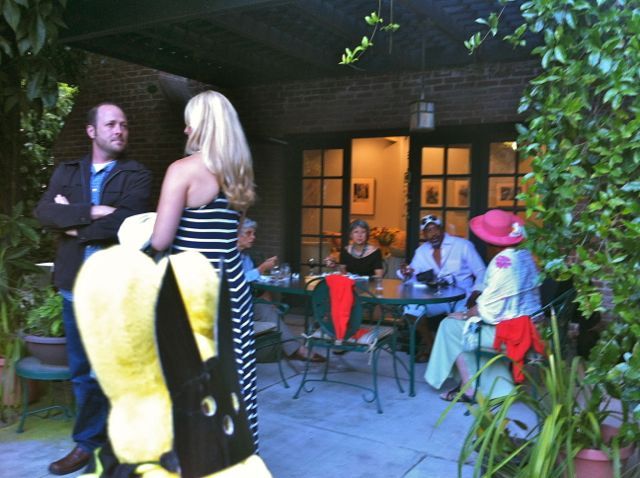 Oh, look. That's Jay Asher on the left (above). We were passing notes during the conference . . .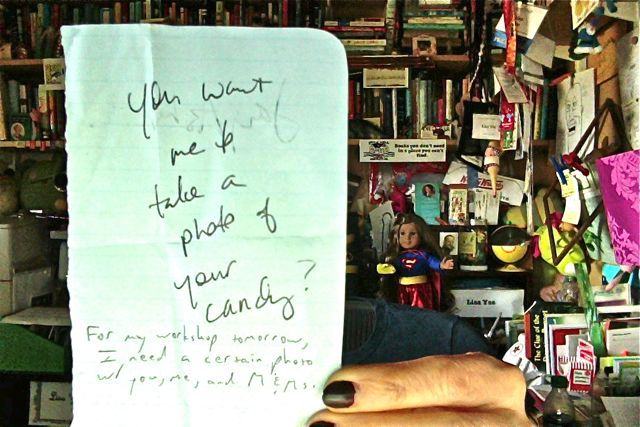 THIS IS WHY
.
And finally, the next day, there was a Board of Advisors meeting. BatPeep fell asleep during it. Not because it wasn't interesting, but because she was exhausted from all the amazing happenings . . .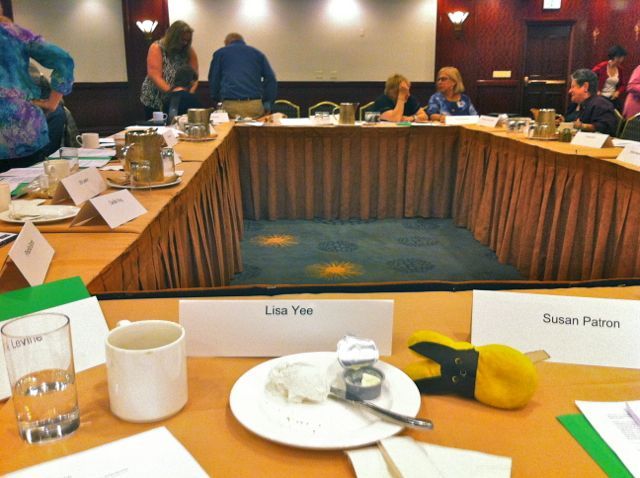 Wait, what's that? Look who's on the cover of VOGUE!!!!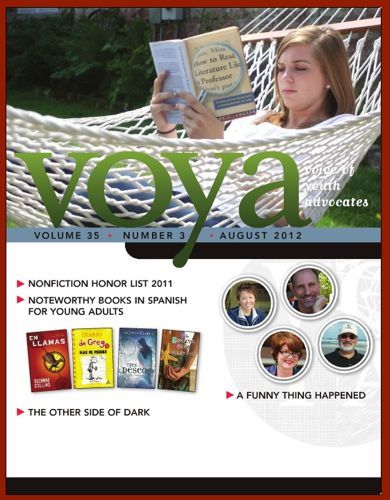 Hey, that's not VOGUE . . . it's even better . . . it's VOYA!!!!
CLICK HERE
to read a
WARP SPEED
review, and to find out what Libba Bray, David Lubar, Don Calame and I have to say about writing funny stuff.
Hey, want to meet me and Peep and have a Peep-o-time at one of my local indie bookstores?
Sometimes fun is in your own backyard . . .
(Disclaimer: That may, or may not, be my real backyard.)
For example, I first found out about
Little Junebugs
when I was at

LitFest Pasadena
. . .
This awesome children's bookstore also has the coolest stuff, PLUS you can do the most amazing crafts . . .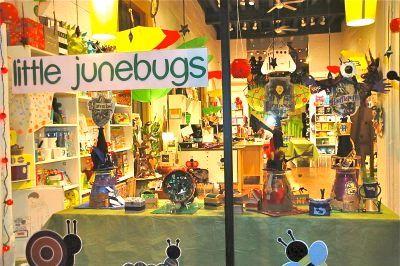 If don't just believe me, see for yourself . . .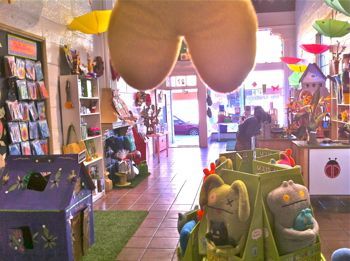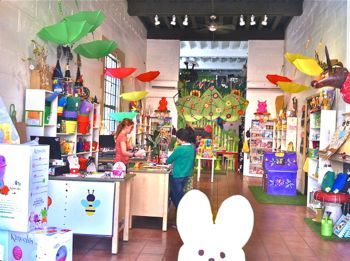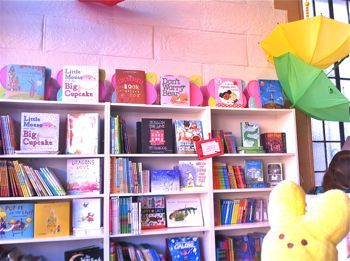 See this rocket? It's a prize for a lucky reader!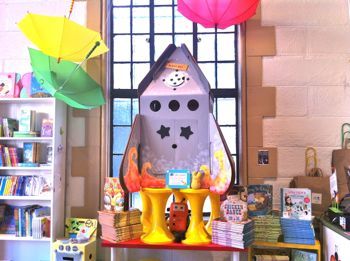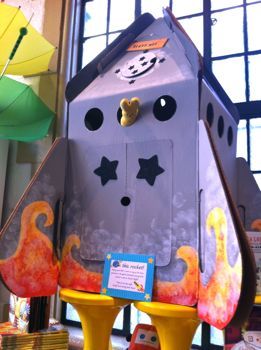 Here's even more of the store . . .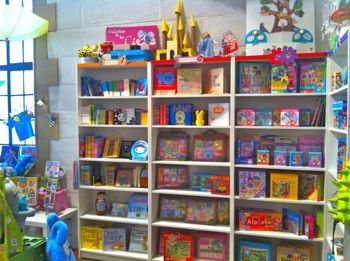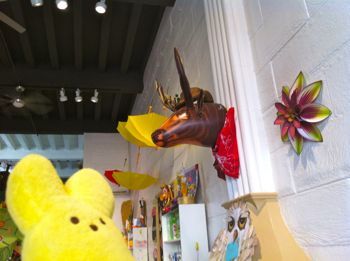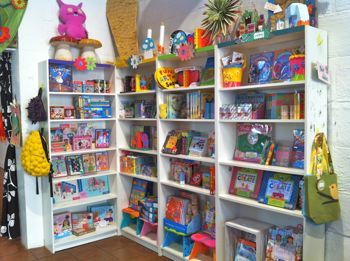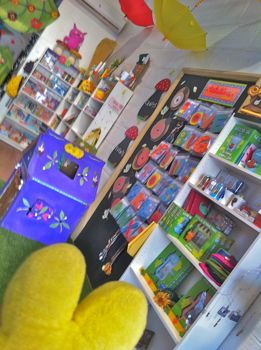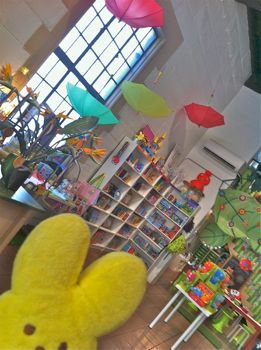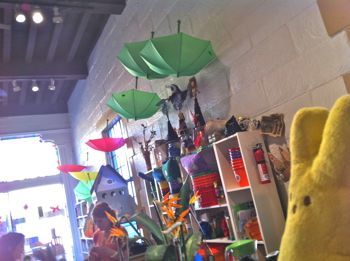 And look! This is THE PLACE to get crafty . . .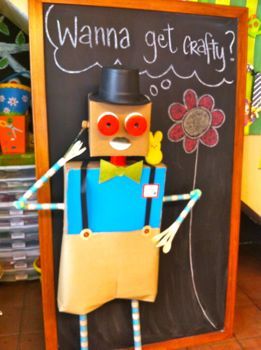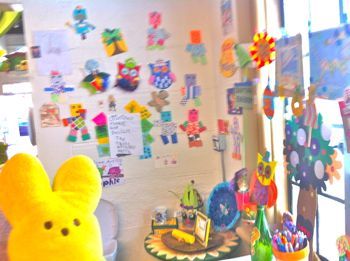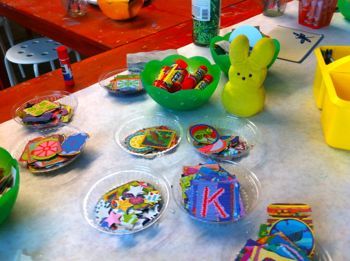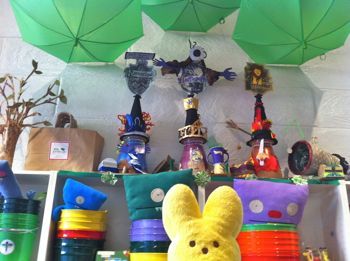 It's not just for kids --
check out this
wizardlywondrous (I just made up that word) Harry Potter craft night for grown-ups!!!
Whoa . . . who's that with Peepy? Why, it's Courtney, co-owner of Little Junebugs!!!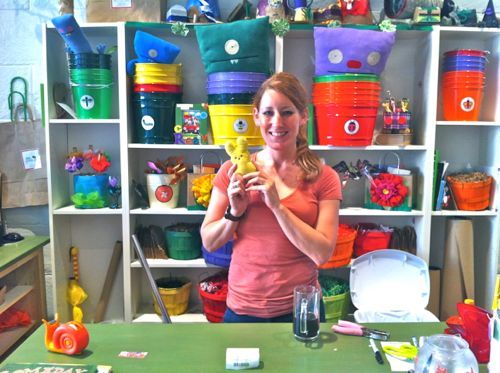 Peepy and I will be helping Courtney celebrate the ONE YEAR BIRTHDAY of Little Junebugs this Saturday! Newly printed paperbacks of BOBBY THE BRAVE (SOMETIMES) will be there, too, along with Bobby illustrator Dan Santat.,
JOIN US!!!!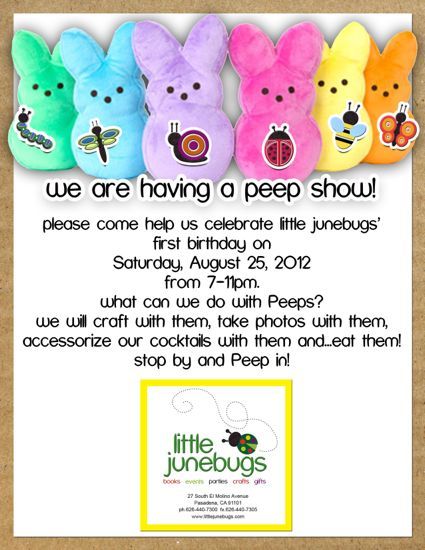 ================
Wheeeee . . .
BOBBY THE BRAVE (SOMETIMES)
is now out in paperback!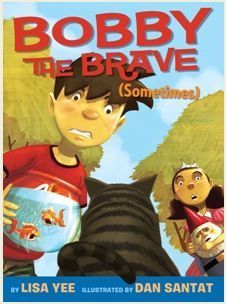 September events:
Brooklyn Book Festival
South Dakota Festival of Books
Disclaimer: No proofreaders were harmed (or even used) in the creation of this blog.
Want to check out Lisa's NEW AND IMPROVED website? Simply
CLICK HERE
.
Interested in having Lisa speak at your school, library or conference?
CLICK HERE
for more information.
Lisa Yee
Subscribe to Lisa Yee's Blog and get her fresh baked blogs e-mailed to you!

Or you can click this for a RSS feed...