Lisa, you ask. How is it that the 40th Annual SCBWI Summer Conference is over, yet you are taking over 40 years to blog about it?
Well, I say, it's because
THIS
and
THIS
and
THIS
happened, and I didn't have room to tell you about this . . .
There was a fabulous party thrown by literary agent
Steve Malk
and
Writers House
, my literary agency where I'm represented by Jodi Reamer, who I hung out with
HERE
and
HERE
, recently.
The party was held at
CAA
, the glam Hollywood Talent agency . . .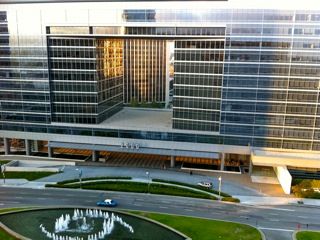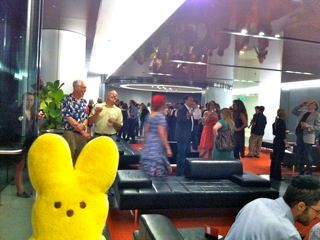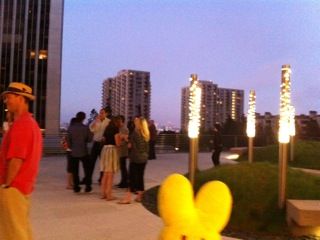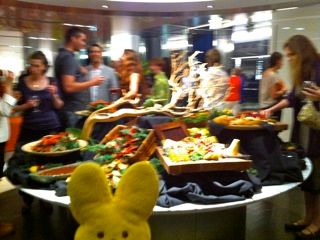 Black boots? Black boots, you were wondering? Why yes, those belong to me and author/producer of
Eureka
,
Paula Yoo
. . .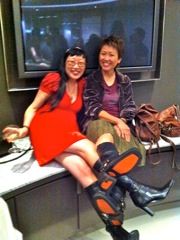 The workshops were enlightening and incredible, like this one given by Caldecott medalist
David Small
. . .
Laurie Halse Anderson
gave a killer (as in totally great) closing keynote address. However,
Peepy
was goofing off and didn't hear it, so Laurie had to give it all over again just for my Peep . . .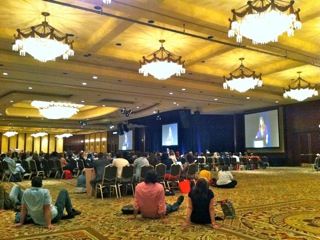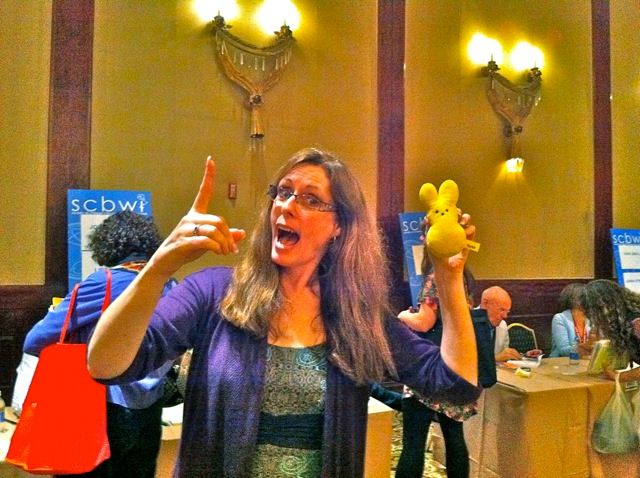 The conference was a chance for the attendees to get their books signed by the top names in the industry.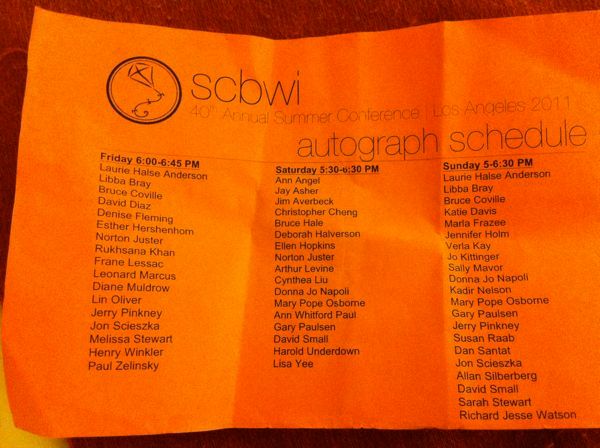 Here's
Marla Frazee
. . .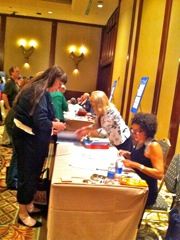 There's Caldecott medalist
Jerry Pinkney
and triple Newbery Honor winner
Gary Paulsen
. . .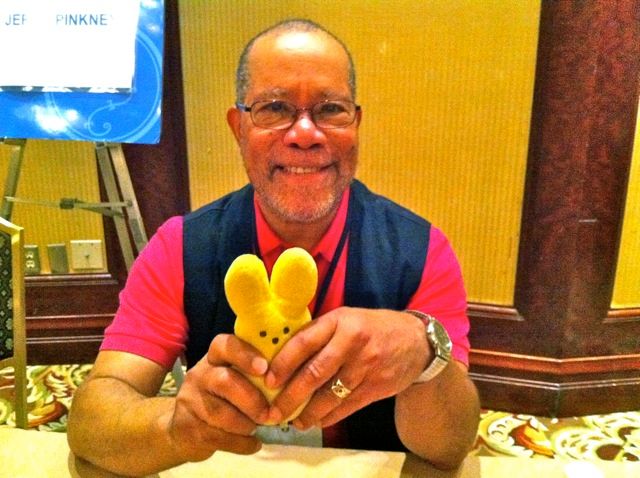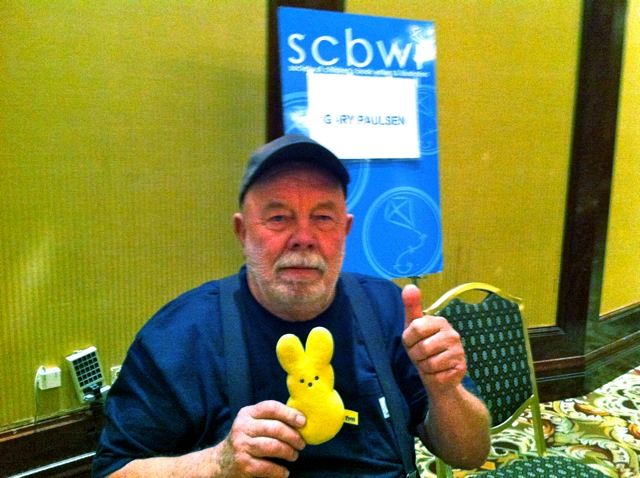 Printz winner
Libba Bray
and former National Ambassador for Young People's Literature
Jon Scieszka
signed books at the same table. However, the longest like was for Peepy . . .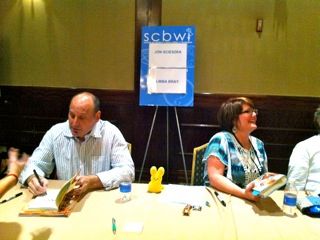 The next day it was time for the "Intensives." No, that's not the squeal to The Incredibles, though it very well could have been. It was for master classes given to attendees who wished to come for an extra day to learn more about the craft of writing and illustrating.
I taught a class called Creating Compelling Bad Guys and Bullies . . .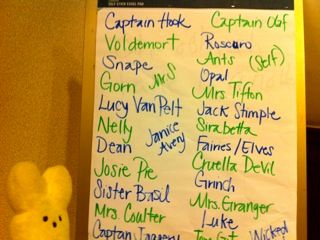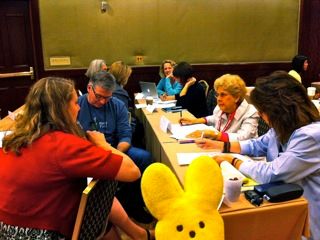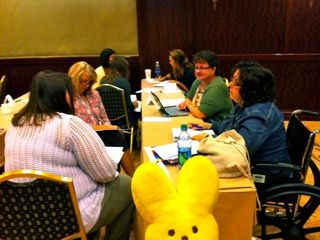 I made the writers work very hard, and sometimes it showed . . .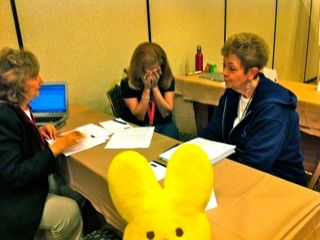 Martha Brockenbourgh
wrote a great account of it
HERE
After, I took a group photo of my students. It started our friendly, but soon degenerated. However, I am happy to report that most lived through the class . . .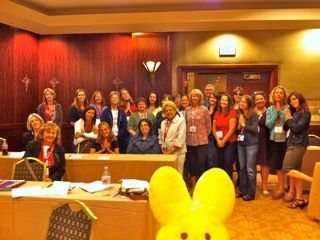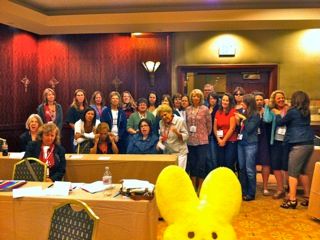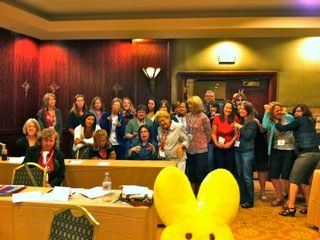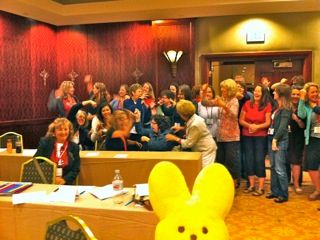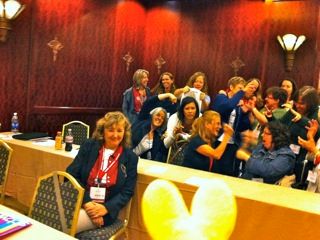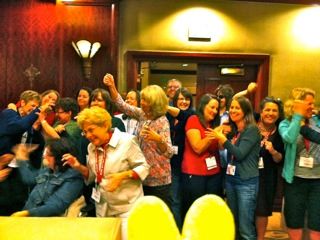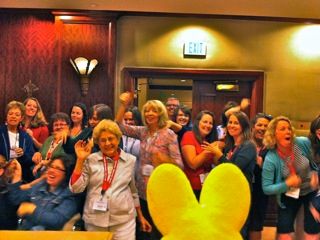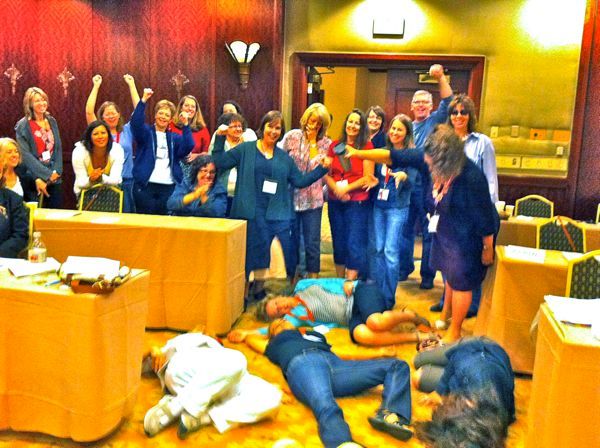 I was so traumatized by the violence that there was only one thing to do. That's right. Have lunch with Newbery winner
Linda Sue Park
and
Jim Averbeck
, who both have new picture books that are currently in the production phase! They brought their F&Gs ("fold and gather" which is a picture book version of an galley) to lunch . . .
We'll finish up the conference report next blog with the faculty party and the annual Board of Advisors meeting. In the meantime, here's a weird horoscope I got a while ago . . .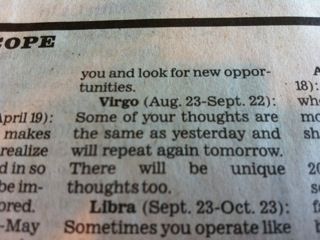 Disclaimer: No proofreaders were harmed (or even used) in the creation of this blog.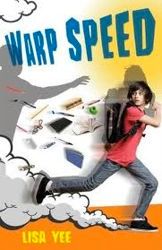 CLICK HERE
to find out about Lisa's newest book, WARP SPEED!!!
Lisa Yee
Subscribe to Lisa Yee's Blog and get her fresh baked blogs e-mailed to you!

Or you can click this for a RSS feed...
Because of an excessive amount of stupid annoying spam, I have disabled all comments. However, you can contact me via my website by
CLICKING HERE