Okay! We
last blogged
about Mother's Day, which I contend should be extended to a week. So now we return to the
LA TIMES Festival of Books!
If we thought the
first day was jam packed
with book stuff, there was much more in store!
The second day kicked off for us with a book signing of
our Arthur A. Levine/Scholastic novels
, including
WARP SPEED
. Here we are with uber author
Blake Nelson
. . .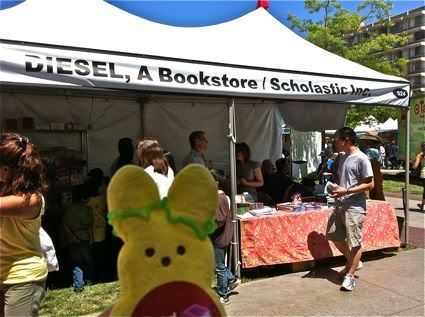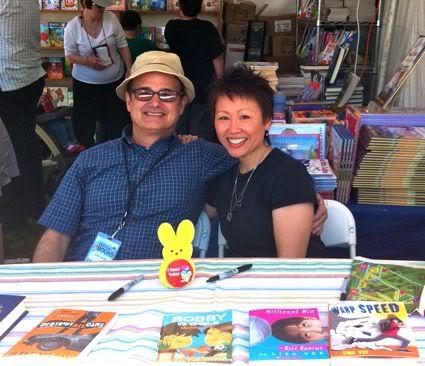 There were lots of other Scholastic authors hanging around, like "Everyone's Favorite Author"
Mark Teague
. . .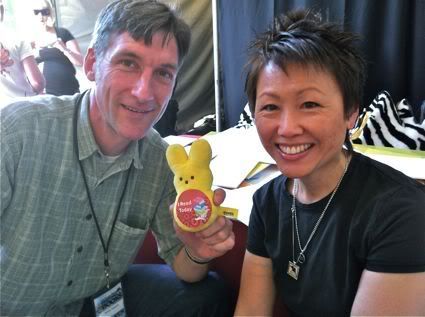 The last time Mark and I were at this festival together, there were
tragic consequences
-- at least for me . . .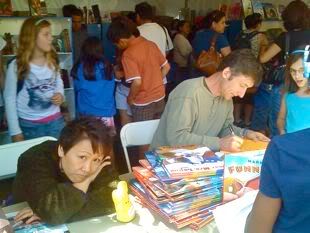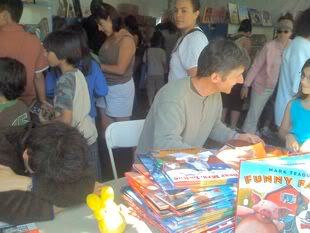 Peepy
was thrilled to see her guardian,
Pam Munoz Ryan
, especially since she was thirsty and Pam had a beverage . . .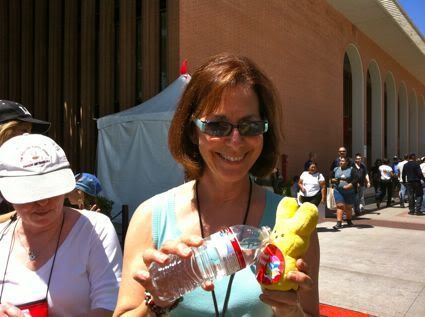 Pam always takes good care of Peeps, and earlier this year when Peepy
went to Pam's house
, Pam set her up on a date . . .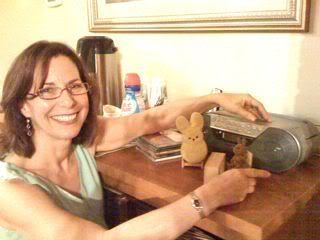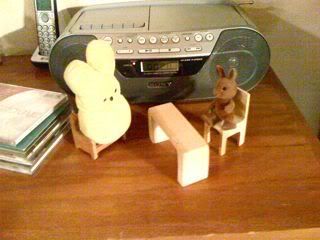 It was fun wandering around the book festival and seeing old friends, and new.
The LAYAs
(LA Young Adult Authors) were in full force at the LAYAPalooza . . .
Who put it all together? Why, the
LOS ANGELES REVIEW OF BOOKS
editor, author
Cecil Castellucci
, that's who!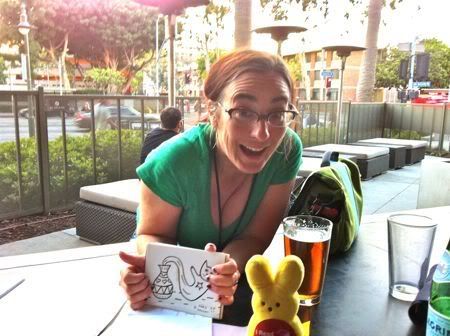 After the LAYAPalooza, we ran into
Andrew Smith
, who gave Son an ARC of STICK, his new book, plus some other great swag!!!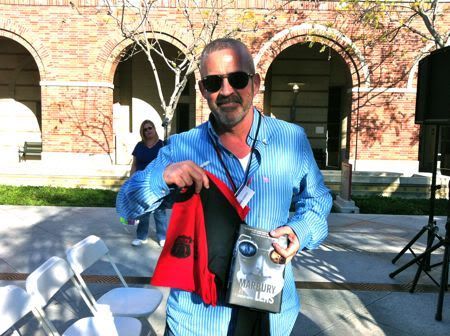 Oh, look! It's
Lisa McMann
and
Neal Shusterman
. . .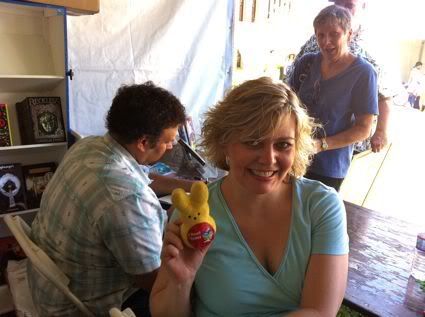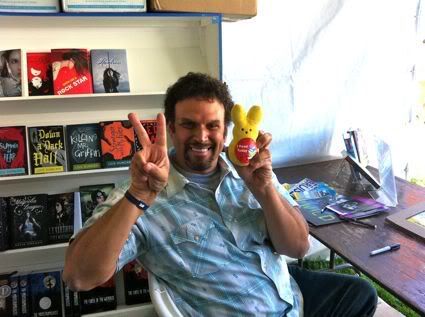 The last time we saw Neal
we went to the Wizarding World of Harry Potter
together . . .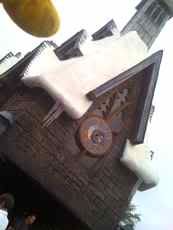 Emmy-winning creator of Wow! Wow! Wubbzy (and
celebrity judge
),
Bob Boyle
was there signing HUGO AND THE REALLY, REALLY, REALLY LONG STRING . . .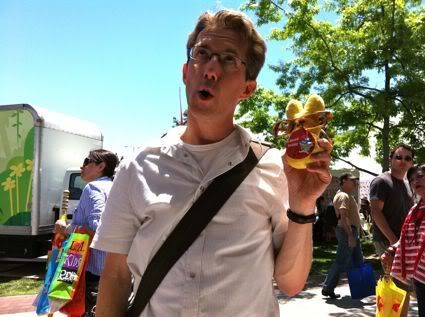 Soon it was that time. Yes, we needed a snack! So we called on our pal National Book Awardee
Judy Blundell
to give us a tour of the Green Room . . .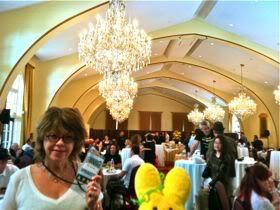 Sonya Sones
was there with her husband, Bennett Tramor. He wrote/produced
SAVED BY THE BELL
, and in another life, Judy wrote some of the books from the popular TV series. However, they had never met . . . but we got that taken care of!!!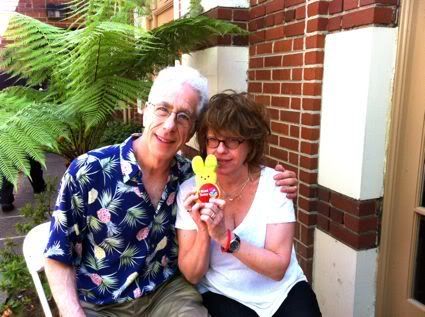 I wasn't the only one with a camera. (Actually, I use my iPhone to take my photos.) Not only is Sonya a great author, but she's a great photographer, too. She took this photo of Judy and Moi . . .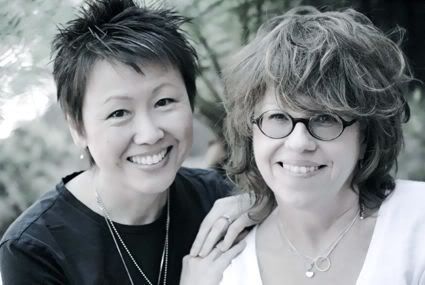 (You're gonna want to check out the other authors Sonya's taken photos of
HERE
.)
But the event everyone at the festival was waiting for was this wresting match . . .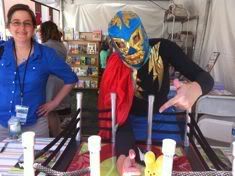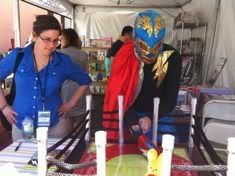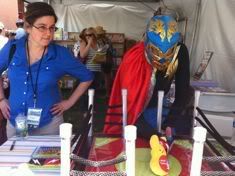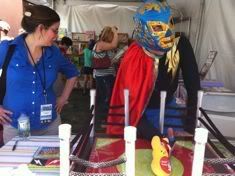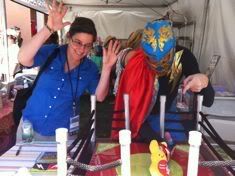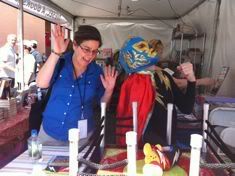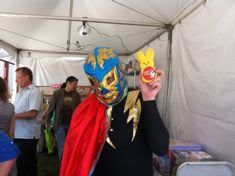 And the winner was . . . PEEPY! She was crowned the champ by non other than the winner of the LA TIMES Book Prize for YA Literature,
Megan Whalen Turner
!!!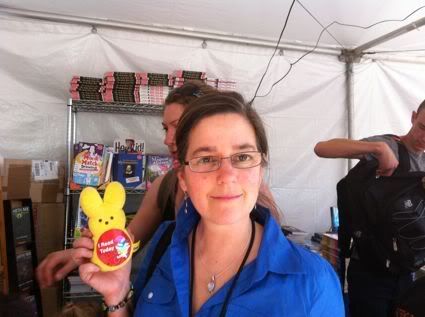 HOORAY for another great Book Festival!!!
BTW, I am now on Twitter. It's causing me discombobulation, trying to figure it out . . .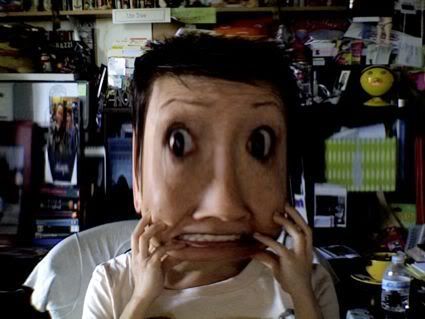 . . . but it's fun! You can follow me on Twitter by
CLICKING HERE
.
Disclaimer: No proofreaders were harmed (or even used) in the creation of this blog.
CLICK HERE
to find out about Lisa's newest book, WARP SPEED!!!
Lisa Yee
Subscribe to Lisa Yee's Blog and get her fresh baked blogs e-mailed to you!

Or you can click this for a RSS feed...