I listen to NPR all the time. Here's my KPCC member card . . .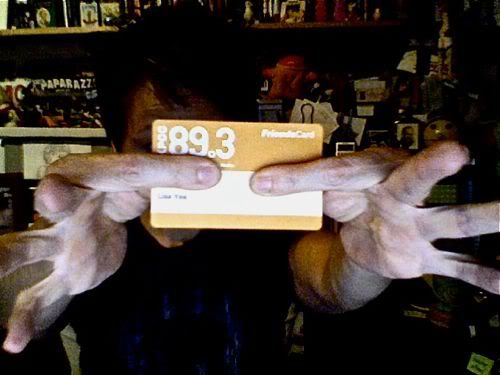 I love listening to shows like Wait, Wait, Don't Tell Me, produced by author pal
Emily Ecton
. . .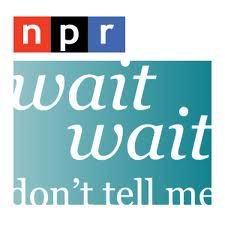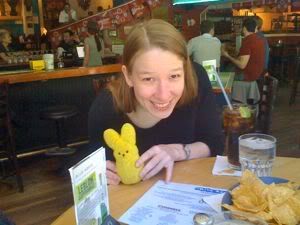 Here's when Peepy and I
went to the taping
of one of the shows . . .
(We got their tres early.)
I've been on NPR, too!
CLICK HERE
to listen to me babble on KQED.
(Oops. This is what happens to me when I babble too much.)
Wait, wait, don't tell me . . . back to NPR. One time, uber librarian/action figure
Nancy Pearl
talked about the best opening lines in kids' books. She even mentioned
Millicent Min, Girl Genius
. . .
"I have been accused of being anal retentive, an over achiever and a compulsive perfectionist, like those are bad things."
Here's Nancy ridding the world of bad guys . . .
You can
CLICK HERE
to hear Nancy talk Millicent. And to read an excerpt from MILLICENT MIN on NPR's website,
CLICK HERE
.
So anyway, I was thrilled when last week I got to hear NPR-ian Ira Glass in person . . .
He talked about how the shows are produced for
This American Life
.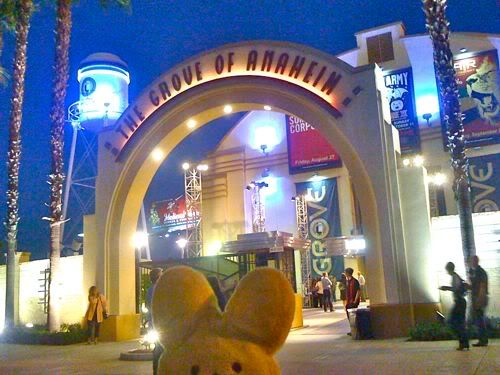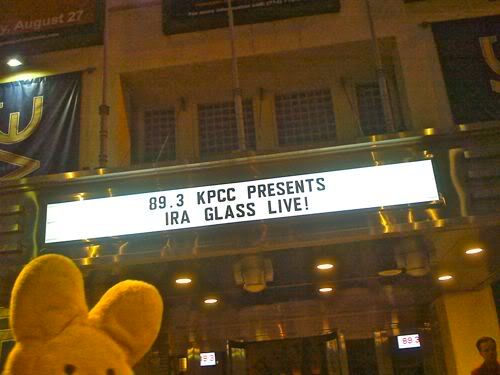 Peepy complained that she wasn't going to be able to see him . . .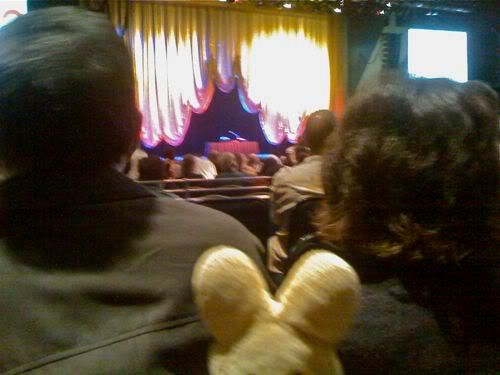 However, that's okay. Ira opened the show with the lights out and we pretended we were listening to him on the radio!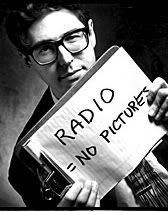 Here's Ira
on Letterman talking about chicken(s) . . .
So last night, Son was having trouble falling asleep. Being the loving and helpful mom that I am, I suggested he listen to some This American Life. I had downloaded it from last week, when the topic was sleep . . .
An hour later, a TOTALLY wide awake Son comes into my office and says, "Did you they talked about THE SHINING???"
Oops. I had listened to it, but was thinking about the segment when a fellow thinks he's the Hulk when he falls asleep. Not the segment where a kid watches THE SHINING and it ruins his childhood.
So sorry, Son. My bad. I'm not sure what's worse. What I did to Son this week . . . or a
couple of years ago
.
But I meant well. Honest!
Hey, speaking of kids, I'll be speaking to several classes
on Tuesday
, thanks to
Children's Book World
in Los Angeles.
Originally, I was going to speak at the store, but there were so many requests, we've been moved to an nearby school auditorium. However, after (around 11:45ish?) I'll be signing stock at the store, if you want to drop by!
Next Blog: Find out who Peepy's been hanging out with . . .
And finally, via
Fuse #8's blog
. . .
Disclaimer: No proofreaders were harmed (or even used) in the creation of this blog.
Want some fun?
CLICK HERE
to visit the Lisa Yee and Son YouTube Channel.
Lisa Yee
height=26 width=132 alt="Google Groups">

Subscribe to Lisa Yee's Blog and get her fresh baked blogs e-mailed to you!

Or you can click this for a RSS feed...