One of the mucho benefits of being an author is that you get to hang out with other creative people. And one of the benefits of being Peepy's BFF is that she knows all the cool dudes . . .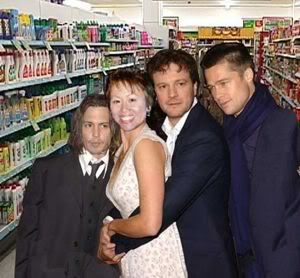 Recently, we had a Hey-Dudes-COFFEE!!!-a-thon . . .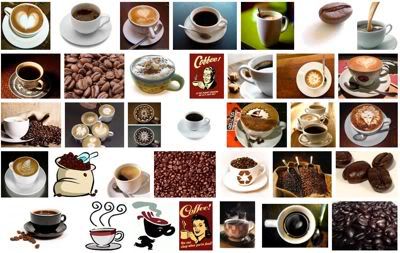 I've only now started drinking the stuff, and you know what? It's good!!!! Well, with LOTS of cream and several artificial sweeteners.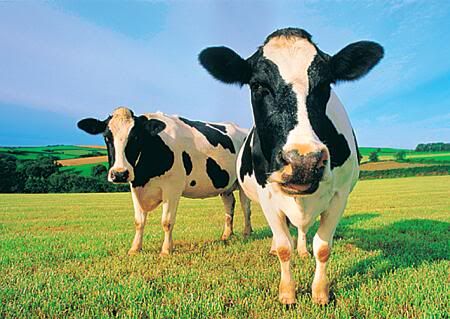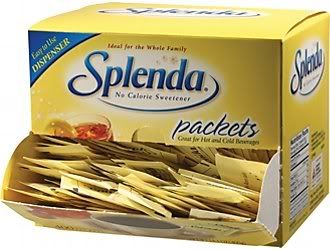 (Fun Fact: Lisa was once chased by a cow.)
There are soooo many benefits to COFFEE!!!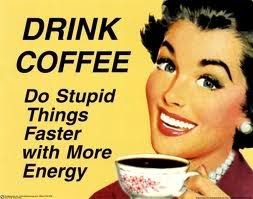 Anyway, our first Dude Dining/Coffee soiree was with this year's
Sid Fleischman Humor Award
Winner. It's been so cool meeting the winners. Six years ago my book, MILLICENT MIN, GIRL GENIUS was awarded the
first honor
and it changed my life.
So it was such fun meet up with
Allen Zadoff
, author of GIRLS, FOOD AND OTHER THINGS I CAN'T HAVE, BUT I CAN HAVE COFFEE!!! WITH LISA AND PEEPY!!!! (Okay, I admit it. I altered the title a wee bit.)
Um, I'm not sure what they discussed, but obviously it was quite shocking. However, later, Allen and Peeps got everything squared away . . .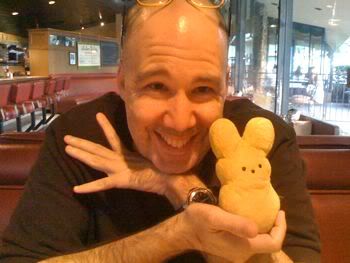 Next, it was a Dudes Who Can Draw Duo Birthday Breakfast with Other Dudes, Too . . .
That's
Ken Min
,
Wilson Swain
, Angelina Jolie playing the part of
Lisa Yee
,
Peepy
, and birthday-istas
Dan Santat
and
Bob Boyle
.
Peeps and her friend H. Hamburger cried over spilled milk. Later, Peepy drowned her sorrows with too much COFFEE!!!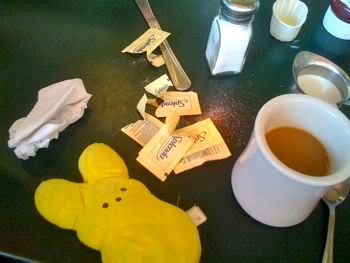 The Dude Duo Birthday Boys thought her behavior was a bit wild for so early in the morning . . .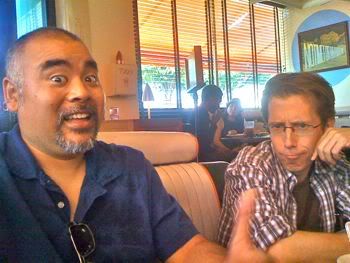 Then it was time for more COFFEE!!! This time with the Dude with the Hat . . .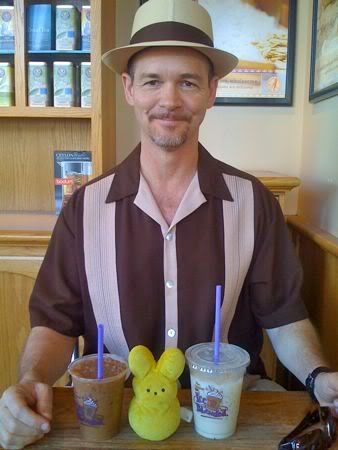 Why, hey! Isn't that author
Bruce Hale
??? Doesn't he live in Santa Barbara? What was he doing in our arm of the woods? (Since everyone always says, "neck of the woods," I thought I'd be different.) Here's a hint . . .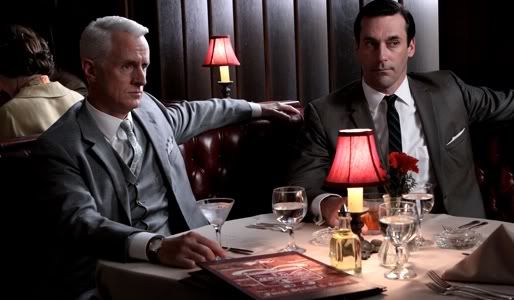 Okay. Actually that photo doesn't have anything to do with Bruce, or where I was. You'll have
checl out our NEXT BLOG to find out the answer to this HUGE MYSTERY!!!!
Say, whatcha going to do on Saturday? Why not run, drive or fly to Mrs. Nelson's Bookstore? I'll be there with other middle grade authors.
CLICK HERE
for more details.
Oh! And if you are interested in guys and books, there's this blog called
Hot Guys Reading Books.
(You're welcome.)
Speaking of guys and books, here's a guy book (or a girl book) for you. Yes! You can win an autographed copy of
BOBBY THE BRAVE (SOMETIMES)
??!!!?!!!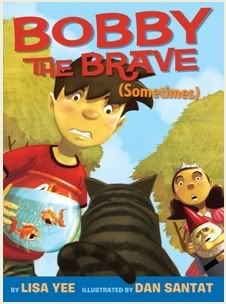 Check out the
giveaway details
at Goodreads. And
ENTER TO WIN!
Disclaimer: No proofreaders were harmed (or even used) in the creation of this blog.
Want some fun?
CLICK HERE
to visit the Lisa Yee and Son YouTube Channel.
Lisa Yee
height=26 width=132 alt="Google Groups">

Subscribe to Lisa Yee's Blog and get her fresh baked blogs e-mailed to you!

Or you can click this for a RSS feed...