Not too long ago, I had lunch with these suspects . . .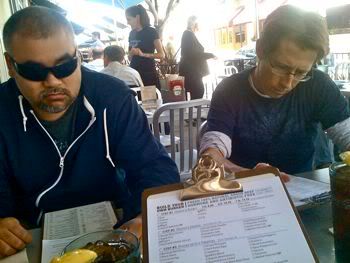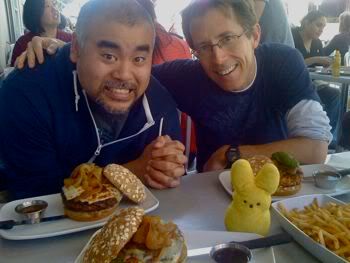 That's
Dan Santat
, who illustrates MUCHO books, including
"Bobby vs. Girls (Accidentally) Now in Paperback"
*, and created the Disney TV show
The Replacements
. And on the right is
Bob Boyle
who also writes/illustrates, plus was a producer on Fairly Odd Parents, and has a show on Nick Jr called
Wow! Wow! Wubbzy!
I too have a television show. It's called, "Watch Lisa Not Get Enough Sleep." Oh wait, I forgot. That show hasn't been made yet.
Anyway, we didn't get much eating done, because we were so busy reading interesting, charming, awe-inspiring books . . .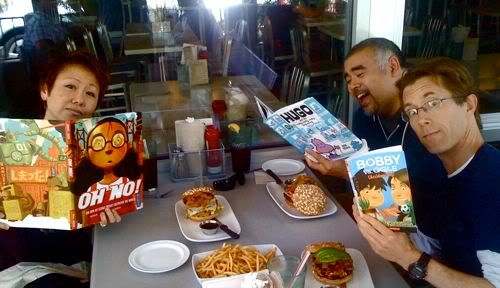 Earlier this month, Bob had a signing for HUGO at our local indie, Vroman's in Pasadena . . .
(
CLICK HERE
if the video doesn't show up on your blog.)
I don't think it's fair that illustrators DRAW pictures at book signings. It makes us authors (a.k.a. Me) look boring. Plus, I always get stuck sitting next to famous author/illustrators at signings.
Here's an author (a.k.a. Me) sitting next to
Mark Teague
, who insisted on drawing pictures in every one of the million books he signed . . .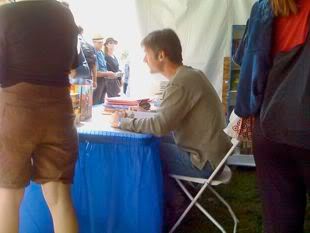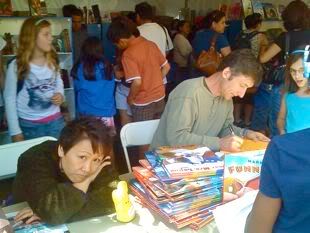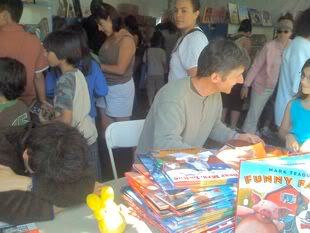 Wait! Wait! I know, I'll start writing at book signings, and people can watch me construct sentences. YES! Here's a live-action-3-D-surround-sound-Avatar-style video of me writing . . .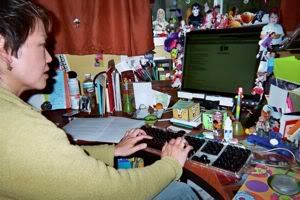 See? Wasn't that exiciting?
What? Oh.
Check out this cool/ever-so-
sad-but-true video
that's been making the rounds. It tells of another author's book signing woes . . .
*The paperback part isn't really in the official title, but the book did go into paperback this month!!!!
See . . .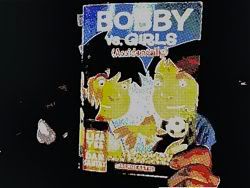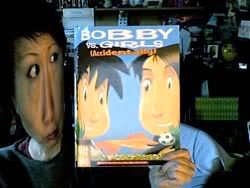 Lisa Yee
Create Your Badge
Disclaimer: No proofreaders were harmed (or even used) in the creation of this blog.
Subscribe to Lisa Yee's Blog and get her fresh baked blogs e-mailed to you!

Or you can click this for a RSS feed...