Last blog, courtesy of time travel,
we were in the Windy City
. This blog takes us
back to the Big Apple
, even though we are in
Southern California
. . .
I was in NYC to embarrass myself in the
Ultimate Author Smackdown
, but had time to bop around time with Peepy and visit a bakery in Little Italy . . .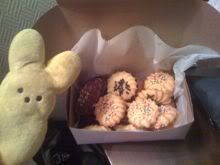 "Are ALL those cookies for you?" I can hear you ask.
"Pshaw! Nooooo, no, no." I shared them with
my Peep
.
We stayed at the glam
SoHo Grand
, and snooped around the neighborhood . . .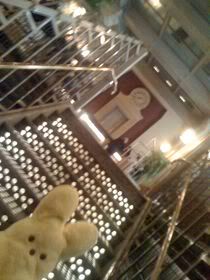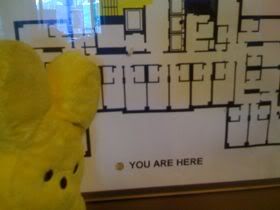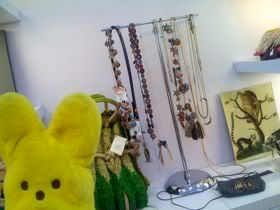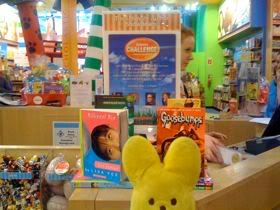 Can you guess what that last photo is of? Yes! The
Scholastic
World Headquarters!!!
Speaking of Scholastic, recently I guest blogged about CHOCOLATE for
"The Stacks"
. . .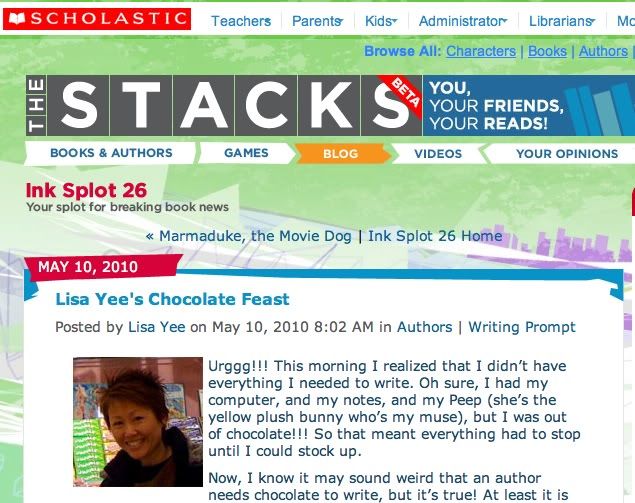 CLICK HERE
to read the full disclosure on why CHOCOLATE is so important to an/
this author
.
Sweets are important to Peepy, too. And just look what her friend
Anji Williams
sent her from Japan . . .
Recently, I got something cool in the mail, too . . .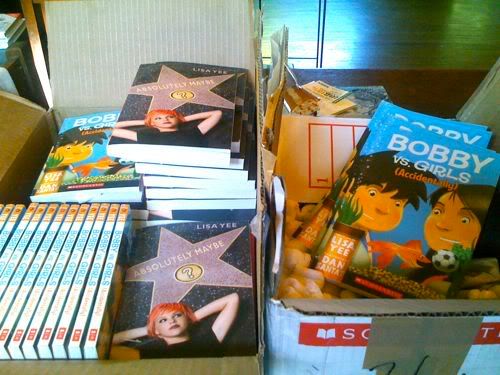 The just released paperback versions of
BOBBY VS. GIRLS (ACCIDENTALLY)
and
ABSOLUTELY MAYBE!!!!!
Next Wednesday, May 19th, I'll be doing a live chat about ABSOLUTELY MAYBE and chocolates and whatever anyone wants to talk about over at a
READERGIRLZ
. . .

The discussion has already begun though, and will continue all month, like when we gabbed about
our creative outlets.
And hey, if you're in the Los Angeles area on May 20th, I'll be here . . .
Hope you can make one or even both!!!
BTW, if you're on Goodreads and would like to enter to win an autographed copy of ABSOLUTELY MAYBE, just
CLICK HERE
Lisa Yee
Create Your Badge
Disclaimer: No proofreaders were harmed (or even used) in the creation of this blog.
height=26 width=132 alt="Google Groups">

Subscribe to Lisa Yee's Blog and get her fresh baked blogs e-mailed to you!

Or you can click this for a RSS feed...