My first school visit of the new year was at
Lowell
Elementary in Long Beach, CA . . .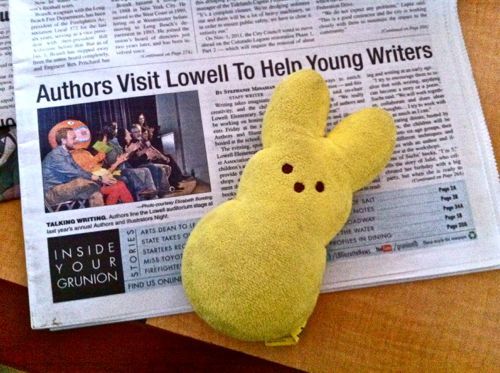 I taught a workshop there
last year
, and must not have been too weird because they invited me back!
Before the evening event, the authors/illustrators rendezvoused in the teacher's lounge . . .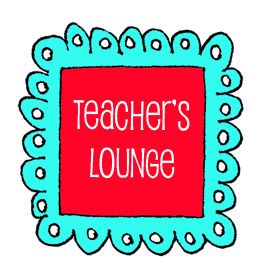 When I was a kid, I always wanted to know what the teacher's lounge looked like and what went on in that mysterious room . . .
So it was a thrill to be able to be able to hang out there. I wasn't disappointed . . .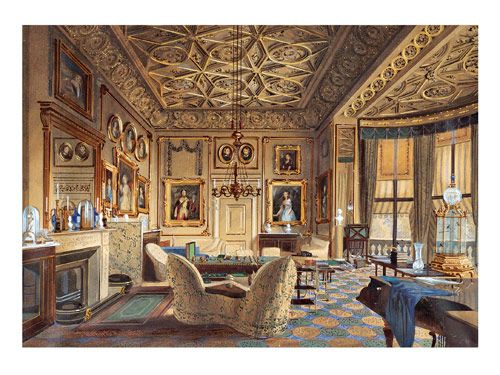 Off to the side of the main room (above) was another secret room where the cake was kept . . .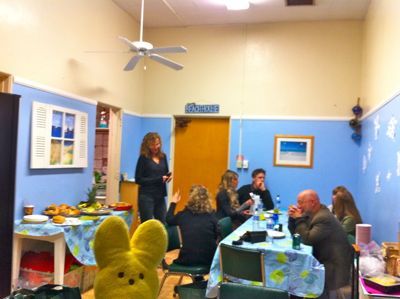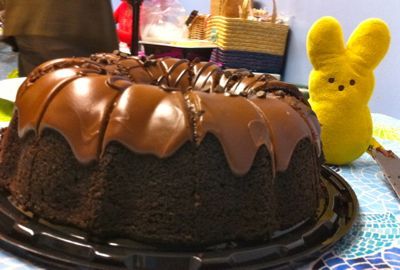 Apres cake, it was time to go onstage and be introduced. Here's
who else was there
. It's always fun to see Fancy Nancy illustrator,
Robin Priess Glasser
. However, one of us felt underdressed . . .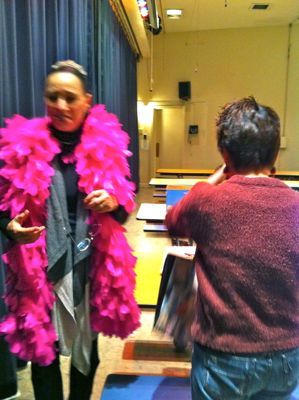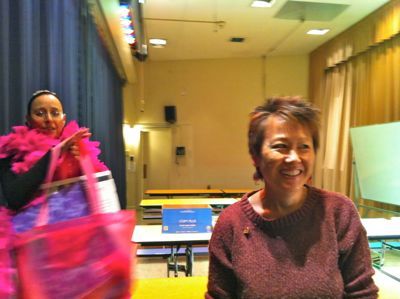 Robin has to coolest crown.
Last time
we saw each other, she hung out with Peepy . . .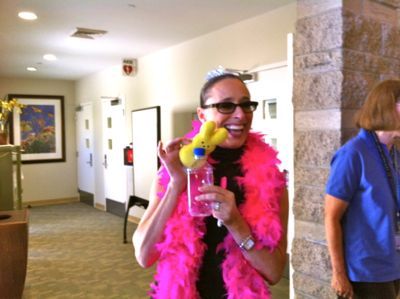 Then it was time to break into our workshop groups. My "How to Write a Story" was held in the library . . .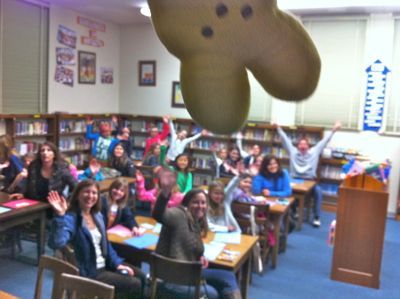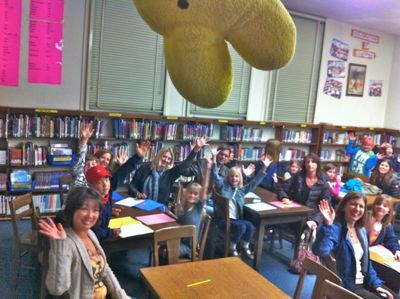 Pssst . . . don't tell the librarian, but I stood on the chair so that everyone could see me . . .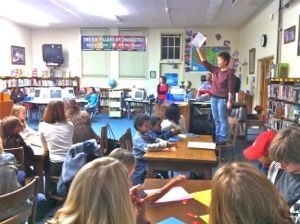 I gave my group some tough, but fun, writing assignments. Luckily,
Peepy
was there if anyone needed help . . .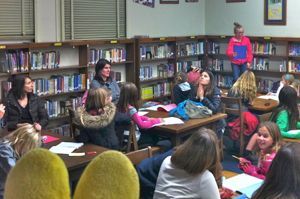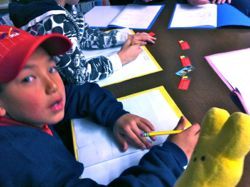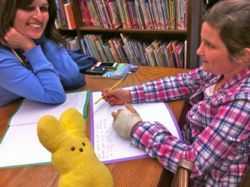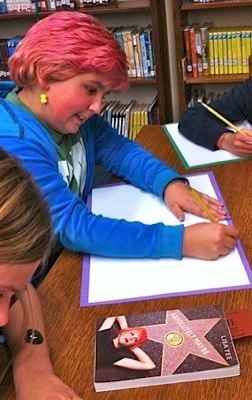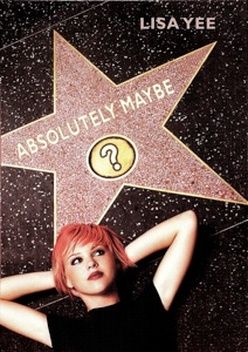 (Did you notice the girl with the pink hair? She matches the cover of
ABSOLUTELY MAYBE!
)
The kids (and adults) came up with such fabulous stories, we had to celebrate!! I told them, this is the one and only time you can stand on a chair in the library and shout . . .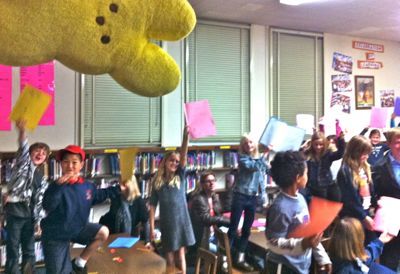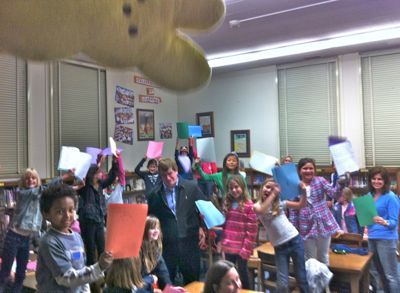 We capped off the evening with a book signing . . .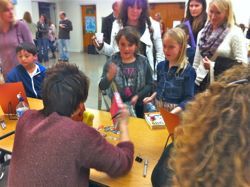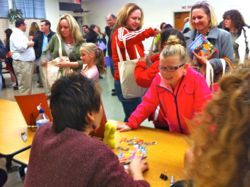 When we got back to our hotel, we saw one of these intriguing signs in the elevator . . .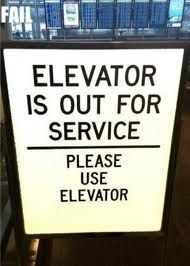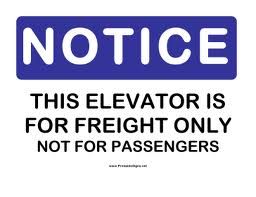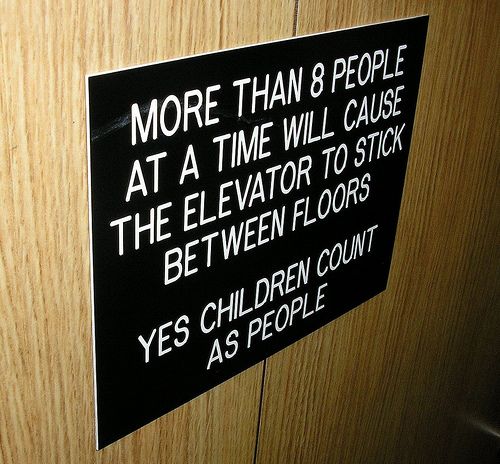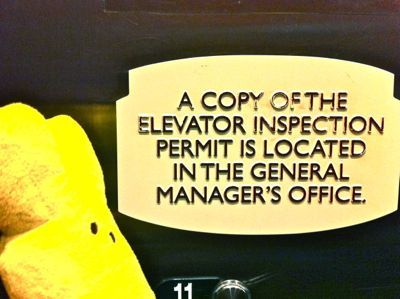 Yes! You must be psychic -- it was the last sign.
So we went to the front desk and asked to see the Official Elevator Inspection Permit. But alas, the general manager was not on duty. Oh well. Next time.
Next Blog: Guess who had a book signing at
Apostrophe Books
????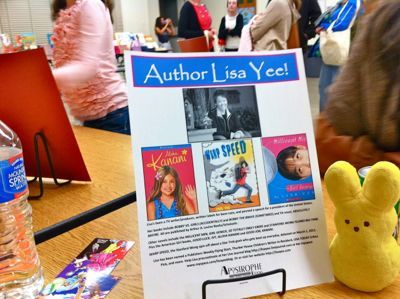 ----------------------
Disclaimer: No proofreaders were harmed (or even used) in the creation of this blog.
Upcoming Events . . .
Next week I'll be at the Flintridge Bookstore & Coffeehouse along with Susan Patron and other wonderful authors.
CLICK HERE
for more information.
In February, I'll be in Austin, TX for the
SCBWI Regional Conference
, then in
Vancouver
for this . . .

Want to check out Lisa's NEW AND IMPROVED website? SImply
CLICK HERE
.
Interested in having Lisa speak at your school, library or conference?
CLICK HERE
for more information.
Lisa Yee
Subscribe to Lisa Yee's Blog and get her fresh baked blogs e-mailed to you!

Or you can click this for a RSS feed...