Some apostrophes are unnecessary, like these from the blog
Apostrophe Abuse
. . .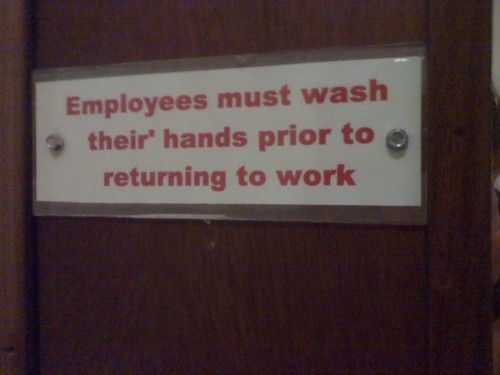 However, other Apostrophes are absolutely, positively, totally, totally necessary . . . .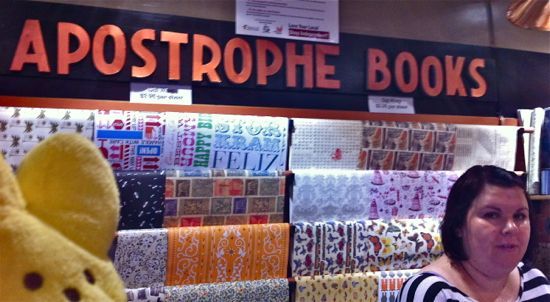 That's right. I'm talking about that wonderful indie store
Apostrophe Books
in Long Beach, CA. I was there
last year
when
WARP SPEED
launched, and was back recently . . .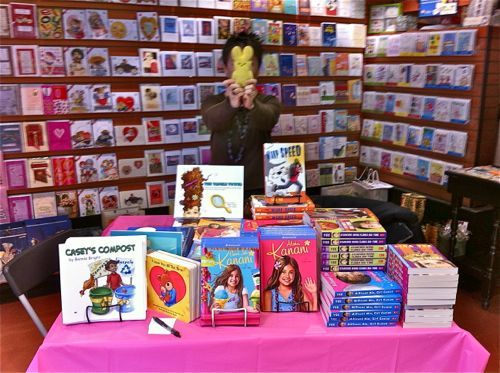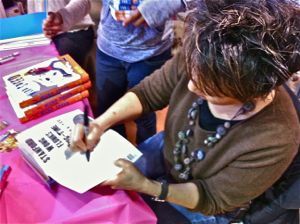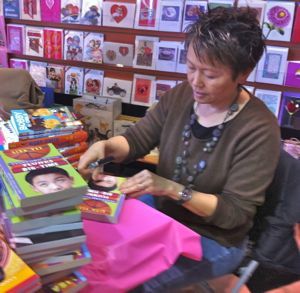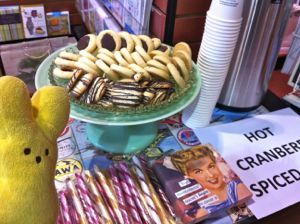 All the author/illustrators who
spoke at Lowell Elementary
signed at the store the next day . . .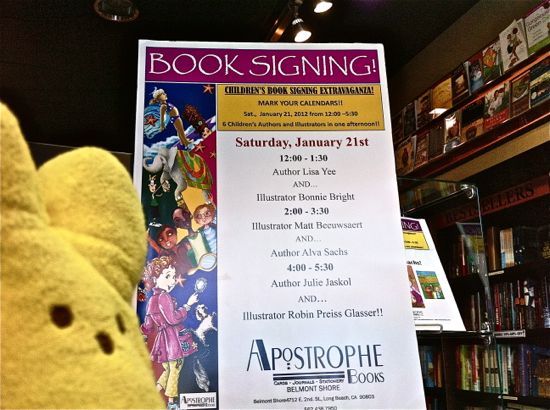 And what a marvelous bookstore it is!!! There's something about a bookstore. You walk in and instantly feel good. Bookstore therapy. Yes, that's what is is.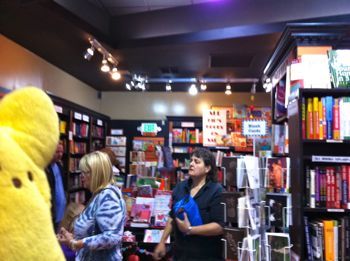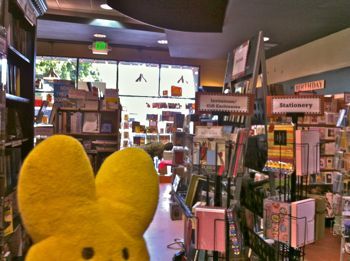 Oh sure, the internet is all fine and dandy. In fact, for some of us, we use it Waaaaaay Tooooo Much and need help
discipling ourselves.
And yes, there are e-books.
However, there's nothing like buying a book, a real book, one to have and to hold, in sickness and in heath, from this day forward until death do you part (or something like that.)
Here are a few books of mine that I am wedded to . . .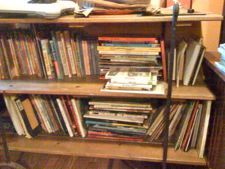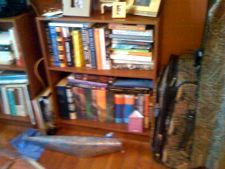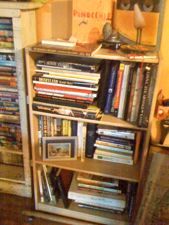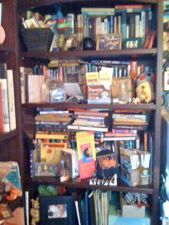 I wrote a book called
GOOD LUCK, IVY
, about a Chinese American Girl growing up in San Francisco. In the story, she's a really good gymnast because I was a . . . really bad gymnast. Anyway, here's Ivy and me . . .
Recently I heard from the fabulous Berkeley Book Worms from Berkeley Elementary in Westwood, NJ. They just started their book club and chose GOOD LUCK, IVY as their first pick to help celebrate Chinese New Year!!!
Gung hei fat choy -- Happy Chinese New Year to the Berkeley Book Worms, and everyone who is Chinese, and to everyone who isn't Chinese, and anyone I may have left out!!!
----------------------
Disclaimer: No proofreaders were harmed (or even used) in the creation of this blog.
Want to check out Lisa's NEW AND IMPROVED website? SImply
CLICK HERE
.
Interested in having Lisa speak at your school, library or conference?
CLICK HERE
for more information.
Upcoming Events . . .
This Sunday, January, 29, 2012, I'll be at the Flintridge Bookstore & Coffeehouse along with Susan Patron and other wonderful authors.
CLICK HERE
for more information.
In February, I'll be in Austin, TX for the
SCBWI Regional Conference
and I'll also be in Vancouver for the
Serendipity Conference
. . .


Lisa Yee
Subscribe to Lisa Yee's Blog and get her fresh baked blogs e-mailed to you!

Or you can click this for a RSS feed...