It is possible that I am inordinately fond of Colin Firth as
Mr. Darcy
.
It is possible that some incredibly kind people are aware of this and have sent him to my office.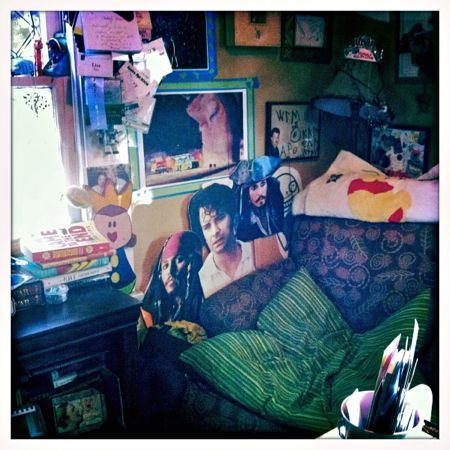 So, when Teen told me about Colin (we are on a first name basis) being on Craig Ferguson's
Late Late Show
, it is possible that I started screaming.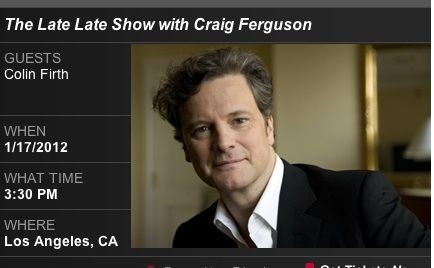 Also being a Craig (we are on a first name basis) fan, I have been to his show in the past. You may have seen me. I was the one in the audience who was waving.
The first time, the special guest was Robin Williams, and the second time it was Neil Patrick Harris . . .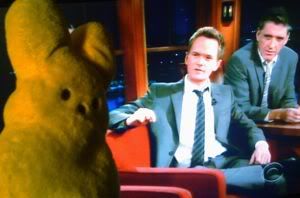 Because of my special fan status, and other things, I was awarded (I like to think that there was a committee of judges who decided this) priority access to the show . . .
They wanted me there so badly, I was sent several follow-up emails to insure my presence . . .
Not wanting to make a big deal about seeing COLIN FIRTH and CRAIG FERGUSON TOGETHER and IN PERSON, I mostly kept this information to myself and my Facebook and Twitter followers, plus the people in the 15 Items or Less line at the grocery store, and some strangers who thought I was harassing them.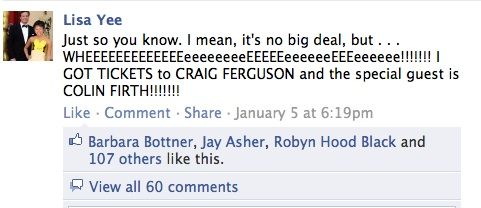 Before the show, we went to The Farmers Market, which is next to CBS, for lunch, and to say "hello!" to Ivy Ling at the American Girl Place. I wrote
GOOD LUCK, IVY
and recently they made a mini version of the doll and book!
The line for the show was short. Maybe because we got there an hour and a half early.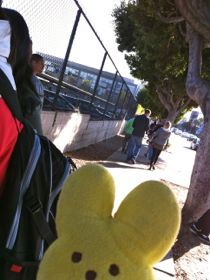 It was odd, they were even advertising free tickets . . .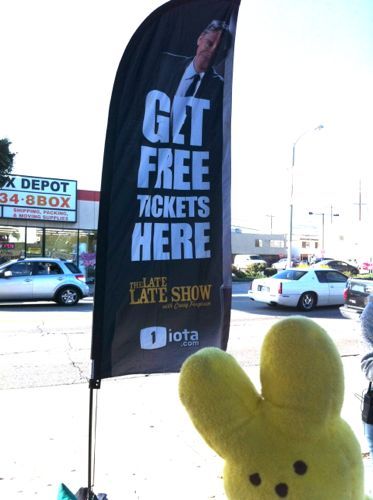 Soon enough, the line grew and grew and grew and even people who had tickets were turned away . . .
However, I had nothing to fear because of my super special priority access tickets. So I used the time to plot, er, wonder, how to make a good impression on Colin . . .
While we were in line, gameshow contestants marched past us . . .
We weren't allowed to bring phones or cameras into the studio, however, few people know this about me . . . I am a semi-professional artist. Here's what happened, as best as I can recall . . .
Everyone had to go through security, yes, even me . . .
I was in the second row, middle. However, a BIG man with a BIG head sat in front of me . . .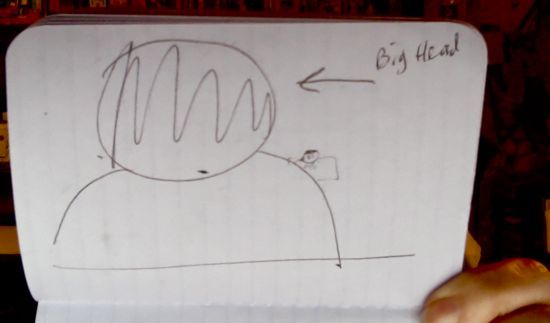 Therefore, I was forced to invade the personal space of the stranger seated to my right, so I could get a good view of COLIN and CRAIG . . .
They had to stop the show, when Colin and I made significant eye contact and he just had to know who I was, and he wanted to meet me right way!!!! Or at least, that's what maybe, possibly happened, or not. It's all sort of fuzzy now . . .
Of course,
Peepy
has an entirely different account of what happened. She says that Craig dedicated the monologue to her . . .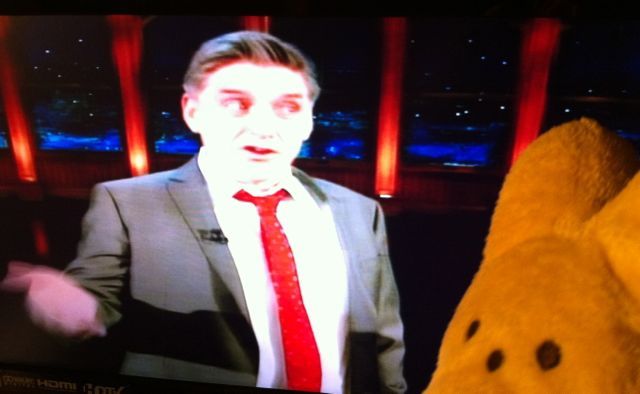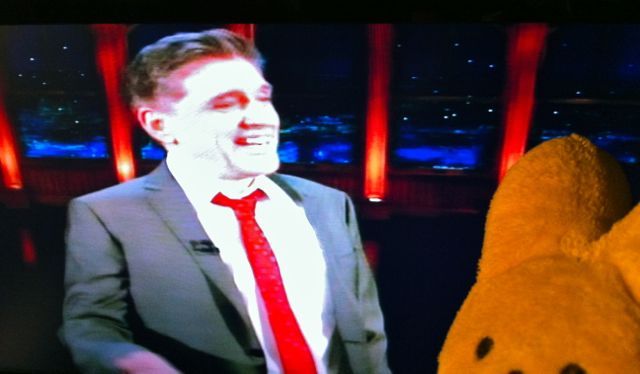 And that Colin was taken aback by her beauty and only had eyes for her . . .
But whatever happened, this much is true -- the accents (English = Colin, Scottish = Craig) were incredible, and Colin was so wonderful and witty!!!
If you missed the show, you can see it
HERE.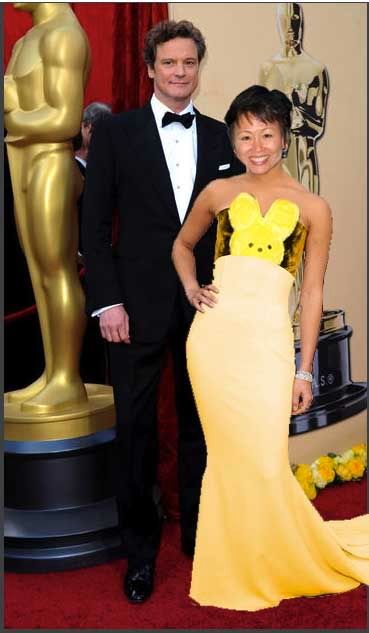 (Thanks to
Marylin Scott-Waters
for capturing this completely candid and true photo of Colin and me.)
----------------------
Disclaimer: No proofreaders were harmed (or even used) in the creation of this blog.
Want to check out Lisa's NEW AND IMPROVED website? SImply
CLICK HERE
.
Interested in having Lisa speak at your school, library or conference?
CLICK HERE
for more information.
Upcoming Events . . .
Live in or near Long Beach, CA (or have access to a car, train, bus or plane)? Then come see me at
Apostrophe Books
on January 21, 2012. I'll be there from noon to 1:30 p.m.!
Later this month, I'll be at the Flintridge Bookstore & Coffeehouse.
CLICK HERE
for more information.
In February, I'll be in Austin, TX for the
SCBWI Regional Conference
, then in
Vancouver
for this . . .

Lisa Yee
Subscribe to Lisa Yee's Blog and get her fresh baked blogs e-mailed to you!

Or you can click this for a RSS feed...