When last we blogged,
we were at BEA
(BookExpo America), hobnobbing with fascinating, good-looking bookish people . . .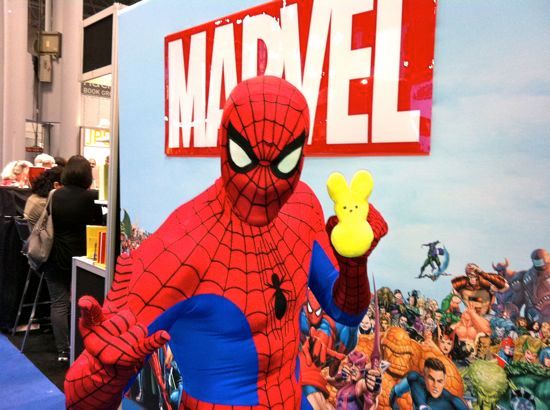 Wait. What? No way! There's more???!!!!
That night we ventured over to
KidLit Drink Night
to benefit
RIF
.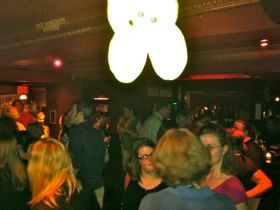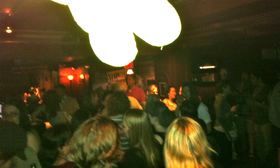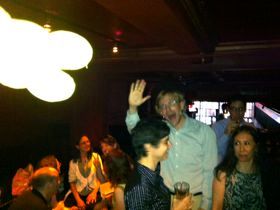 (The fellow waving is
Harold Underdown
, and that's
Melanie Hope Greenberg
, on the right, pretending that he's not there. Harold has been known to
behave badly
in social situations.)
It's always great to see uber librarian/blogger
Betsy Bird
, the woman Forbes called "the most powerful, most beautiful, most smartest, most strongest, most most-est blogger* in kids'books" . . .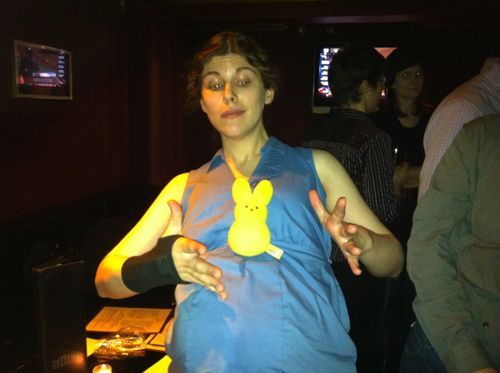 (A couple of years ago,
Peepy went MISSING
while we were visiting Betsy at the New York Public Library. It was (almost) a tragedy.)
Betsy's soon-to-be delivered baby girl is not named Molly. However, there are over 80 books autographed to Molly.
CLICK HERE
to find out what I am blathering about.
Everywhere we looked, there were authors and illustrators. Oh, hello! It's NY TIMES bestselling author and bon vivant
Michael Buckley
. . .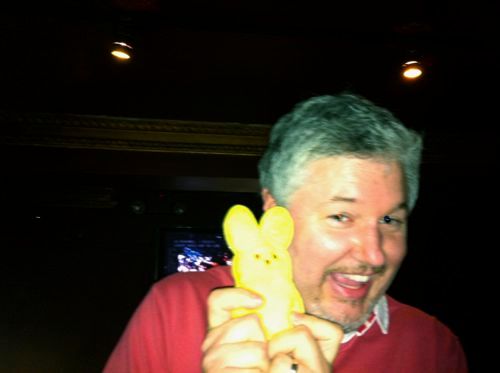 (The last time Michael and I saw each other we were
debating humor
in Arizona. Er, not if there is humor in Arizona, but we were in Arizona debating about humor. Okay, I'll leave that alone now.)
Over there! Hey, it's tres chic award-winning illustrator
Brian Floca
!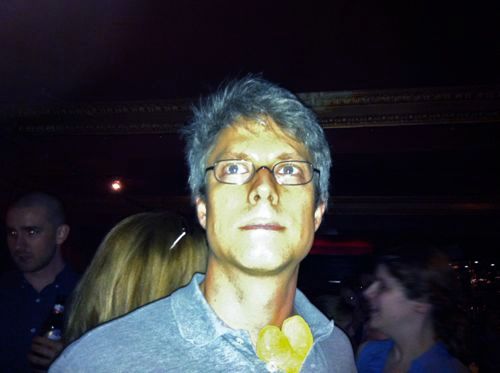 (The last time we saw Brian,
he was a quad
.)
Katie Davis
and
Peepy
have so much in common since both are bright, beautiful and effervescent . . .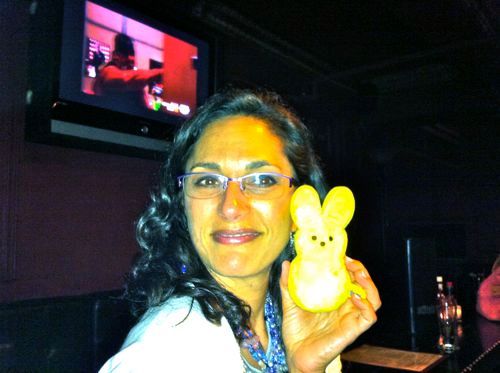 Peepy was determined to pitch her epic memoir/fashion tip book to lovely Little Brown editor
Alvina Ling
. . .
Not one to leave anything to chance, Peeps also gave talented Clarion editor and author
Daniel Nayeri
the scoop on her best-seller-to-be . . .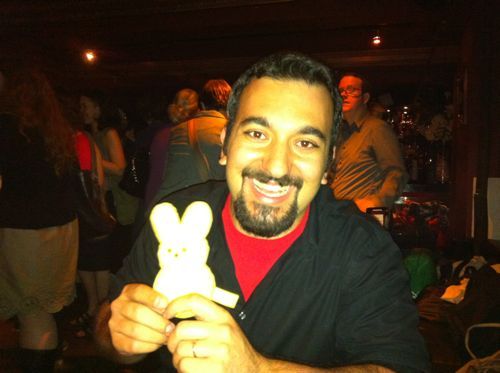 Of course, Peepy will need some stellar creative, so she took a meeting with Abram's dapper Creative Director
Chad Beckerman
. . .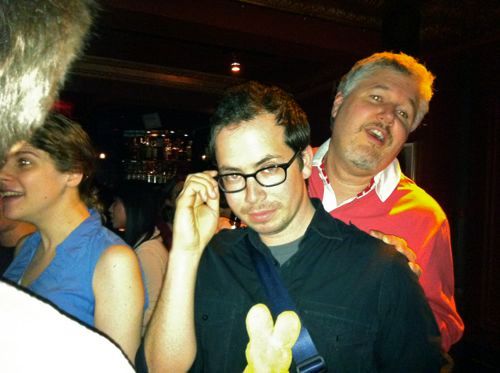 (Michael Buckley is angling to collaborate with Peeps on her book, but she'd prefer solo author credit.)
Later, Peep peered into Daniel's totally cool book promo piece . . .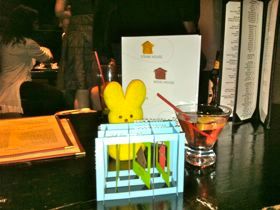 Oh, look! It's maggot-hating Newbery Award winner
Linda Sue Park
with Daniel . . .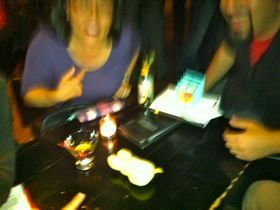 (Despite
THIS HORRIFIC
occurrence, Linda Sue is still my friend.)
We asked them to be still so we could focus on them. There. That's better . . .
(Who's that with them? Why, that's awesome author
Barry Lyga
, of course.)
We asked Linda Sue to say something deeply profound and
she said
. . .
Hey, a shout out to my fabulous editor
Cheryl Klein
and Betsy Bird for organizing the event!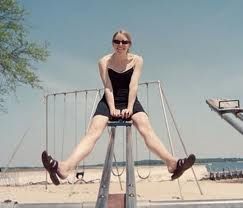 (That's Cheryl, above. She got engaged
Jane Austen-style
.)
The next day on my way to lunch in Brooklyn, I observed this . . .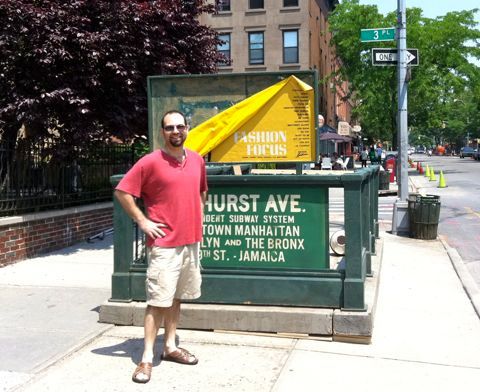 One of those things is not real. Can you guess what's real and what's not?
Here's a hint . . .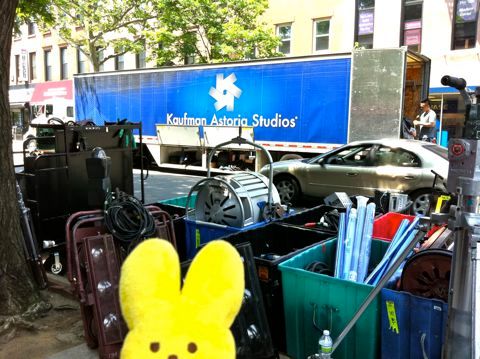 If you guessed that Barry Lyga is not real, then you have to guess again. That's because, it's the subway that's fake! Yes, it was built for the Men In Black 3 movie!
And here's the real, honest to goodness,
Barry
. . .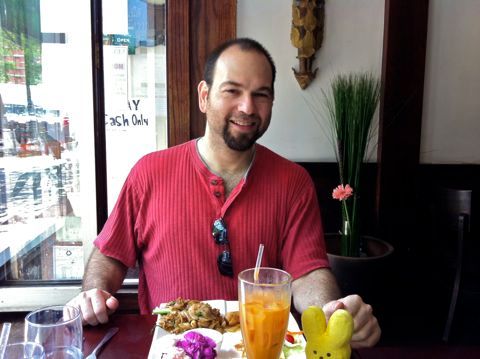 (Barry and I once
shared a meal
in Las Vegas!)
There's even more of our New York Adventures, and we'll be blogging about it next. In the meantime, here's a sneak peek of the next blog . . .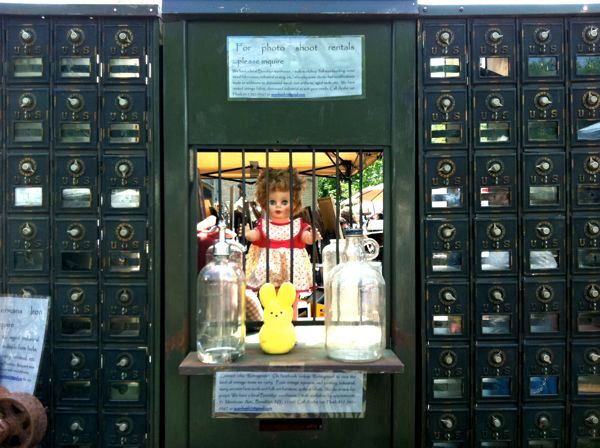 *Forbes mostly said those things.
Disclaimer: No proofreaders were harmed (or even used) in the creation of this blog.
Do you love Young Adult novels? Then come join me and other authors, bloggers and educatiors on June 25th at Vroman's in Pasadena!
CLICK HERE
for more info.
CLICK HERE
to find out about Lisa's newest book, WARP SPEED!!!
Follow Lisa on Twitter by
CLICKING HERE
.
Lisa Yee
height=26 width=132 alt="Google Groups">

Subscribe to Lisa Yee's Blog and get her fresh baked blogs e-mailed to you!

Or you can click this for a RSS feed...