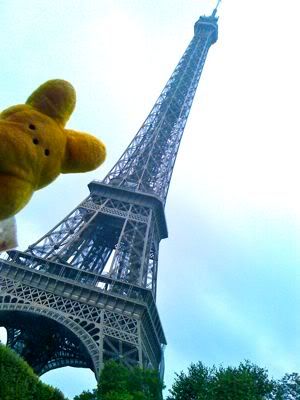 Oui, oui! La Peey est une Paris, si vous plait. "Quelle fromage!"*
Peepy LOVED Paris. And it loved her.
The Notre Dame Catherdral was so inspiring. (It made me cry.)
Peeps was interested in the other sights Paris had to offer . . .
But what she really wanted to do, was to see the castles. Here's the castle where the famed inventor Leonardo DiCaprio is buried . . .
Oops. Wrong Leonardo.
Okay, now I'm probably mixing my castles up. (We saw three.) So, I'll just put all the pictures up . . .
In one of the villages, Peepy hung out with the locals while I hit the chocolate shop . . .
Oooh, la la, here's more castle-mania . . .
Great. Now Peepy wants her own castle.
NEXT BLOG: La Peep at La Louvre.
Disclaimer: No proofreaders were harmed (or even used) in the creation of this blog.
Want some fun?
CLICK HERE
to visit the Lisa Yee and Son YouTube Channel.
height=26 width=132 alt="Google Groups">
Subscribe to Lisa Yee's Blog and get her fresh baked blogs e-mailed to you!