Peepy's Roman Holiday
continued when she insisted on visiting the smallest country in the world. No, it wasn't Peepville, it was Vatican City, the official seat of the Catholic Church.
Before venturing in,
Peepy
had to make sure she had the proper attire and that everything was in order . . .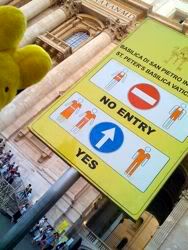 The architecture was incredible . . .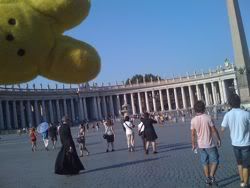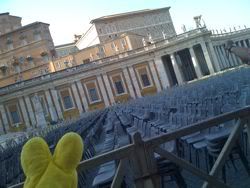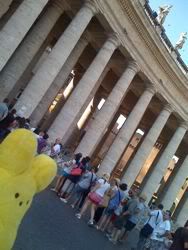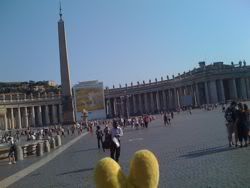 . . . and the interior of St. Peter's Basilica was magnificent . . .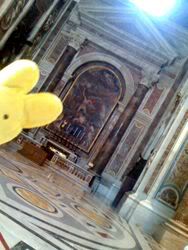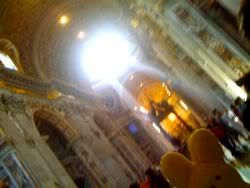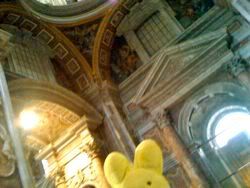 Peeps had hoped to catch a glimpse of the Pope. But alas, he was not to be seen. However, Peepy did manage to meet a couple of the
Swiss Guards
. They're the ones who guard the Pope and serve as palace guards.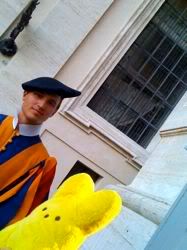 (Now Peepy wants a Swiss Guard of her own!)
What??? Oh wait! Wait! I was mistaken. Peepy did meet the Pope before. Look . . .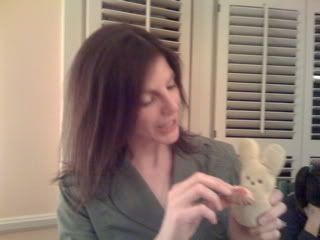 Yes, that's Peeps with her friend and SCBWI blogger,
Alice Pope!
Hey, can you guess where we headed next? Here's a hint . . .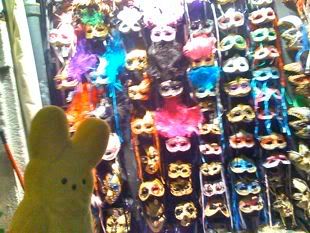 Lisa Yee
Disclaimer: No proofreaders were harmed (or even used) in the creation of this blog.
Want some fun?
CLICK HERE
to visit the Lisa Yee and Son YouTube Channel.
height=26 width=132 alt="Google Groups">

Subscribe to Lisa Yee's Blog and get her fresh baked blogs e-mailed to you!

Or you can click this for a RSS feed...