Look! LOOK! Lookit!
Lots of people have tried to get their hair to look like
Maybe's
. . .
(Ignore that "Untitled" in the center of the photo. I, uh, meant to put it there.)
But
ABSOLUTELY MAYBE
fan, Amy, was inspired to acutally dye her hair with Kool-Aid!!! I think it looks absolutely awesome, don't you?
Speaking of YA novels,
Holly Cupala
has this cool new book out called TELL ME A SECRET. In honor of the book, she asked her YA author friends to spill their guts and reveal their secrets. You can
CLICK HERE
to watch it. Or watch here . . .
Hey, did someone just shout "French dip sandwiches!!!" (What, you didn't hear it?) Well, recently, Peepy went to her fav sandwich place. The line was loooong, but it was so worth the wait!!! If you ever get a chance, you have to go to
Philippes!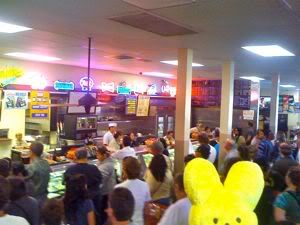 Speaking of other countries (that's a reference to "French" dip), here's the Korean version of
Bobby vs. Girls (Accidentally)!!!!
And while we're on the topic of international stuff, our next blog will answer the oft asked question . . . "Where in the world has Peepy been?????"
Here's a hint . . .

Lisa Yee
Disclaimer: No proofreaders were harmed (or even used) in the creation of this blog.
height=26 width=132 alt="Google Groups">

Subscribe to Lisa Yee's Blog and get her fresh baked blogs e-mailed to you!

Or you can click this for a RSS feed...