When
last we blogged
we were at the Virginia Hamilton Conference at Kent State in Ohio. Lest you think we're making it up, here's photographic proof we were there . . .
Yes, apparently the black squirrel is the unofficial mascot of the school, and they are everywhere . . .
During the conference, we had an informal conversation with conference attendees. (Since it was informal, I felt compelled to sit on the stage floor.)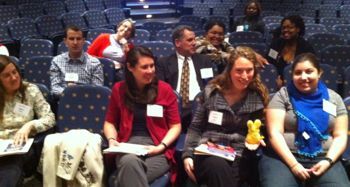 After a lovely lunch we checked out the bookstore . . .
Soon it was time for
E.B. Lewis
to speak. (E.B. and I are both on the SCBWI
Board of Advisors
.)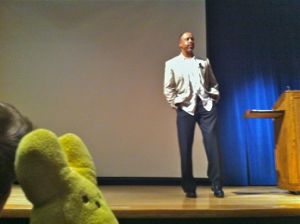 After the conference, we were fed again . . .
This time we got to see and explore the
Reinberger Children's Library Center
and the magnificent
Marantz Collection
of more than 21,000 picture books . . .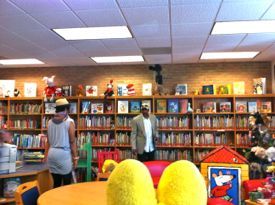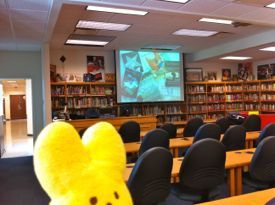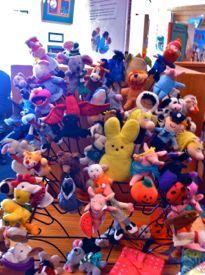 Imagine my surprise when I turned a corner and happened upon this . . .
Yep. That's right. It's
K.T. Horning
, director of the
CCBC
hard at work. Or so she said.
For more about the Virginia Hamilton Conference, check out
Christina Getrost's blog
for YALSA.
Wheeee --
STANFORD WONG FLUNKS BIG-TIME
made
Grace Lin's
PBS Parents List of favorite Asian American books. To see the full list,
CLICK HERE!
(Above: Grace and friends.)
Next Up: What set off Origami Yoda's
Tom Angleberger?
===========================
Disclaimer: No proofreaders were harmed (or even used) in the creation of this blog.
Want to check out Lisa's NEW AND IMPROVED website? Simply
CLICK HERE
.
Interested in having Lisa speak at your school, library or conference?
CLICK HERE
for more information.
Upcoming Events . . .
LitFest Pasadena
, May 12
10:30 – 11:20 -- Youth Knows No Bounds: Breaking the Cliques and Clichés of Young Adult Literature
with Cecil Castellucci, Ron Koertge, Blake Nelson, and Lisa Yee
Moderated by Sherri L. Smith
Lisa Yee
Subscribe to Lisa Yee's Blog and get her fresh baked blogs e-mailed to you!

Or you can click this for a RSS feed...