We were
THERE
last blog, and now here's more of the LA TIMES Festival of Books at the University of Southern California!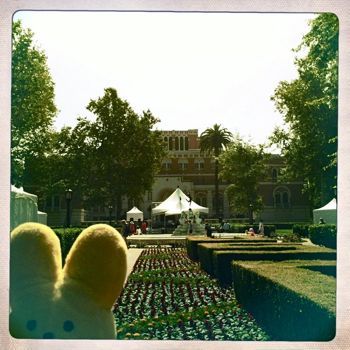 This is an iconic building. Why? Because when I was a senior at USC I fell down the stairs inside the building, that's why.
Oops. No digressions! Back to the book festival.
It's always great to see
Lauren Myracle
, who is alive (despite her
AWOL website
), and find out what kind of trouble she's gotten herself into. The
last time
we saw her, at the National Book Festival, this happened . .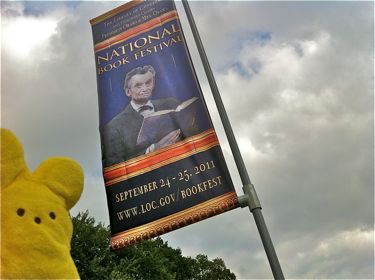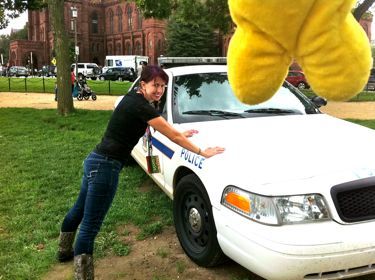 Wouldn't you know it? We had to bail Lauren out yet again . . .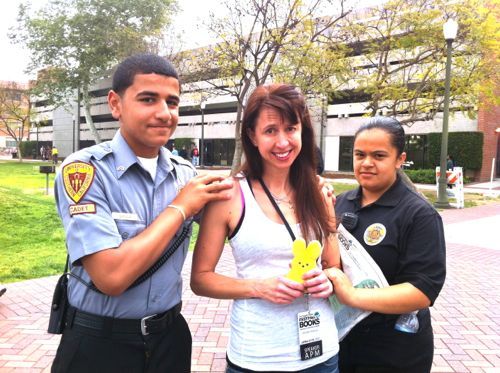 After, we headed to the Diesel/Scholastic booth where we ran into National Book Award Winner and newly minted LA TIMES Book Award winner
Pete Hautman
. . .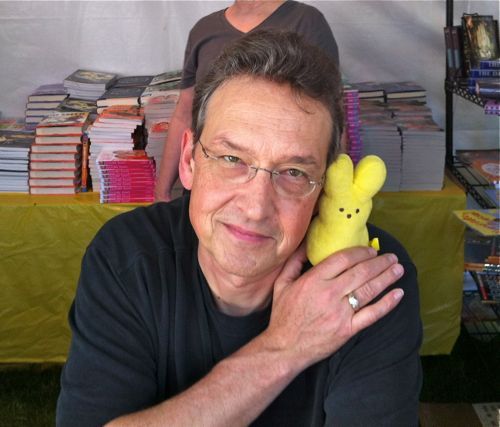 BTW, Pete is a genius. Most authors I know get TONS of emails from students asking us to
do homework
or write book reports. Check out Pete's
free book reports
. . .
Other authors signing for
Scholastic
included
Libba Bray
and
Maggie Stievater
. . .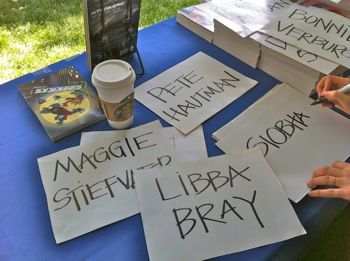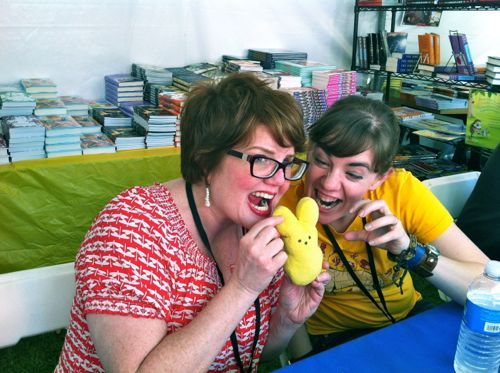 After my book signing, the next author showed up --
Lin Oliver!!!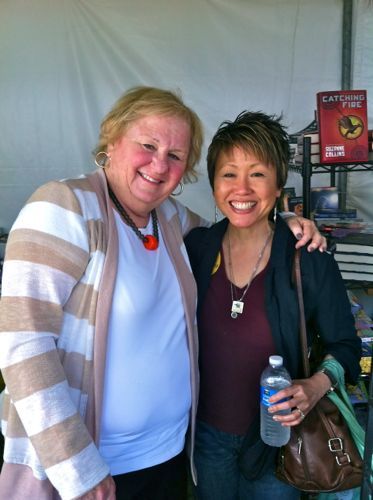 While Lin and I gabbed, Peepy made new friends . . .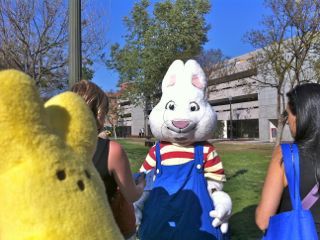 Marc Brown
was on the Target Stage . . .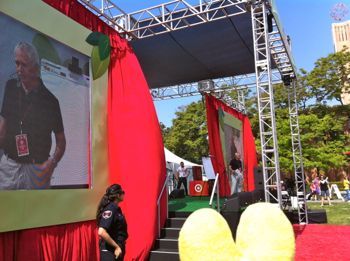 And there was a crowd for this author . . .
(Um. It was "Real Housewife" Bethenny Frankel who wrote a novel?)
In the green room we admired the spread and gabbed with
Aaron Hartzler
, who moderated many of the YA panels, the prolific
Cecil Castellucci
, and Australian author
Tristan Bancks
. . .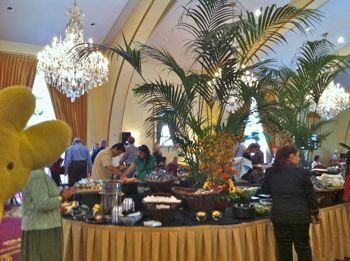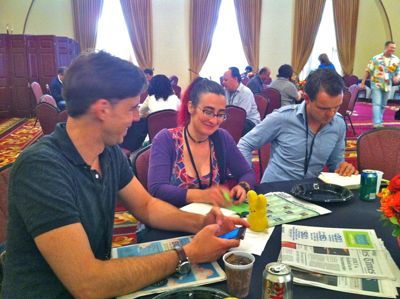 For our second day at the
USC Civic Engagement
booth, I read from
BOBBY VS. GIRLS (ACCIDENTALLY)
. . .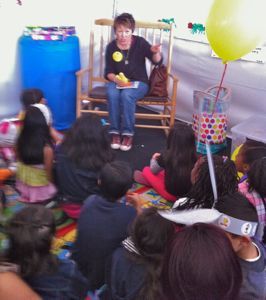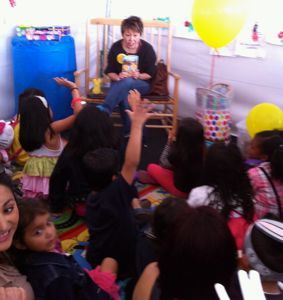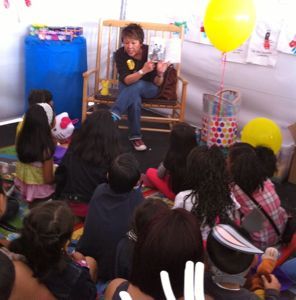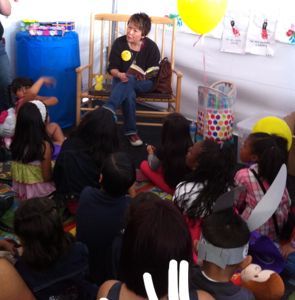 Then a boy who was there to get an autographed copy of
STANFORD WONG FLUNKS BIG-TIME
(USC gave 100 of
my books
out for FREE), volunteered to help me. While I read, he acted out a part . . .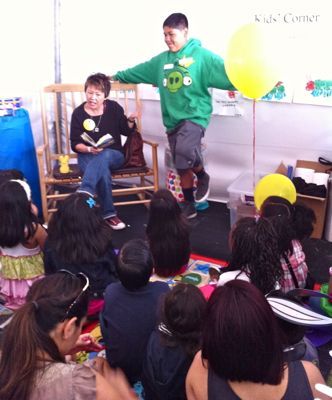 It was so wonderful to be back at USC as an author. When I was a student there, I only dreamed about writing books. And now that's what I do!
In addition to books and authors everywhere, there were also films. We saw the
new Stan Lee documentary
. Here's
the trailer
.
After, we ended our book fest in a Newbery-esque manner.
Mary Casanova
and I were waiting for my car . . .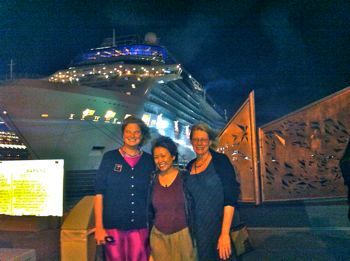 (That photo is not from the book festival. I was so busy talking to Mary, I forgot to take her picture. So the one above is of me with
Valerie Tripp
, on left, and Mary when we were
in the Caribbean
last winter.)
Who should we see (also waiting for a car)? Behold! It's this year's Newbery winner,
Jack Gantos!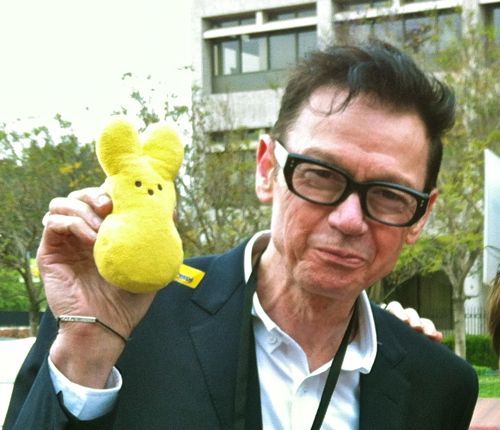 We reminisced about the first time we met eons ago at the Booklist Humor Forum at ALA in New Orleans. Here we are with
Mo Willems
and Jack's daughter . . .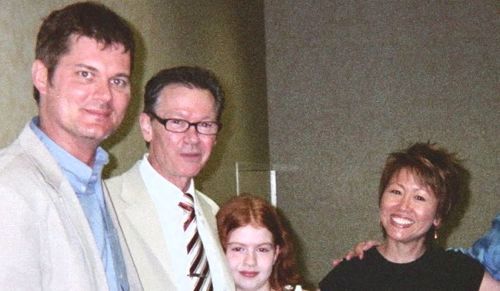 And now, KidLit Jeopardy! question of the day: What do these three authors have in common?
Answer: Dubai. Excuse me? Yes, Dubai. Jack spoke at the American School of Dubai last year, Mo spoke there this year, and I will be there next year! Squeeeee!!!!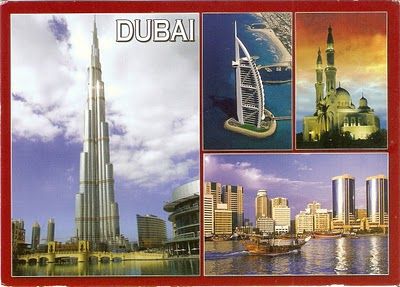 CLICK HERE
for Publishers Weekly photo essay of the LA TIMES Festival of Books!
===========================
Disclaimer: No proofreaders were harmed (or even used) in the creation of this blog.
Want to check out Lisa's NEW AND IMPROVED website? Simply
CLICK HERE
.
Interested in having Lisa speak at your school, library or conference?
CLICK HERE
for more information.
Upcoming Events . . .
LitFest Pasadena
, May 12
10:30 – 11:20 -- Youth Knows No Bounds: Breaking the Cliques and Clichés of Young Adult Literature
with Cecil Castellucci, Ron Koertge, Blake Nelson, and Lisa Yee
Moderated by Sherri L. Smith
Lisa Yee
Subscribe to Lisa Yee's Blog and get her fresh baked blogs e-mailed to you!

Or you can click this for a RSS feed...