Last week I had an utter and complete Meltdown and I totally enjoyed myself.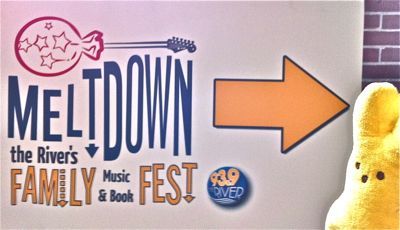 What's a
Meltdown
, you ask? Well, it's an awesome annual book and music celebration featuring live bands and live KidLit authors and illustrators!!!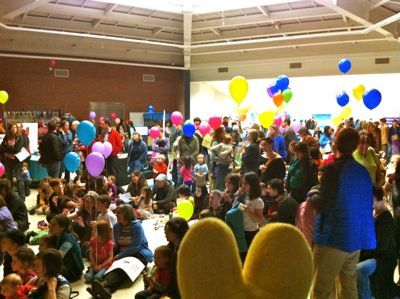 Our good friend
Jarrett Krosoczka
wrangles and cajoles and organizes all the book people.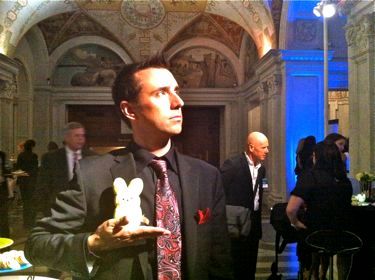 (That's Jarrett when we were at
this
.)
Jane Yolen
and
Heidi Stemple
were the authors on before me . . .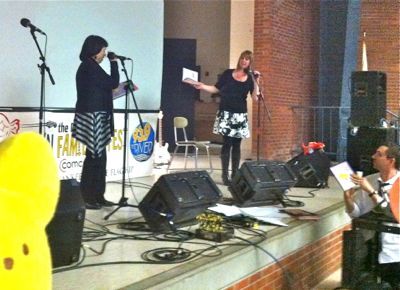 After mother and daughter, Jane and Heidi, a band played onstage and Peepy played backstage . . .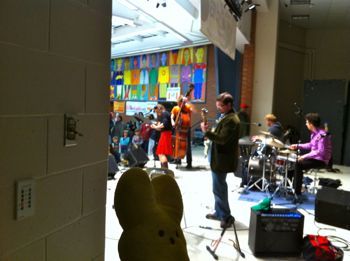 One never knows who they might meet backstage. One time we met this person . . .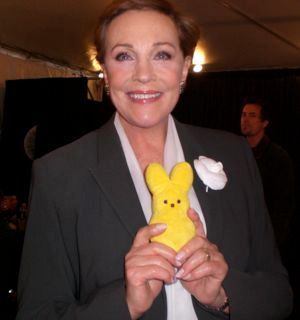 (YES! It was Julie Andrews!)
And another time we met that person . . .
(YES! It was
Carol Burnett!
)
Who did we spy backstage at the Meltdown? That's right! The male equivalent(s) of Julie and Carol . . . Jarrett and
Eric Wight
. . .
Soon it was time to hit the stage. And to also go on the stage. (Get it? Hit the stage . . . go on stage . . . okay. Nevermind.)
I asked for the "most handsome man in the room" to volunteer to join me, and he did. As I read from
BOBBY VS. GIRLS (ACCIDENTALLY)
, Jarrett acted it out . . .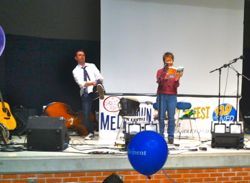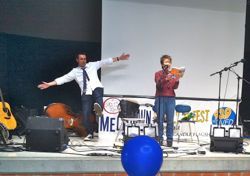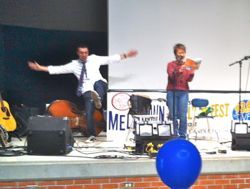 Then, when I read from
MILLICENT MIN, GIRL GENIUS
, I played the part of Millicent, while Jarrett played her arch enemy,
Stanford Wong
. I made him shove a sandwich in his mouth while reading, eat a big bag of chips, and chug an entire bottle of soda . . .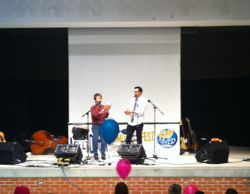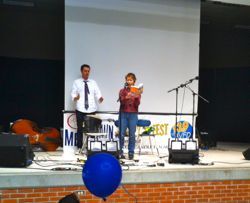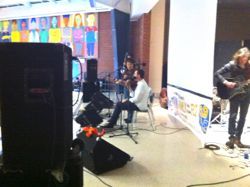 Then disaster struck! Jarrett could not burp on command, as called for in the book. In a panic, I asked for a stunt burp-er from the audience and this lovely young lady let out the biggest baddest belch you can imagine--and saved the day!!!!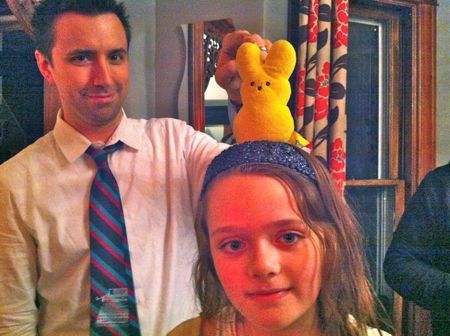 (Above: The talented Sarah is the daughter of the talented
Scott Fischer
and the talented
Teresa Fischer
.)
After the Meltdown, there was a After the Meltdown party. The event was catered by the amazing Gina Krosoczka . . .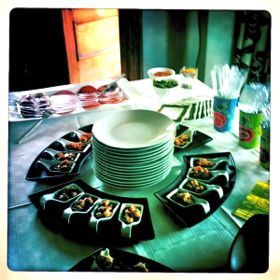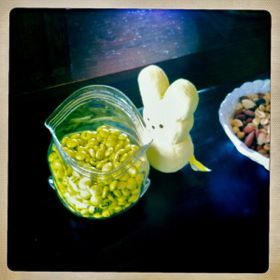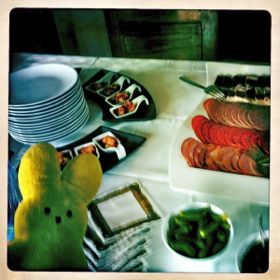 The whole gang was there, like Heidi Stemple, and
John Bemelmans Marciano
with Jarrett,
Teresa Fischer
,
Jeff Mack
and
Tony DiTerlizzi
.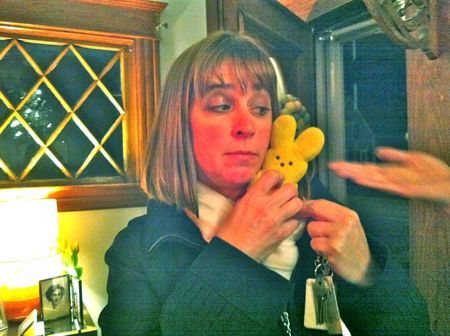 Some of the foods were even THEMED to the authors. Like this for Moi . . .
And these Madeleine cookies for John who is carrying on the work of his grandfather who created Madeline . . .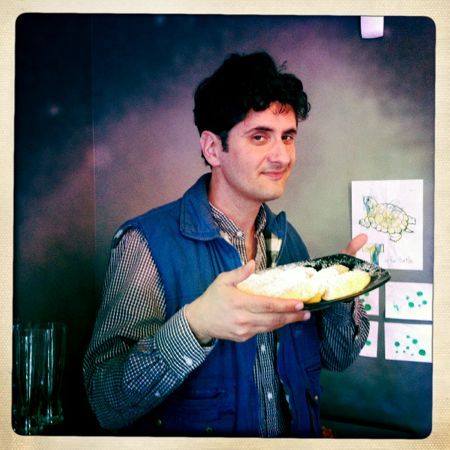 For Eric there were franks and pickles in honor of his Frankie Pickle books . . .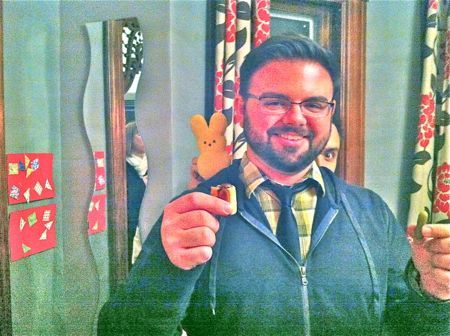 Since we were at Jarrett's house and his studio was right there, he insisted on drawing Peepy . . .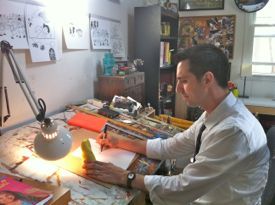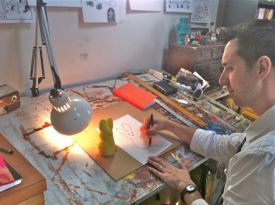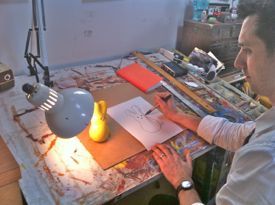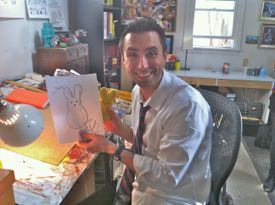 Ralph Macchio, the Krosoczka's dog, was also a huge fan of my Peep's, and they became instant BFFs . . .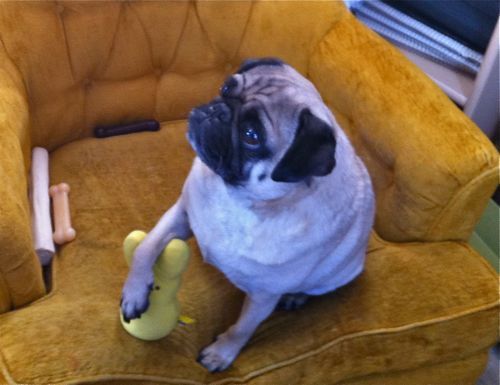 What a marvelous Meltdown-y day we had!!!!
Sadly, it had to come to an end, and Ralph Macchio misses Peepy . . .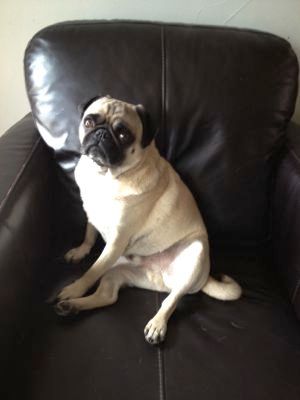 ===========================
Disclaimer: No proofreaders were harmed (or even used) in the creation of this blog.
Want to check out Lisa's NEW AND IMPROVED website? SImply
CLICK HERE
.
Interested in having Lisa speak at your school, library or conference?
CLICK HERE
for more information.
Upcoming Events . . .
In April, you can find me
here
. . .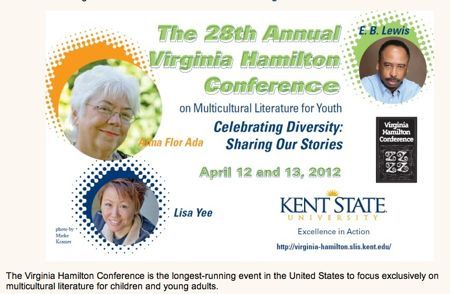 And then I'll be here . . .

Lisa Yee
Subscribe to Lisa Yee's Blog and get her fresh baked blogs e-mailed to you!

Or you can click this for a RSS feed...