Okay, so one
DAY ONE
on Kaua'i we were doing this. And then we
did this
. Then we took a
WARP SPEED detour
, however, now we're back in Kaua'i, thanks to our Time Machine!
While tooling around the island, we stopped and shopped and surfed . . .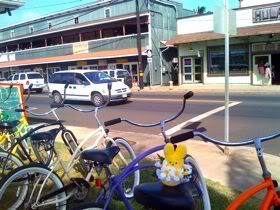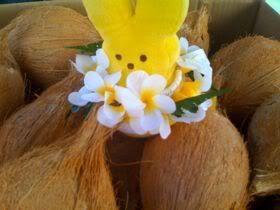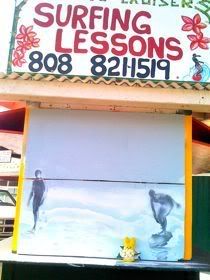 Later, we went to hear Dr. Charles Littnan talk about Hawaiian monk seals. In my
American Girl stories
, Kanani helps rescue a monk seal pup, and she also raises money to help save them.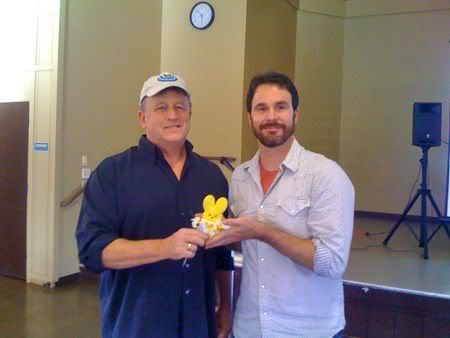 (Charles is on the right, and no, that's not a monk seal he's with, that's Tim Robinson, my seal consultant for the American Girl/Kanani books.)
Hawaii Stream was there to interview us. Here I am, explaining geometry, string theory, and why Toxoplasma gondii is the enemy of monk seals . . .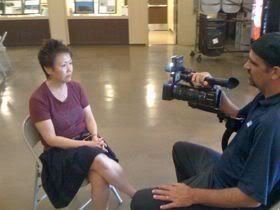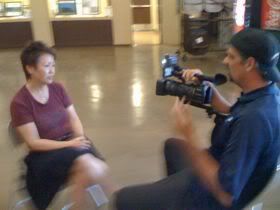 Charles was also interviewed. However, he found it hard to discuss the seals because the beauty that is Peepy was so distracting . . .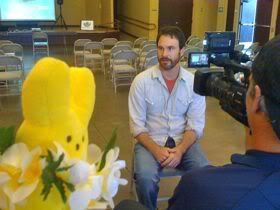 So, of course, she ended up being interviewed, too . . .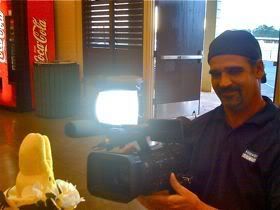 Here's the
VIDEO INTERVIEW
. It also includes, Sue Kanoho of the
Kaua'i Visitors Bureau
, KMSWP volunteers, and my
American Girl
editor, Jennifer Hirsch . . .
The talk was fascinating and informative, since we had the Lead Scientist of
Hawaiian Monk Seal Research
Program. Yes, that's right.
my Peep
. She taught Charles everything there was to know about the seals . . .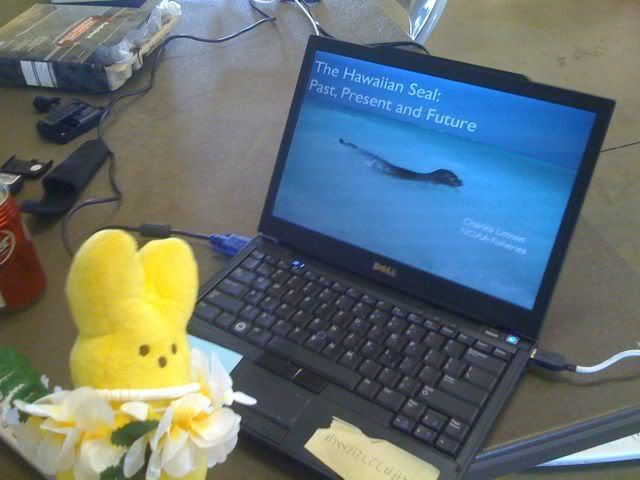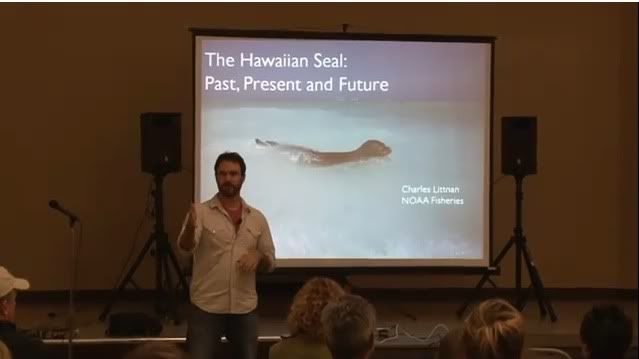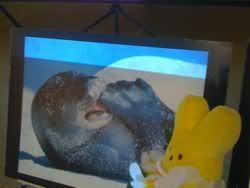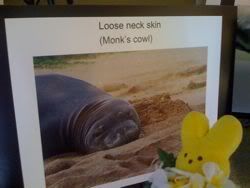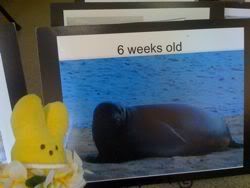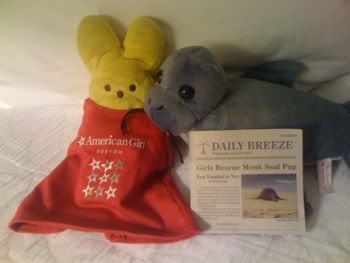 After, we signed the
Kanani books
that were given away with donations to the
KMSWP
. . .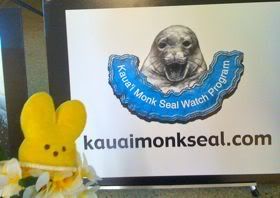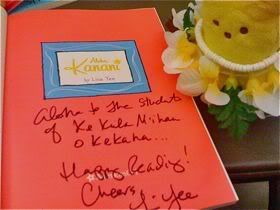 (Some of the names were hard to spell, so Peeps had to help me out.)
And here's some great news . . . for every plush monk seal sold, American Girl will donate $1 to the National Wildlife Federation, to help save the seals and other endangered animals!
CLICK HERE
to purchase your seal, or to find out more!
NEXT BLOG: More Peepy in paradise.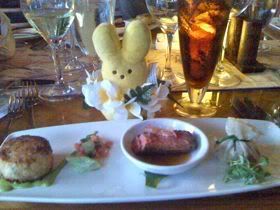 Disclaimer: No proofreaders were harmed (or even used) in the creation of this blog.
CLICK HERE
to win a FREE copy of WARP SPEED!!!
Lisa Yee
height=26 width=132 alt="Google Groups">

Subscribe to Lisa Yee's Blog and get her fresh baked blogs e-mailed to you!

Or you can click this for a RSS feed...