Okay, so where were illustrator/author
Dan Santat
and animator/author/illustrator
Bob Boyle
and
Peepy
heading?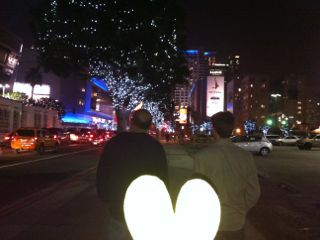 Here are some hints . . .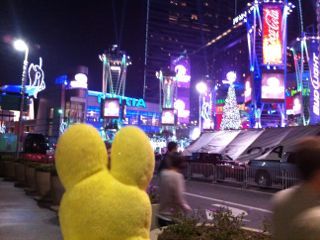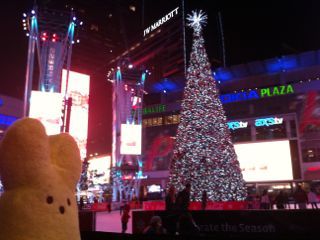 If you guessed THE NORTH POLE!!! then you were wrong. If you guessed the Nokia Theater in downtown Los Angeles, you are right! We were there to see/listen to one of my favorite NPR shows,
Wait Wait . . . Don't Tell Me!
(I've been before, as Ken Burns-like-ish documented
HERE
.)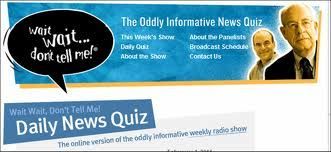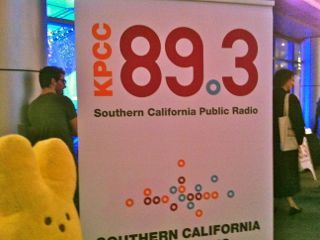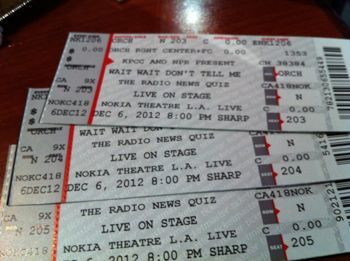 But first, food.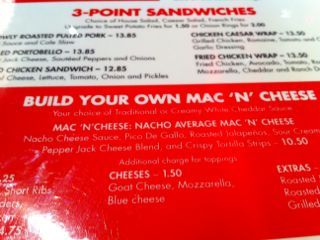 That's author
Michael Reisman
(left) and Bob, with Dan and Moi . . .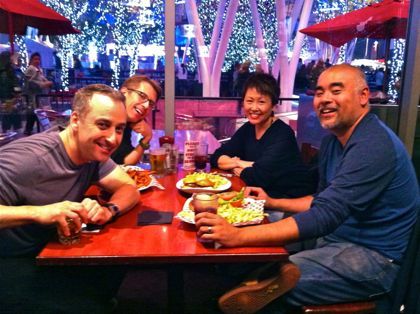 The place was packed with over 5,000 people and one Peep. It was the largest indoor audience ever for the show! (One time the show was in the park and maybe a million or several thousands showed up for that.) Here we all are getting seated . . .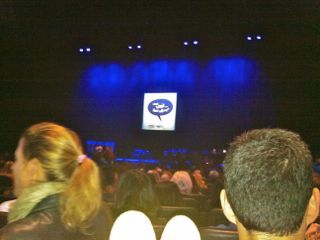 Look! We sat near our friends author
Sara Wilson Etienne
and visual effects dude
Tony Etienne
. . .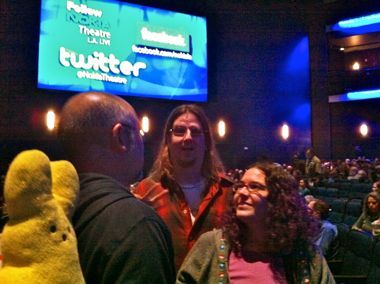 What did we all have in common? How about this . . .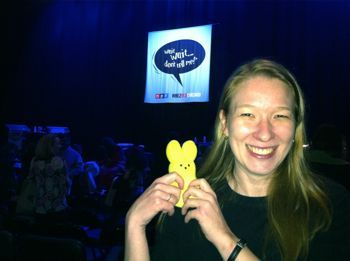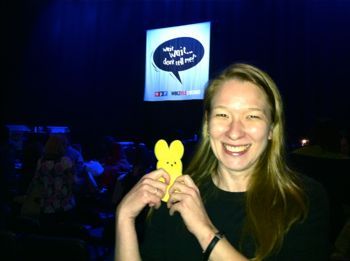 That's
Emily Ecton
, author and associate producer of Wait Wait . . . Don't Tell Me! And the other photo is of
Emily Fairlie
, author. (Emily is so talented that she has TWO names.)
The show was onstage, and also on screen. Can you tell which is what?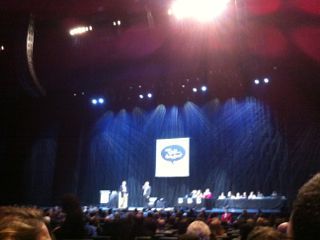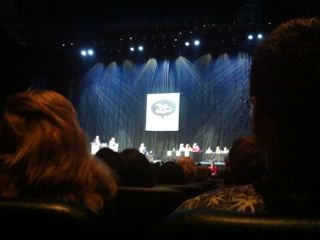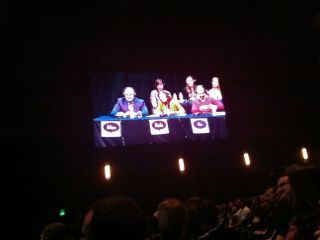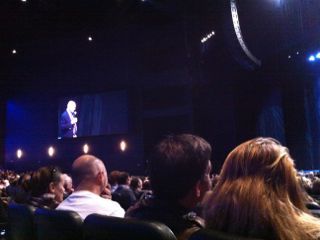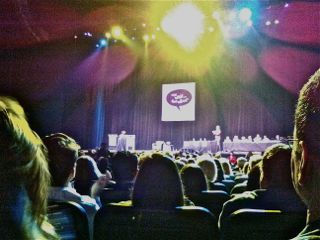 Peter Sagal, the host, looks kinda weird here. A big screen and an small iPhone camera will do that to you . . .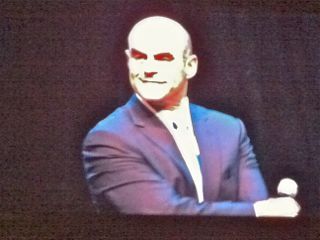 Here's Emily in the middle . . .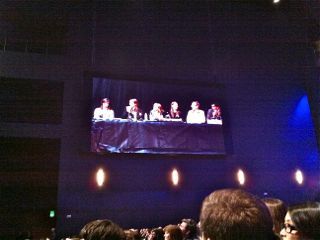 Hugh Bonneville
of Downtown Abbey was the special guest . . .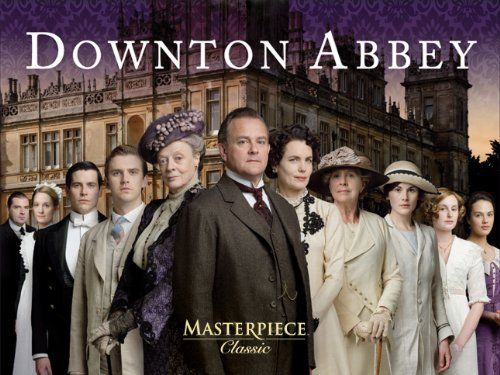 (He's the Lord in the front.)
After, we went down to the stage. That's comedian/panelist
Paula Poundstone
in red . . .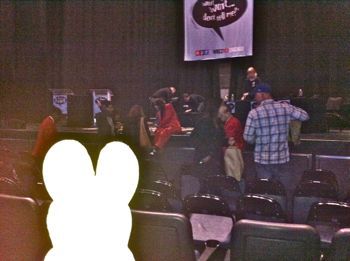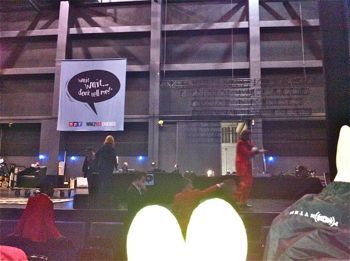 Finding it hard to spot her? Well, how's this . . .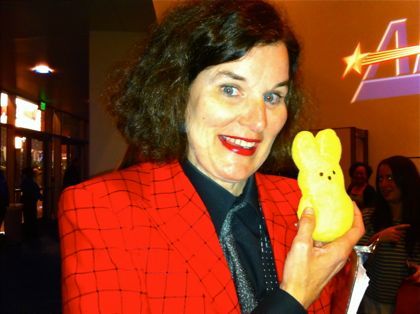 (I love Paula. I recall going to one of her concerts eons ago. People brought her boxes of PopTarts.)
Then it was time for the NPR party! We got super special ALENT badges . . .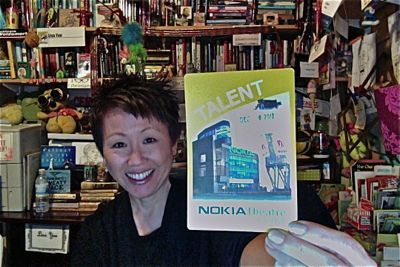 (My "T" started fading, but Truly, it was there.)
The party was full of chic people and delightful treats . . .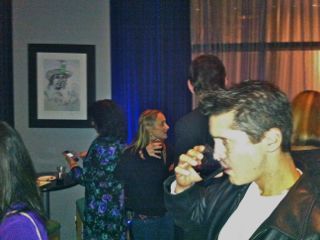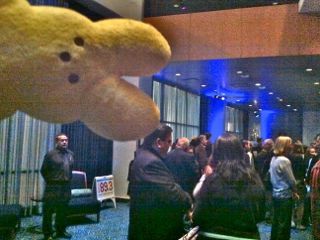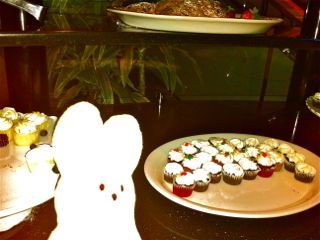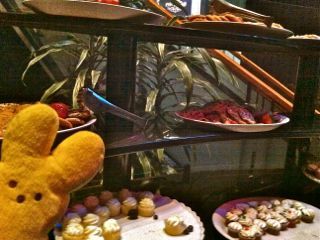 Wait! That's
Peter Sagal
, the host of the show!!!!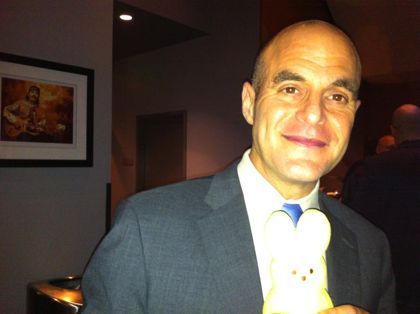 Wait wait! It's
Carl Kasell
, one of THE BEST voices in radio and in the world and other places. . .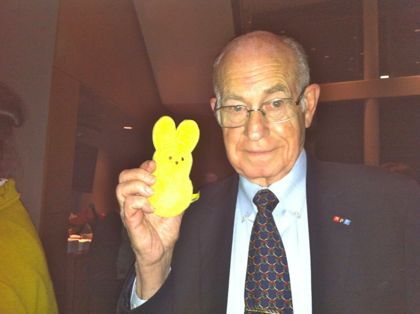 The tall distinguished man is Hugh Bonneville . . .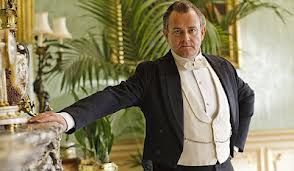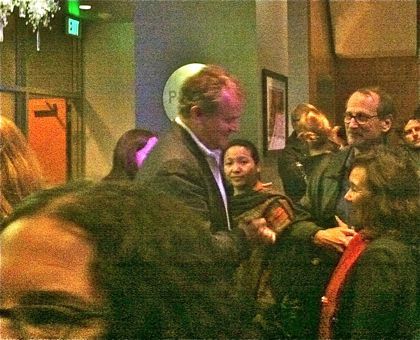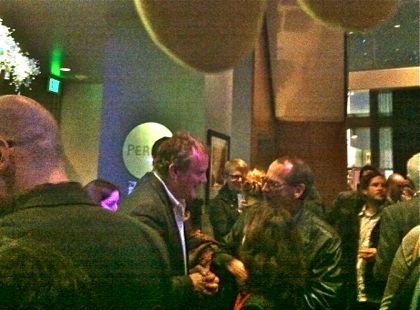 Finding it hard to spot him? Well, how's this - here is with the great star, Maggie Smith!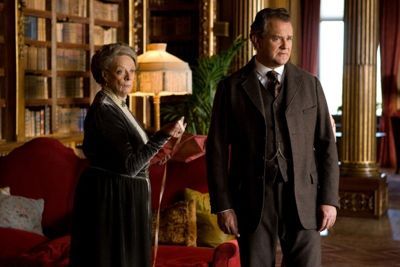 And here he is with another great star . . .
(To hear Hugh Bonneville on Wait Wait, click
HERE.
Look! It's Carl, again. This time with Bob . . .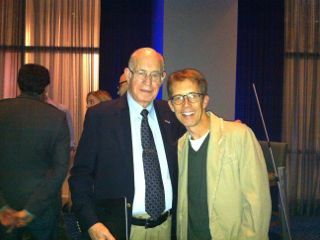 Look some more! Here's
Roy Blount Jr.
, another Wait Wait panelist who was not there, but who was
HERE
when I was there!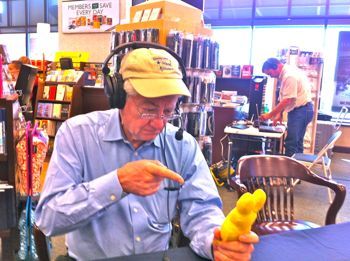 We had so much fun, we were the last to leave . . .
===========================
Oh, look! These books make lovely
holiday gifts
. If you'd like an autographed book, order from
Vroman's
, tell them who you'd like me to sign it to, and they will mail it to you!"

Disclaimer: No proofreaders were harmed (or even used) in the creation of this blog.
Want to check out Lisa's NEW AND IMPROVED website? Simply
CLICK HERE
.
Interested in having Lisa speak at your school, library or conference?
CLICK HERE
for more information.
Lisa Yee
Subscribe to Lisa Yee's Blog and get her fresh baked blogs e-mailed to you!

Or you can click this for a RSS feed...