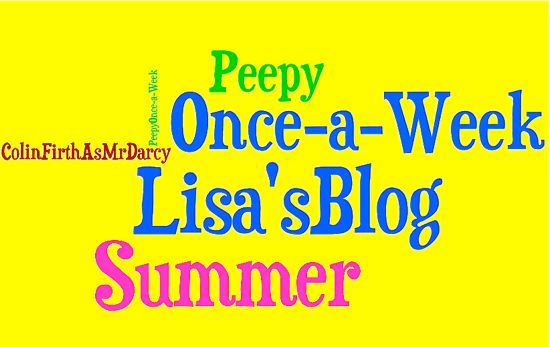 The American Library Association (ALA) Conference is way extensive. If you don't believe me, look
here
and
here
.
So what does one do after they've conquered the conference floor?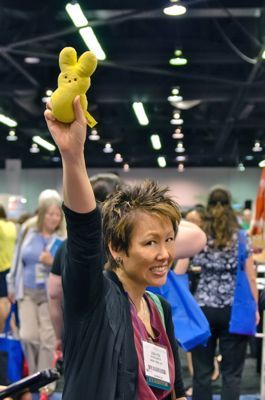 (Photo courtesy of
Roxyanne Young
!)
Simple. They collapse.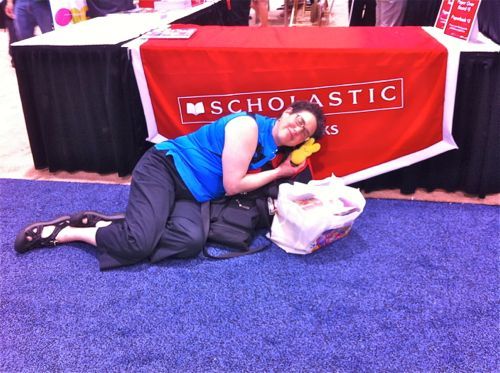 (Above: San Francisco Librarian
Carla Kozak
naps with her
favorite Peep
.)
FunCarlaFact #1: She was on the Newbery committee that selected one of
my favorite books
as the winner, WALK TWO MOONS.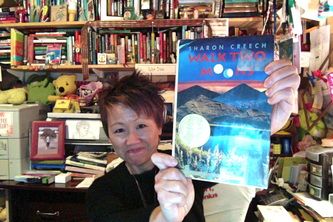 FunCarlaFact#2: She gave "Cousin Carla" to me. You can see Cousin Carla co-starring in
this video
.
(Disclaimer: No actual Peeps were injuring in the making and/or microwaving of this video.)
Now, even though everyone is exhausted after a full day of conferencing, there's not much time to recharge because the evenings are full of parties!
Scholastic had their annual ALA Family Dinner at a
tres chic restaurant
a couple of miles down the road. I opted to drive rather than board the bus
Scholastic
had rented. Only, I got stuck in traffic . . .
So I texted my pal
Dan Santat
to see if everyone on the bus was as frustrated with the traffic as I was . . .
That's when I learned that the "bus" was a Hummer limo!!!
Since I beat the limo to the restaurant, Peeps and I checked out the place . . .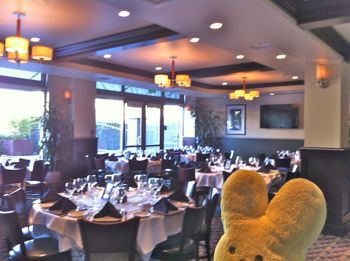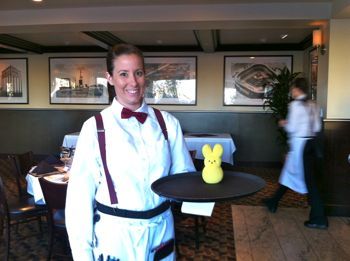 Then the limo arrived . . .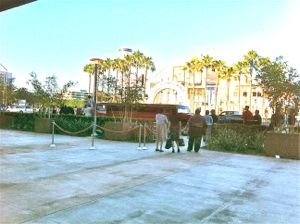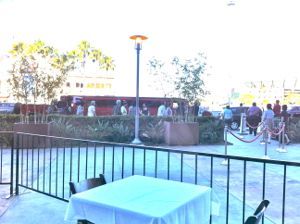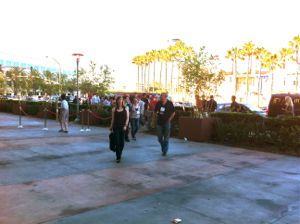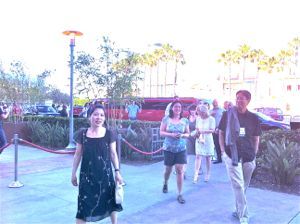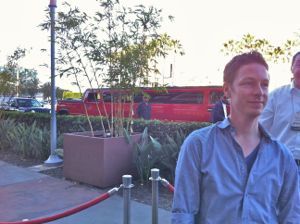 The party began with much mingling . . .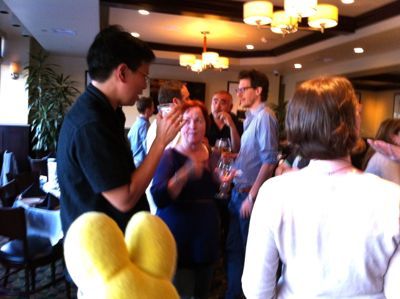 Celebrating new books and old friends were Publicity and Marketing V.P.
Tracy Van Straaten
with author/V.P. & Editorial Director
David Levithan
, and author/V.P. & Executive Editor
Andrea Davis Pinkney
, who was on the TODAY show not too long ago . . .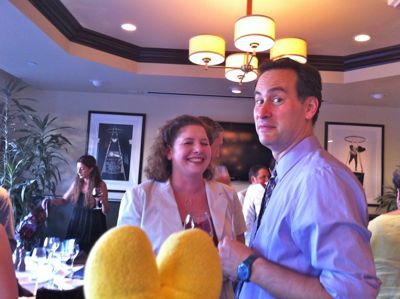 Eisner Award winner
Raina Talgemeier
was there, and so was debut author
Sharon Cameron
with author/Executive Editor
Lisa Ann Sandell
. . .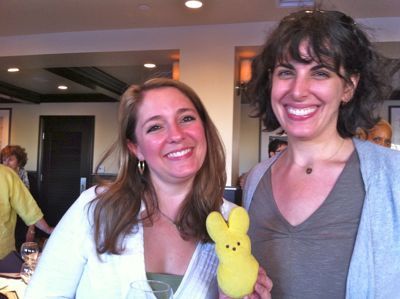 THE INVENTION OF HUGO CABRET author/illustrator/Caldecott winner
Brian Selznick
was WONDERSTRUCK by
book flyers
a fan made of his book, and NY TIMES bestselling author
Maggie Stiefvater
mistook Peepy for a snack . . .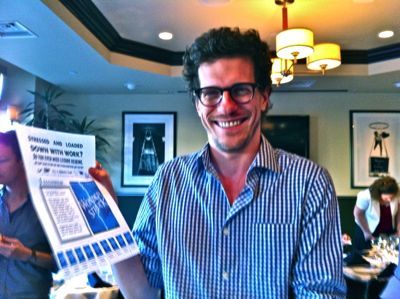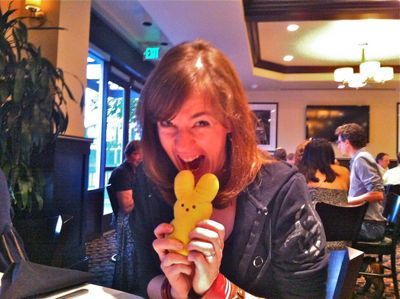 Director of Library and Educational Marketing,
John Mason
hung out with authors
Wendy Shang
and
Sharon Flake
; and the Scholastic team who pulled the evening together included Candace Green and Emily Heddleson . . .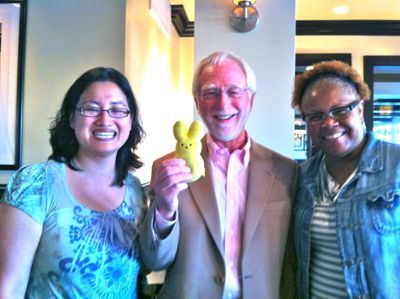 Everyone was talking about
Trent Reedy's"
moving speech at the conference; and it's always wonderful seeing Caldecott medalist
Allen Say
. . .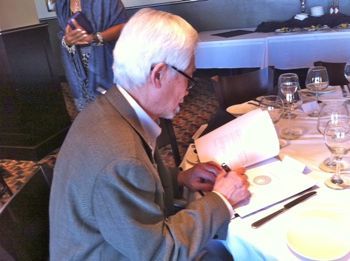 Lori Benton, VP and Group Publisher, Trade Publishing, welcomed everyone, and then it was time to eat!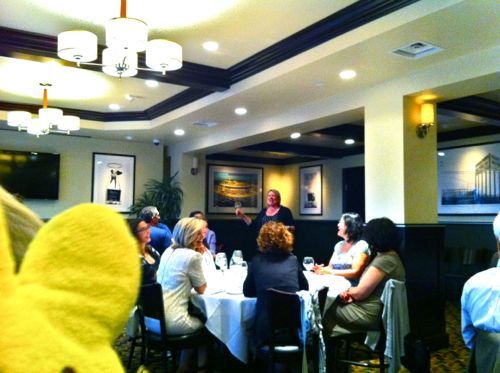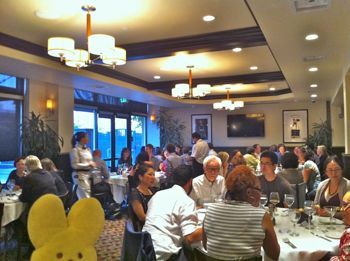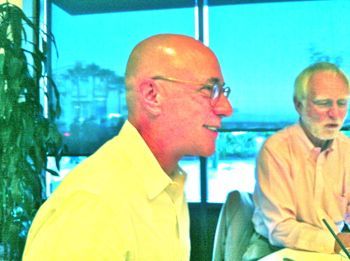 (I sat next to author/my editor/Publisher of AAL Books,
Arthur Levine
!)
By the way, is it just me or does everyone else notice an onslaught of author/editors???!!!
Peepy approved of the menu and was pleased to be named #1. What a wonderful conference!!!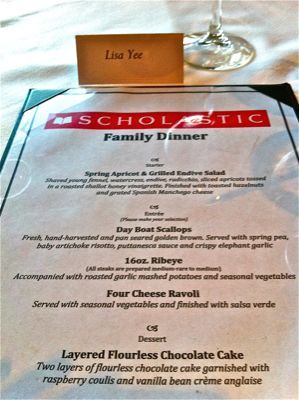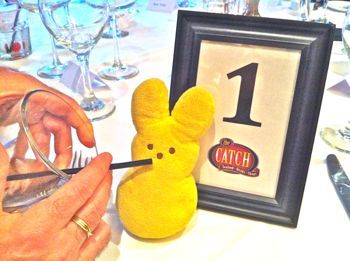 In other news, look who's on the cover of the
South Pasadena Library
local authors brochure!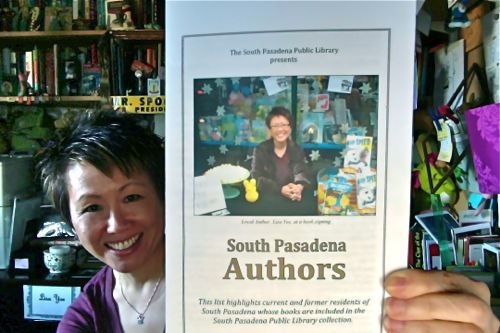 (Hint: It's me!)
UPCOMING JULY STUFF . . .
Here's my American Girl, Ivy Ling doll from
GOOD LUCK, IVY
. She's all ready for Comic-Con and so am I!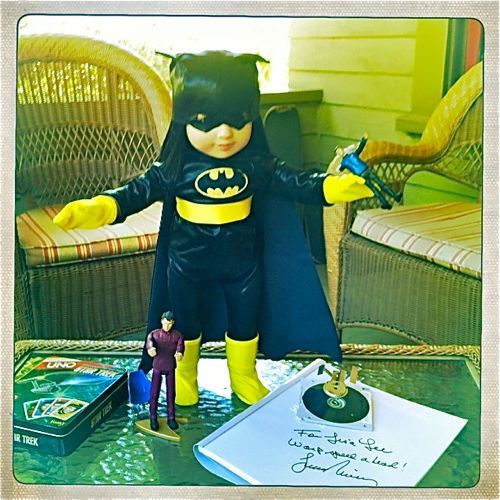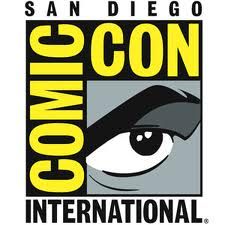 (Ivy is wearing her Batgirl costume in honor of Max from my book
WARP SPEED
. And can you see what's on the table? Yes! Leonard Nimoy wrote that to me!!!)
Sunday, July 15 - COMIC-CON Panel - HEROES FOR THE MIDDLE-GRADE READER (AND YOU, TOO!): Middle Grade Books That Will Rock Your Socks Off, Sunday, 2:45p.m. - 3:45p.m., Room: 5AB
-- Get heroic with authors Nathan Bransford (Jacob Wonderbar series), E. J. Altbacker (Shark Wars series), Cornelia Funke (Ghost Knight), Lisa Yee (Warp Speed), Brandon Mull (The Beyonders series), Tony DiTerlizzi (The Search for WondLa series), Emily Janice Card (Laddertop Vol. 1), and Derek the Ghost (Scary School), as they converse with moderator Maryelizabeth Hart of Mysterious Galaxy. Room 5AB
4:00 pm – 5:00 pm Group Signing -- Autograph Area AA9
July 27 - South Pasadena Library Writing Workshop for Kids
July 30 -
Once Upon a Time Bookstore
- Get Your Pens Out Writing Club
===========================
Disclaimer: No proofreaders were harmed (or even used) in the creation of this blog.
Want to check out Lisa's NEW AND IMPROVED website? Simply
CLICK HERE
.
Interested in having Lisa speak at your school, library or conference?
CLICK HERE
for more information.
Lisa Yee
Subscribe to Lisa Yee's Blog and get her fresh baked blogs e-mailed to you!


Or you can click this for a RSS feed...