It seems like we're on the road all the time these days. However, our last trip was back home. Well, sort of.
Peepy
and I travelled to Orlando, FL where I used to live when I worked as a writer/producer for Walt Disney World, and then later as co-owner/creative director of Magic Pencil Studios. Librarian Debbie Rothfeld picked us up from the airport. Here she is wearing an
ABSOLUTELY MAYBE
wig! (It was only fitting since the book starts off in Kissimmee, FL.)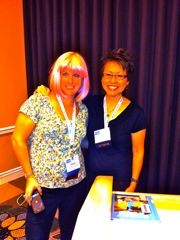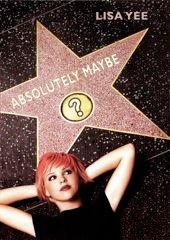 (Debbie's wig looked pinker in person.)
However, we were there for
FAME
. . .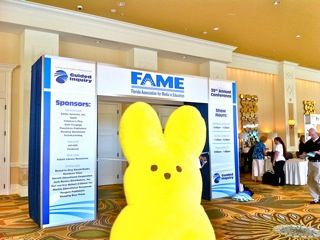 Why? Because
BOBBY VS. GIRLS (ACCIDENTALLY)
is on the Sunshine State Young Readers Award Master List!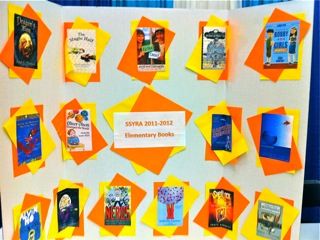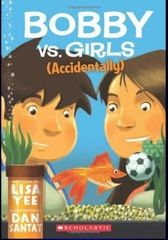 Peepy was thrilled with her swag-ladened gift bag, and especially liked playing with the magnifying glass . . .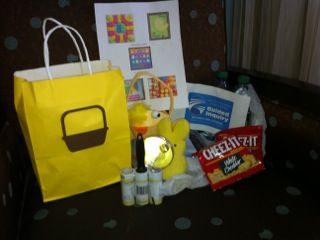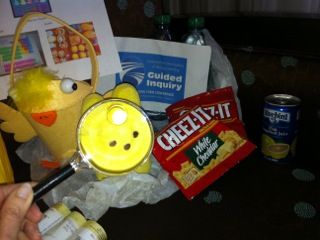 There were lots of really cool booths on the convention floor, and we signed lots and lots of books at The Reading Warehouse . . .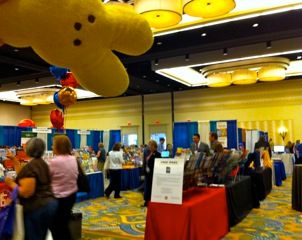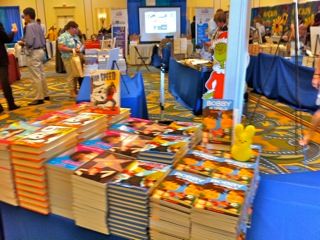 We ran into
Claudia Mills
and
Lisa Wheeler
right before our panel . . .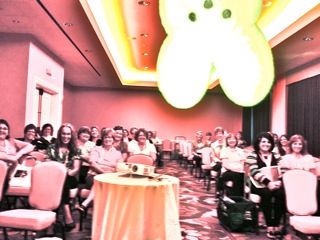 Michael Delaney
and
Natalie Lunis
were also on the panel, and we figured out how to fix the economy! Only, no one took notes, so we forgot what we were supposed to do . . .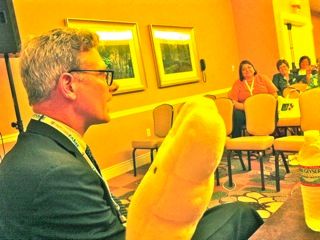 Later, we ran into
David Macinnis Gill
. The last time we saw him we were in Orlando! Deja vu? Well, yeah . . .
And then there was Gordon Korman, who/whom
we had just seen
at the National Book Festival in Washington . . .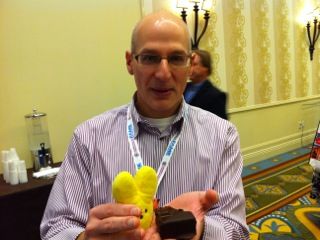 At the reception that night, Peepy got to meet
Kiersten White
, and the three of us had dinner later . . .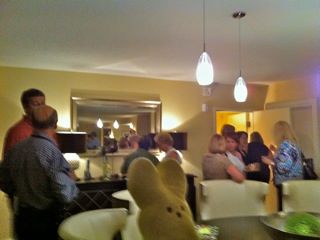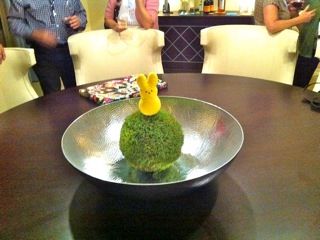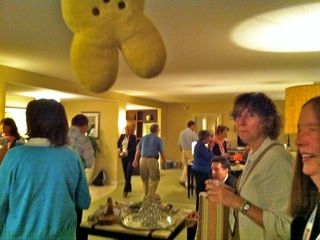 Fueled my chocolate and more chocolate, and even more chocolate, courtesy of
The Reading Warehouse
, we gave a couple of presentations to smart, attractive, talented librarians . . .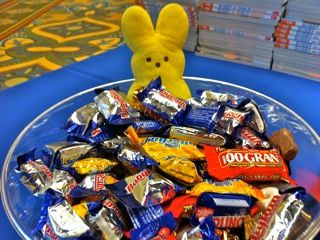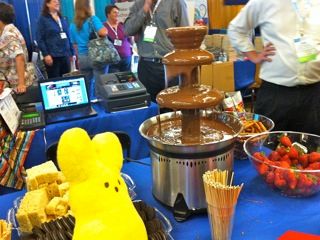 As always, Peepy was interested in one of her main hobbies . . . lunch . . .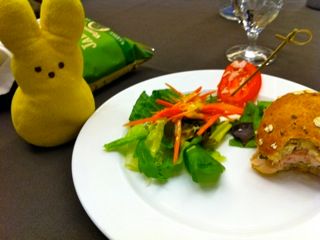 In the evening, everyone chilled out at the bar and raised their glasses to their favorite Peep . . .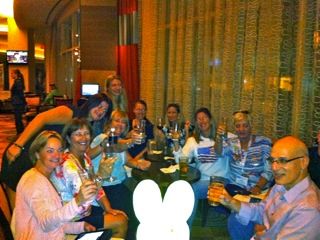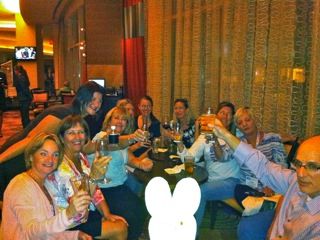 It was fun hanging out with
Roland Smith
(on left) and Gordon. The last time we saw Roland,
we were dancing
together on stage at the ALA Conference. However this time, we sat it out . . .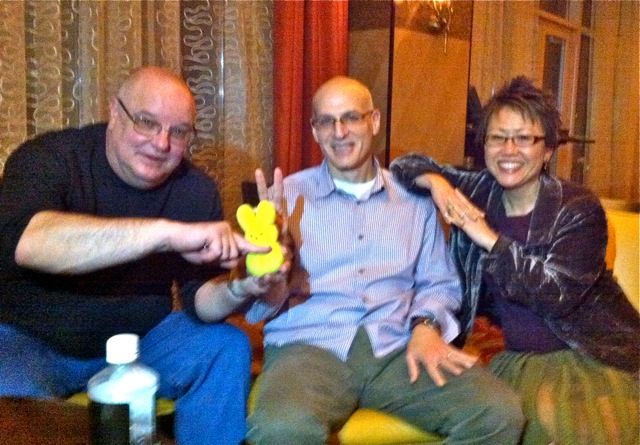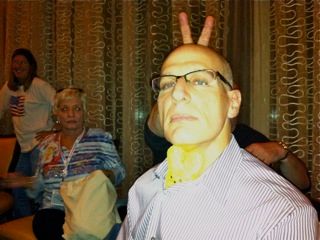 (Roland is in both photos. Can you spot him?)
NEXT BLOG: FAME dancing
Disclaimer: No proofreaders were harmed (or even used) in the creation of this blog.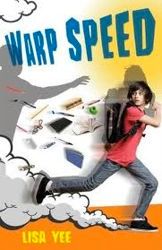 CLICK HERE
to find out about Lisa's newest book, WARP SPEED!!!
Lisa Yee
Subscribe to Lisa Yee's Blog and get her fresh baked blogs e-mailed to you!

Or you can click this for a RSS feed...