Uh oh. What did
Peepy
do to these kids????
Well, we'll get to that. But first . . . HOORAY FOR
LIBRARIES!!!
It's one of our favorite places in the world.
Here's one man's
personal library!!!
''
But for those of us without personal libraries, there's the public library! Not only can you scoop up armfuls of books to read for the great price of . . . FREE, but you can also take FREE classes at the library, too.
Our friend, former Los Angeles Associated Press Bureau Chief Andy Lippman, and our senior children's librarian and former
Newbery Award
committee member, Maida Wong, invited Peepy and I to teach brainstorming and plot at
our local library
.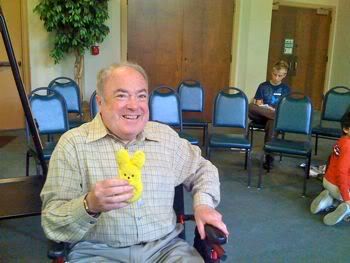 .
(That's Andy with Peepy.)
The South Pasadena Library provided notebooks and pencils, and we brought toys and fun photos torn from magazines for our workshop . . .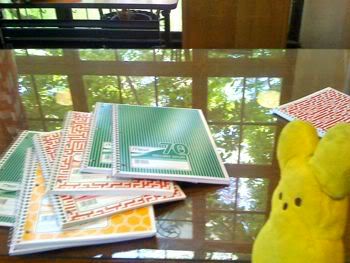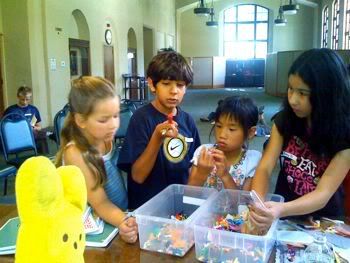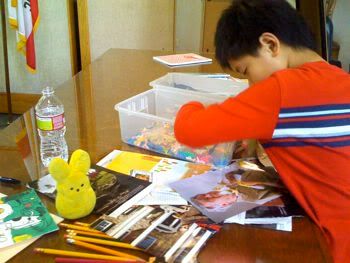 We discussed what plot (the stuff that happens in a story) and brainstorming (when your brain gets wacky creative) . . .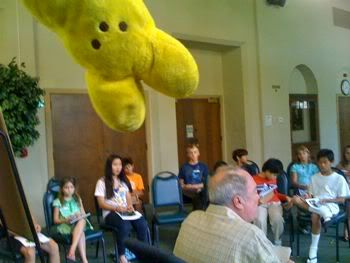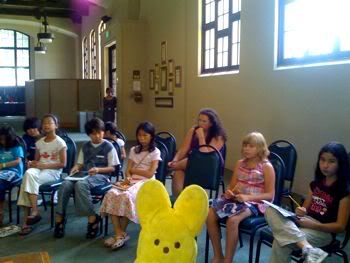 Then everyone created characters using an uber clever exercise we made up. After that, it was time to write. I told the kids to get comfortable, and some wrote this way . . .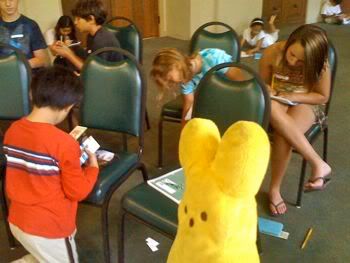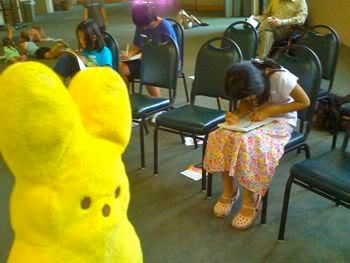 . . . others wrote that way . . .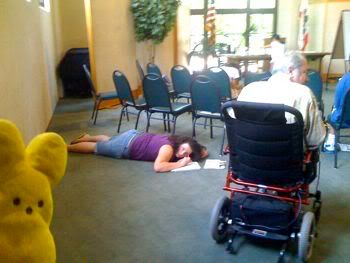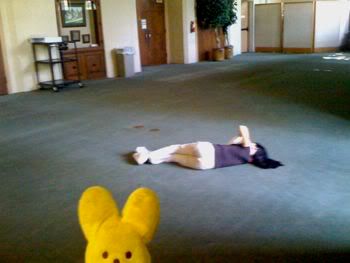 And everyone came up with wonderful, Wonderful, WONDERFUL stories. Hooray for our young authors!
BTW, recently we were at an
unnamed bookstore
using a gift certificate, and we came across this . . .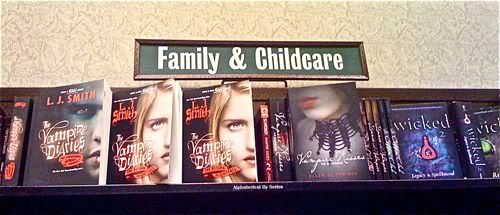 Um . . . vampire books in the Family & Childcare section? Well, I guess vampires have families, too!
Stay tuned for our next blog about TO KILL A MOCKINGBIRD.

Lisa Yee
Disclaimer: No proofreaders were harmed (or even used) in the creation of this blog.
height=26 width=132 alt="Google Groups">

Subscribe to Lisa Yee's Blog and get her fresh baked blogs e-mailed to you!

Or you can click this for a RSS feed...