My final Singapore blog features a food and fun!!!!
As you may recall,
last blog
we were visiting the bookstore of our dreams . . .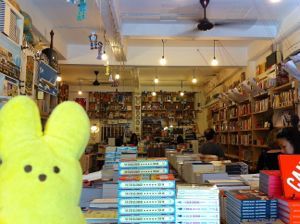 And the
one before that
, had us at speaking at the Stamford American International School . . .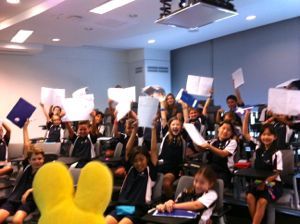 When members of the Singapore Chapter of the
SCBWI
found out I was in town, one volunteered to show me and
Peepy
around! I met ex-patriot, Australian author Catherine Carvell on a gorgeous sunny morning . . .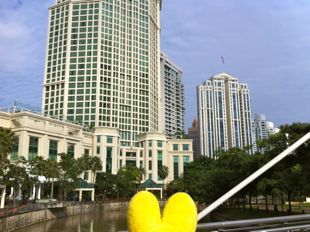 She had told me to wear comfortable shoes, and I am glad I did. Behind all the buildings was a river!!! Who knew??? Well, besides Catherine and thousands of Singapore locals . . .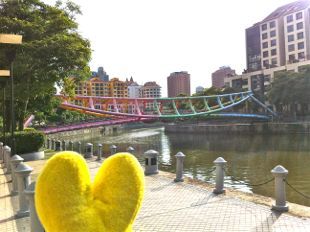 There were shops and restaurants along the river . . .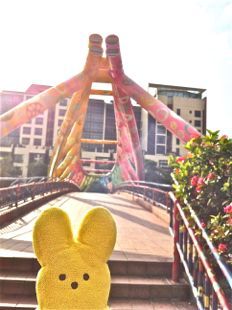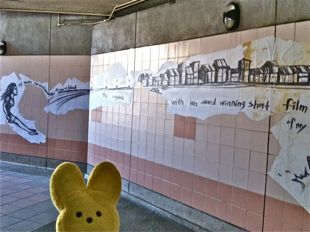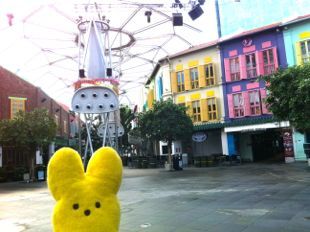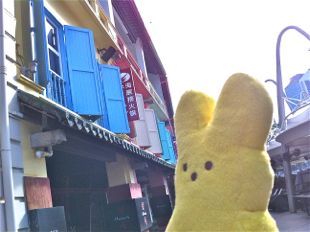 Catherine had never seen a geoduck clam before . . .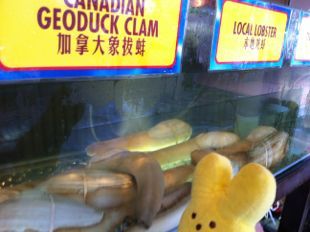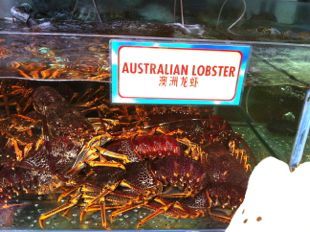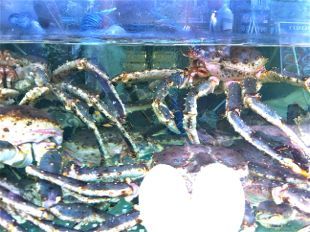 After a while, we hopped aboard our very own "bum boat" . . .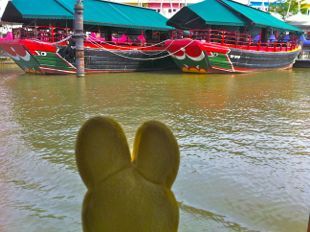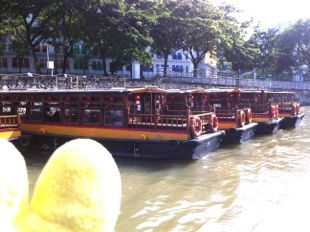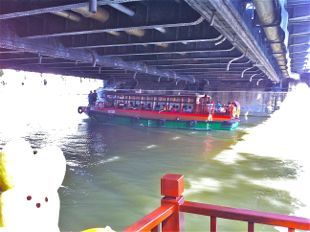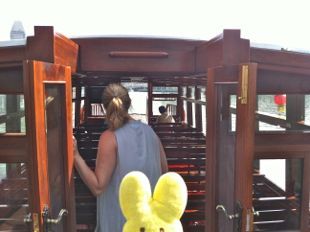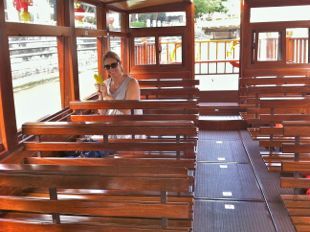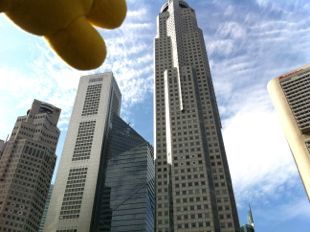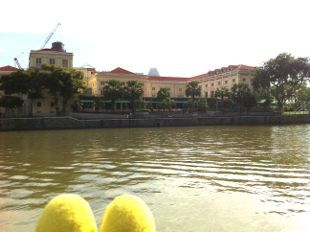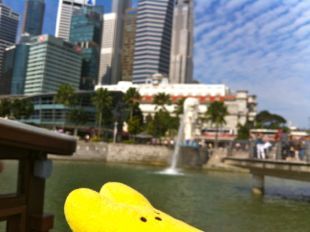 See that ship-shaped thing on the top of those three buildings? We were headed there, to the
Marina Bay Sands
. . .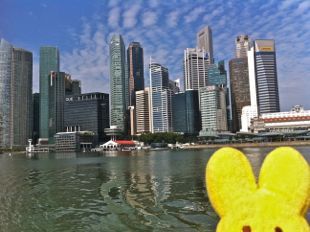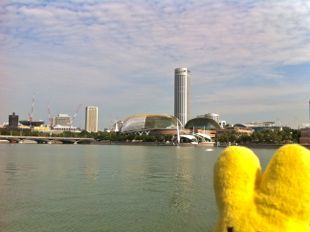 Green space is at a premium. Can you see the trees growing in these buildings?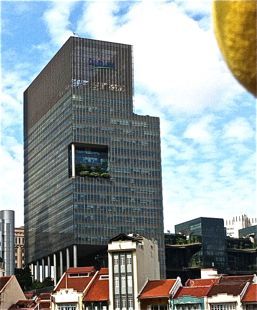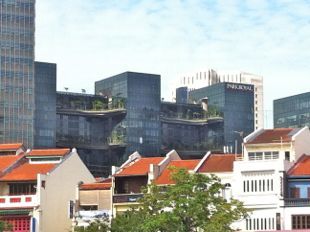 After the boat ride, we continued on foot to our destination. As always, Peepy made new friends . . .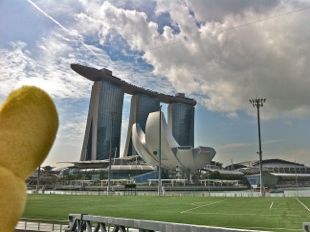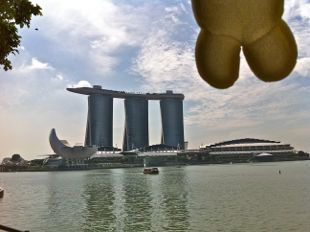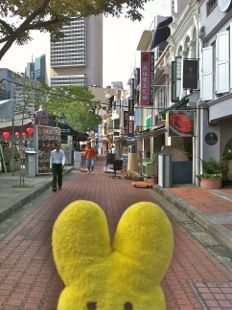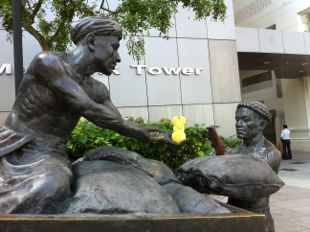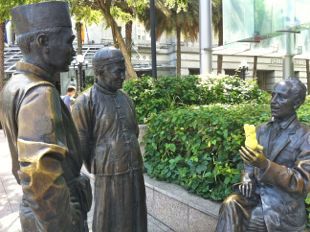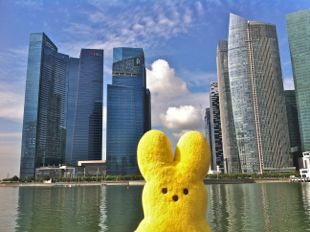 This is the
ArtScience Museum
. . .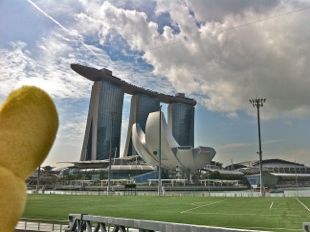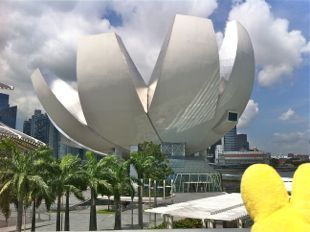 We took the elevator to the 57th-ish floor of the Marina Bay Sands. Woosh! We breezed right into
Ku De Ta
. Why did this chic nightspot let us right in? Because we write children's books!!! (Or maybe because we went in the daytime.) The coffee was $12 for a cup -- but it was worth every penny because of the incredible view ...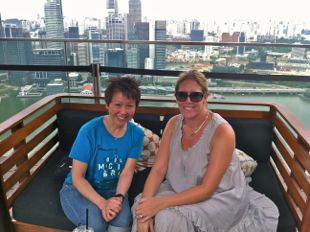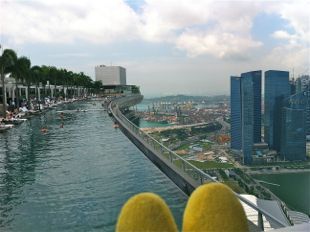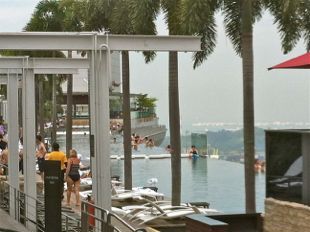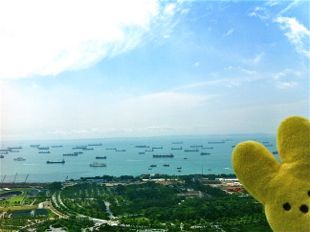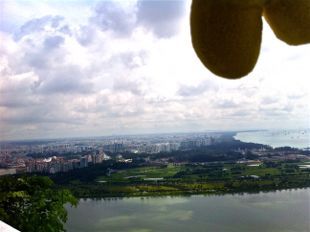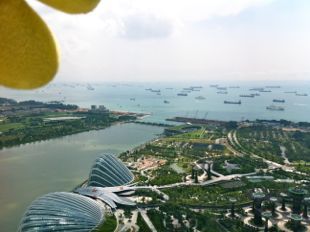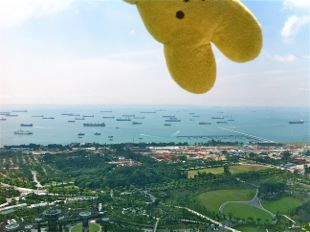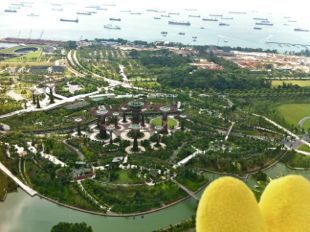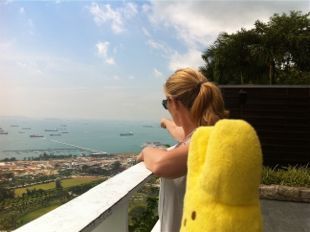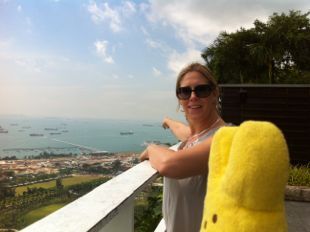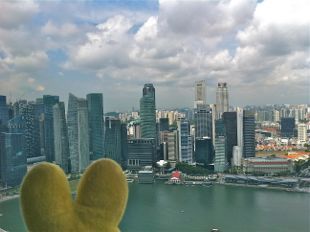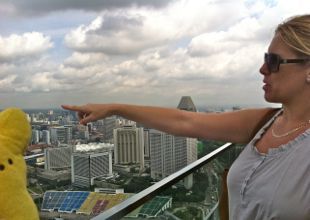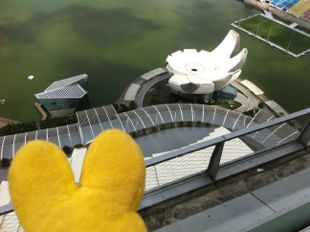 12,942ish people had told me that I HAD to try the black pepper crab. So next we headed to Dempsey Hill, an old military base that's now full of antique shops and restaurants . . .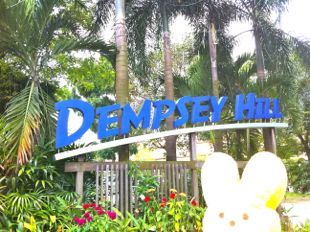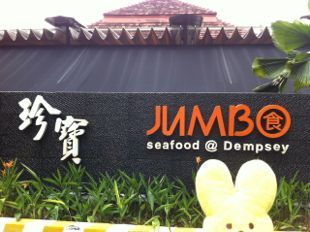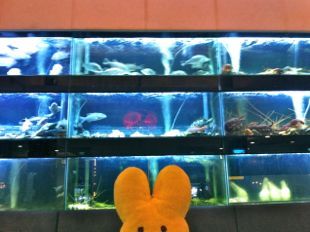 OMG! It was the BEST crab I have had in my ENTIRE life!!!! Totally messy, but that's the price you pay for amazing!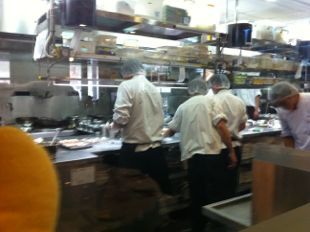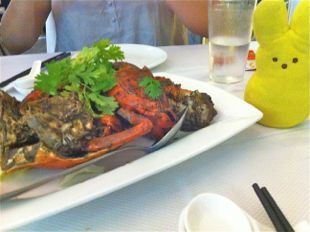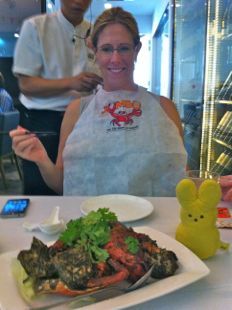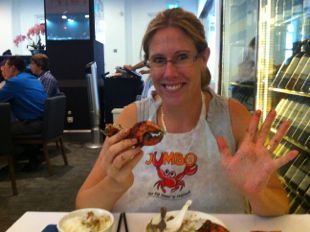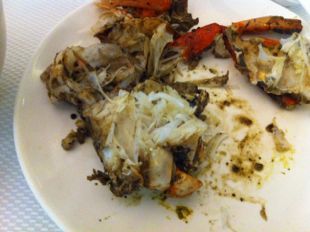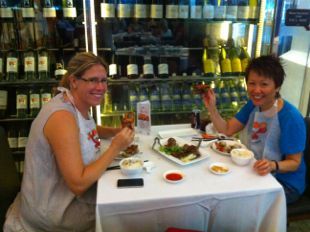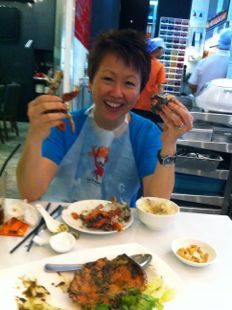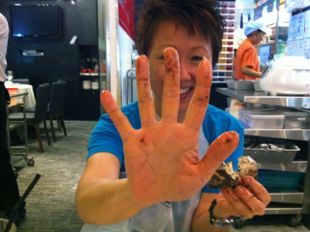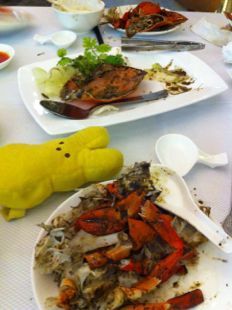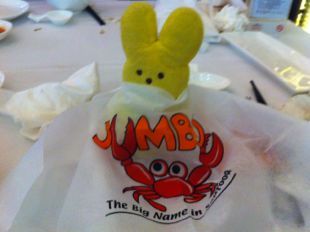 Now, not all the food in Singapore is delicious. See this . . .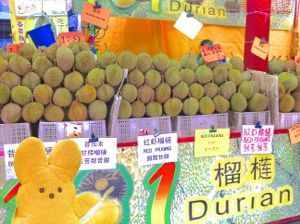 That's the dreaded Durian, the
SMELLIEST FRUIT
IN THE ENTIRE WORLD. It's not even allowed on public transportation or in hotels!!!!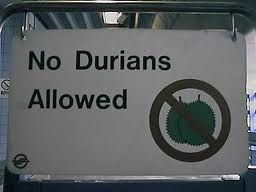 Here's what National Geographic says of the
Durian.
But I kept seeing it. And I thought, "How bad can it taste is it's everywhere?" So I saw a nice looking Durian stand. They had the fruit inside a crusty pastry shell, and I bought one . . .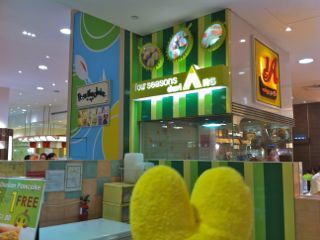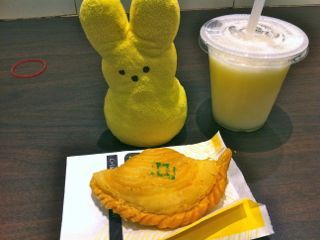 It looked so pretty . . . but I bit into it and THOUGHT I WAS GOING TO DIE. IT WAS THE FOULEST THING I HAVE EVER HAD IN MY ENTIRE LIFE. IT WAS AS IF A DEATH EATER HAD MADE IT. THE COMBINATION OF THE SMELL GOING UP MY NOSE AND THE DURIAN GOING DOWN MY THROAT MADE ME WANT TO VOMIT.
So, I ran to another stall and bought something that looked like donut holes, but they weren't, and ate the entire bag . . .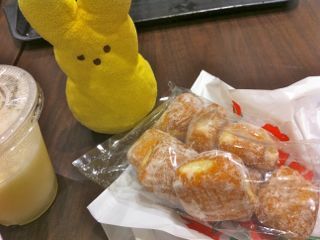 Luckily for me, the dreaded awful Durian was only one bite -- one horrible bite that I will never forget. However, the rest of the food in Singapore was wonderful, delicious, incredible. Why? Because of the
hawker fare
Singapore is famous for. So, to off set the dreaded Durian, I'll show pictures of incredibly delicious fare. These are from
Lau Pa Sat
. . .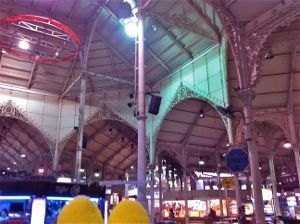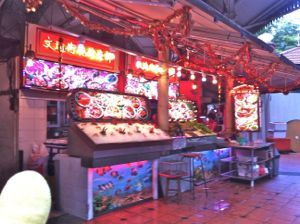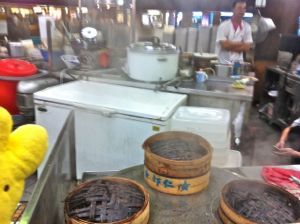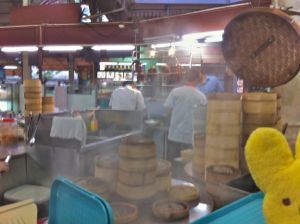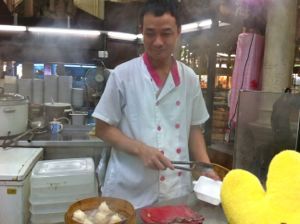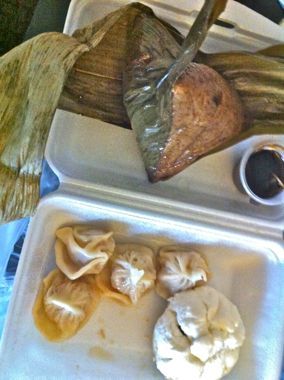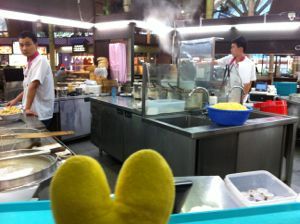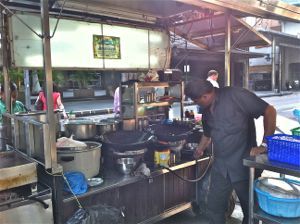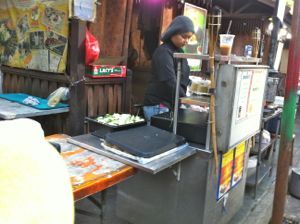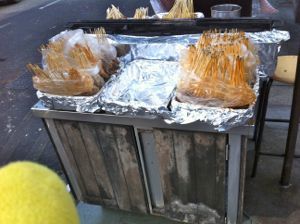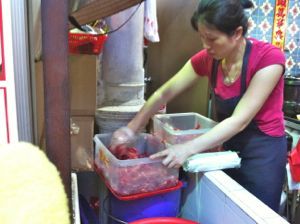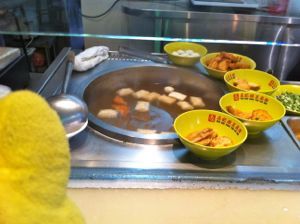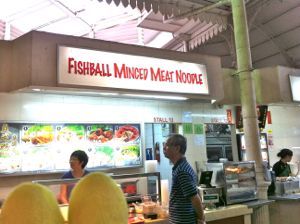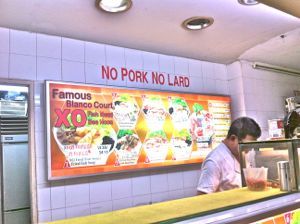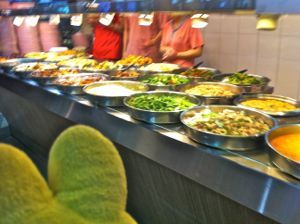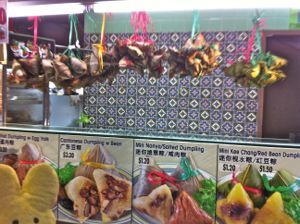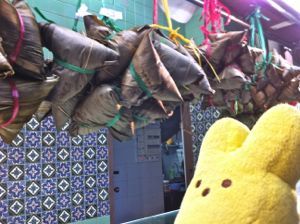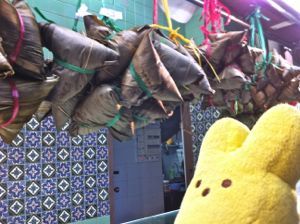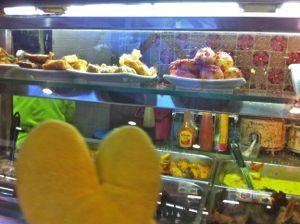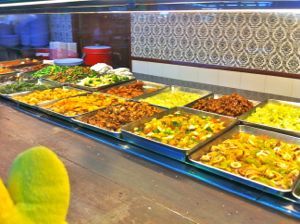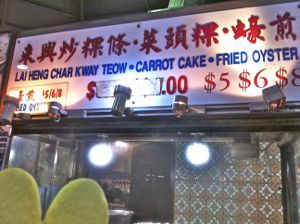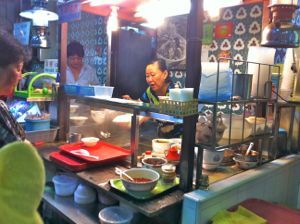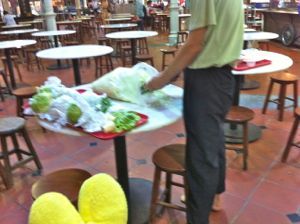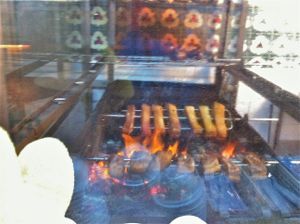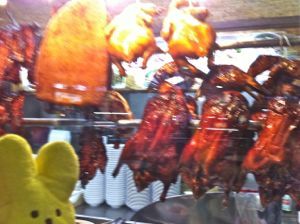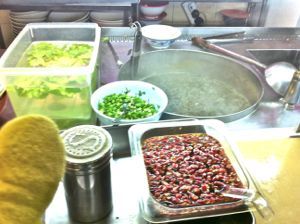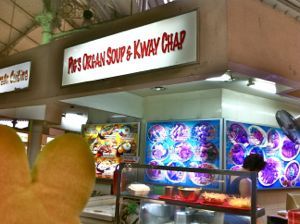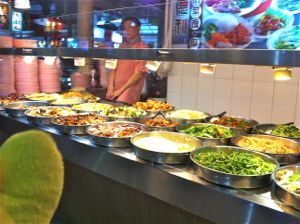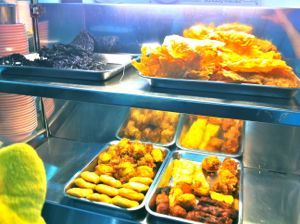 Of course, the best dinner I had was at a little restaurant tucked away in a corner in Tang's on my last night. Why? Because it was with a group of
Singapore SCBWI
members, plus Australian author
Jacqueline Harvey
who was on a book tour!!!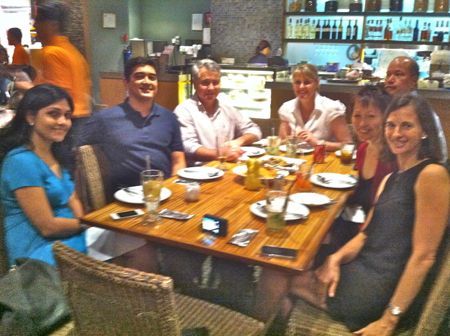 (From left: Sumi Chandrasekharan, Kenneth Quek -- SCBWI Regional Advisior, Ian and Jacqueline Harvey, David Seow, Angelina Jolie, and Sarah, Mounsey, and Peepy (middle)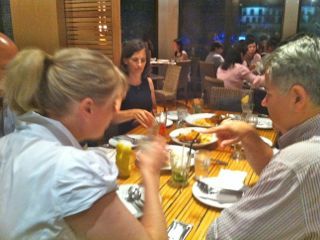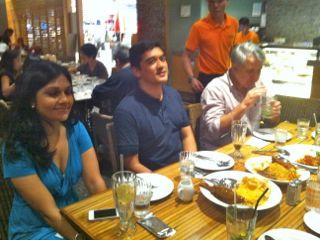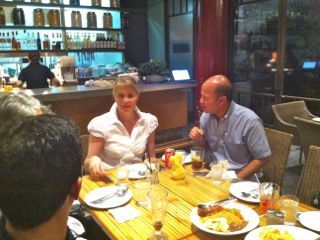 All too soon it was time to head home. But not before one final meal in the airport . . .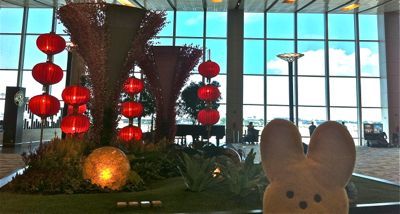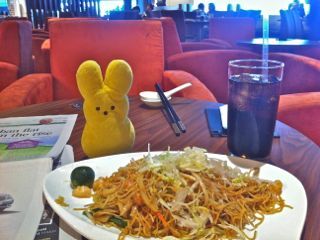 Thank you, Singapore for your wonderful hospitality!!!! (But not for the Durian.)
===========================
Books make lovely
gifts
for you or someone you know, or someone you may know sometime. If you'd like an autographed book o' mine, order from
Vroman's
. Be sure to tell them that you'd like me to sign them, and include the name(s) of who the books should be made out to. Then Vroman's will mail it/them to you!"

Disclaimer: No proofreaders were harmed (or even used) in the creation of this blog.
Want to check out Lisa's NEW AND IMPROVED website? Simply
CLICK HERE
.
Interested in having Lisa speak at your school, library or conference?
CLICK HERE
for more information.
Lisa Yee
Subscribe to Lisa Yee's Blog and get her fresh baked blogs e-mailed to you!

Or you can click this for a RSS feed...