Wait, wha . . . ? You're still in Scotland? (Meaning, me. I'm still in Scotland.) Well, yeah. Duh. Time Machine!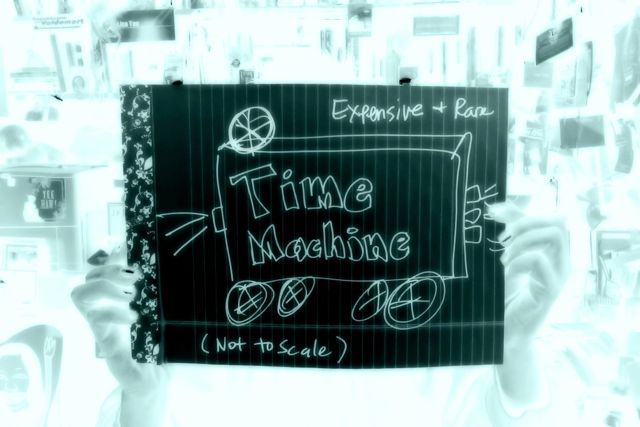 The
Downtown Abbey
gang was in Scotland for the holidays, and so were we . . .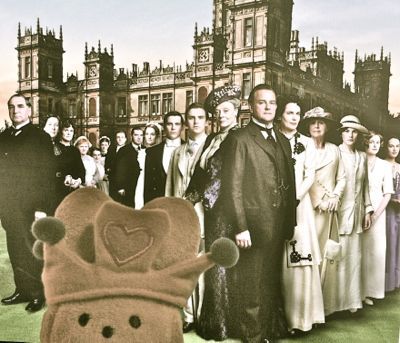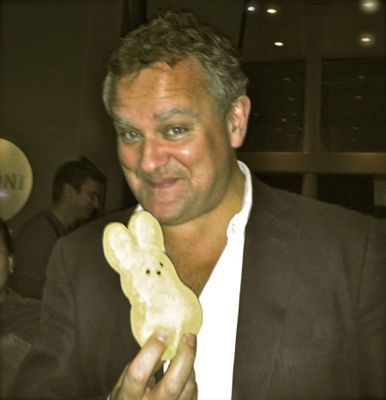 (
Peepy
and Lord Grantham, aka Hugh Bonneville, met for the first time,
here
.)
So then, Scotland-wise, I was
HERE
, and I was
THERE
. Now, I'm here and there . . .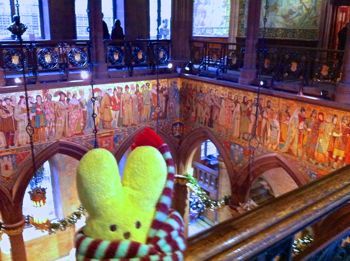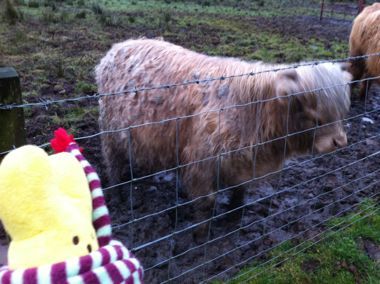 Let's start with here with some museum-quality photos. Yes, we visited the
National Museum of Scotland
. . .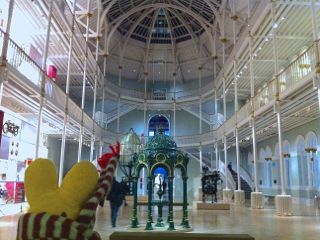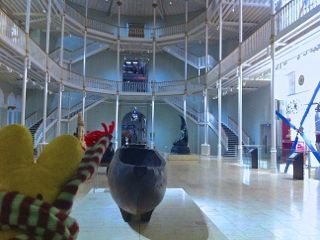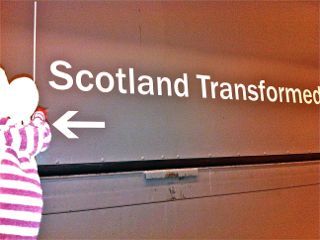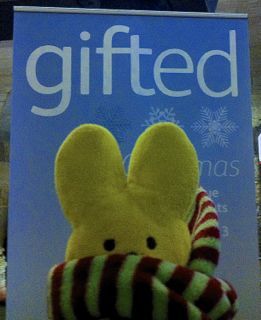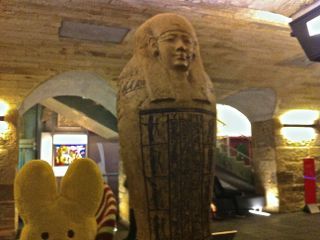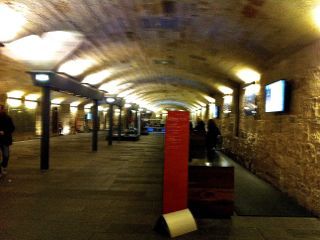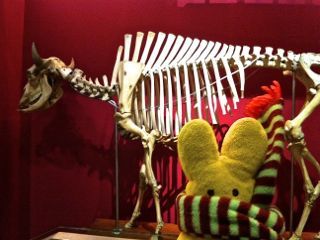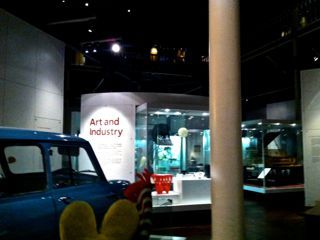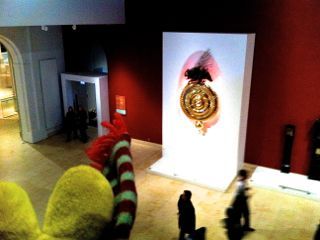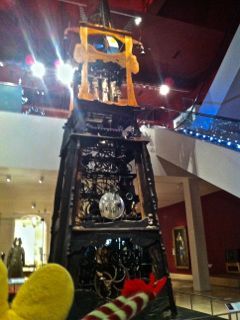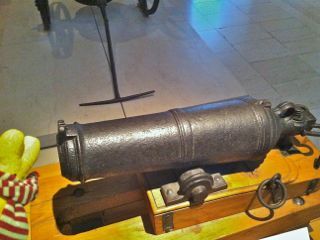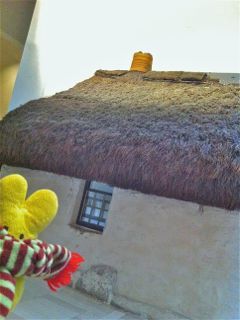 Oops. There was an accident, but everyone was okay . . .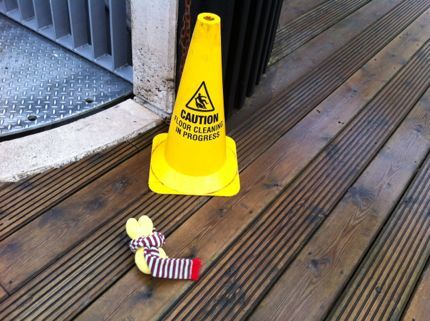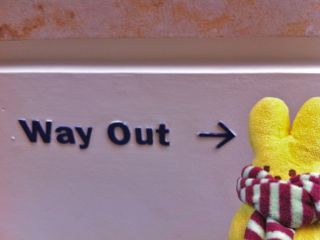 While we were at the
Scottish National Portrait Gallery
we saw this painting of Professor
Peter Higgs
as in
HIGGS Boson
. . .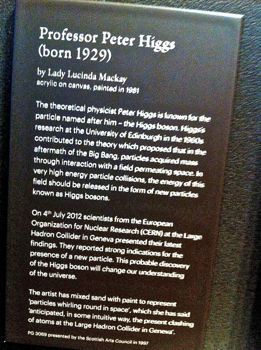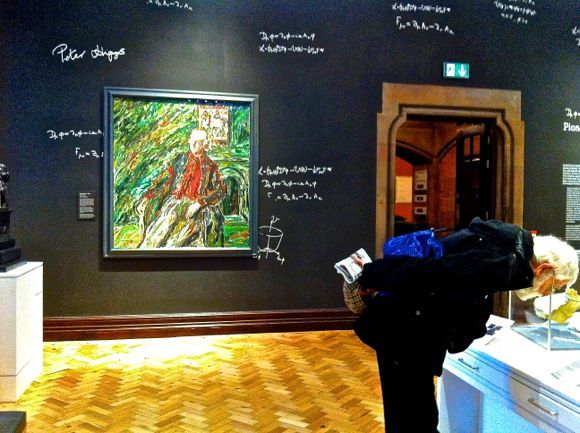 It was so cool to see it because in my upcoming Young Adult Novel, SEVEN DAYS DOWN, the main character's name is Higgs Boson Bing! (The book is about the last seven days of high school for a Harvard bound senior . . . and what happens when it's discovered that he cheated on his application.)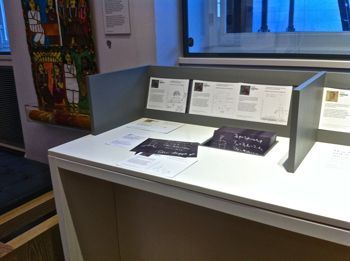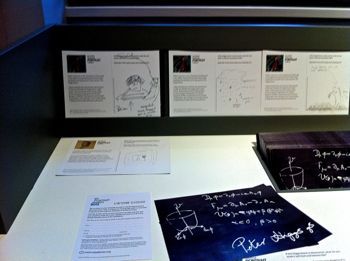 (Above: Not to brag, but that's my illustration IN THE MUSEUM. Um, anyone who wanted to draw was allowed to.)
Here's more of the museum . . .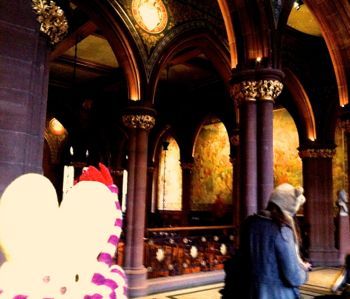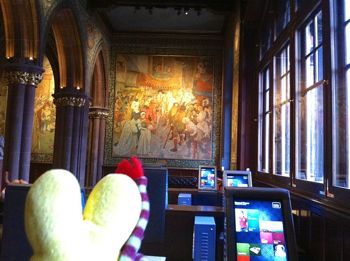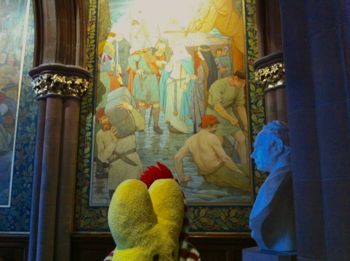 The
Museum of Childhood
was full of awesome rare toys!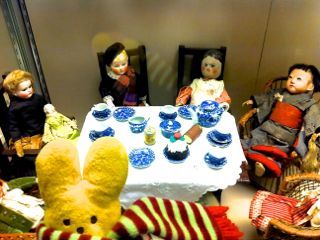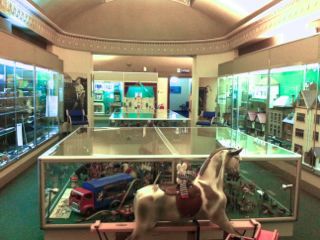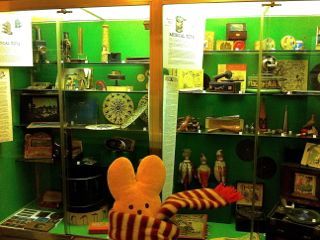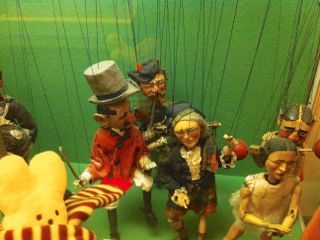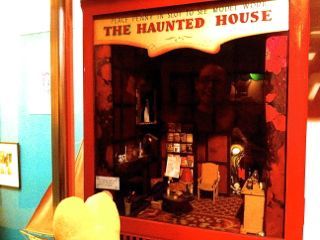 And now, let's visit way over there. We took a day trip to the famed Scottish Highlands. Our guide, repeatedly, repeatedly, said that the movie BRAVEHEART was an affront to the Scottish people and everything in it, including Mel Gibson, was all wrong . . .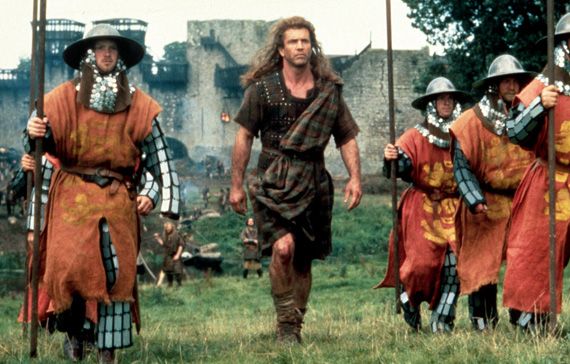 So, here's the real deal . . .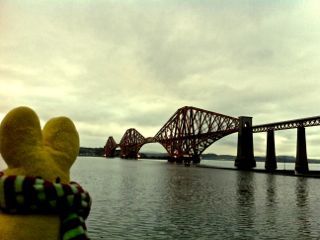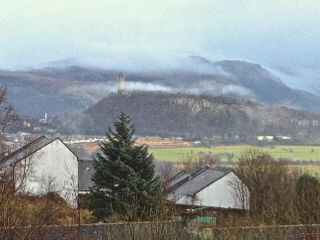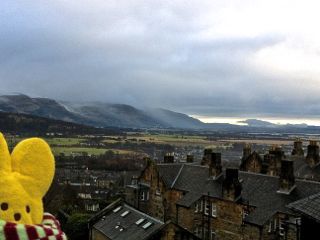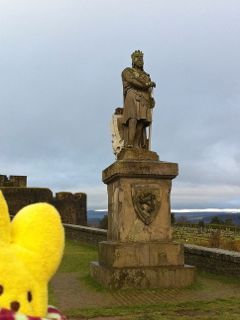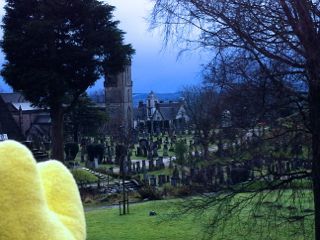 It was great fun running around Doune Castle,
the site of the filming
of
Monty Python and The Holy Grail
.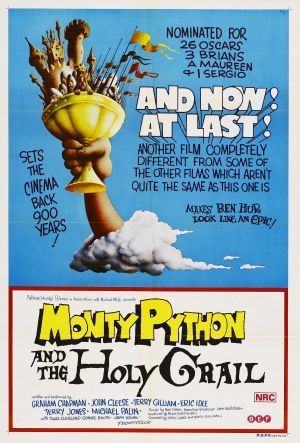 Our guide even lent us some coconuts so we could pretend to be horses. (If this makes no sense to you, see the movie.)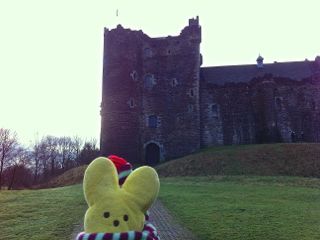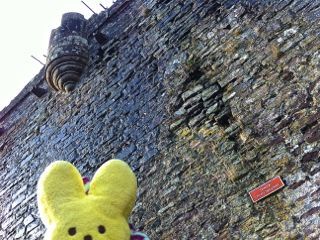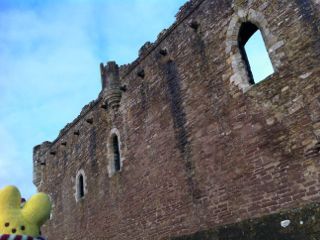 Later, we went to the ness (a.k.a. "lake") . . .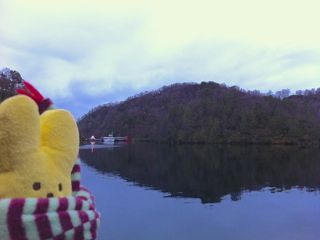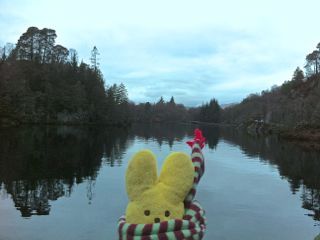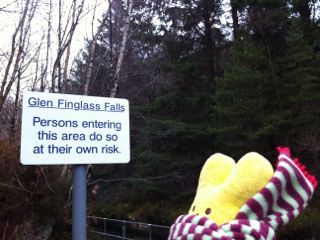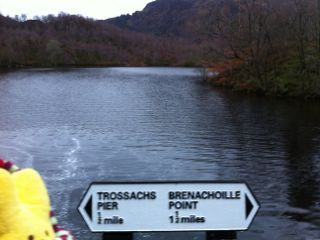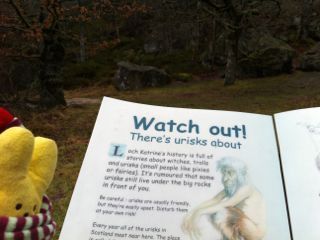 But the highlight of the highlands was meeting the
Hairy Coo
. Them's a sort of Scottish cow. Aren't they cute?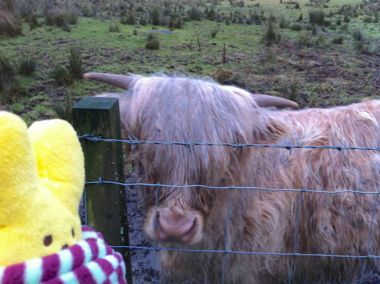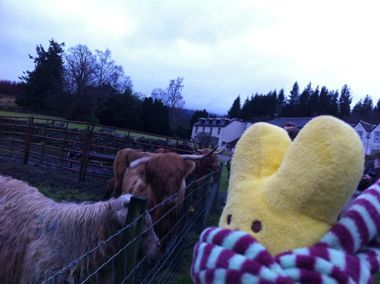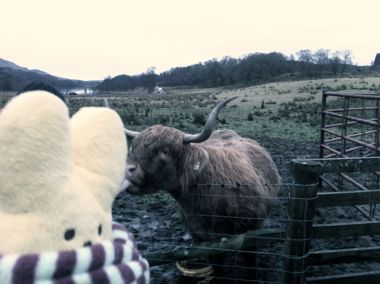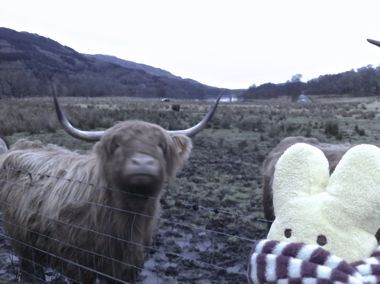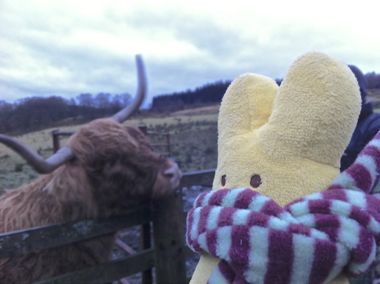 Cows are my friends. In fact, in another lifetime, I co-wrote this video for our Dairy Farmers . . .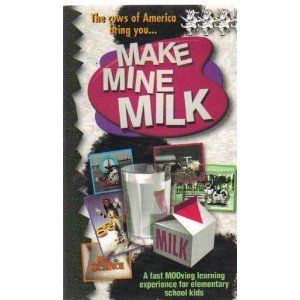 When our guide asked for volunteers to feed the Hairy Coo, I jumped up and down and cried, "Pick me! Pick me!"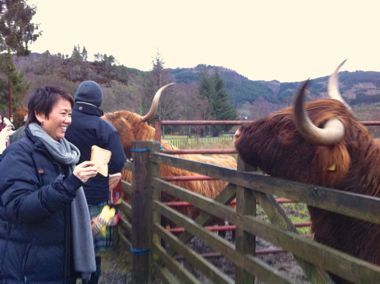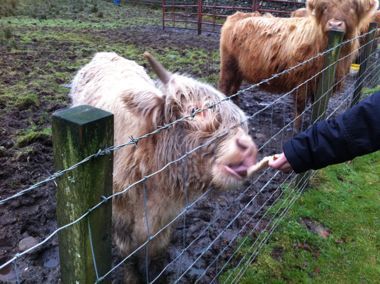 Ah, what a wonderful time we had in Scotland. We'll be back!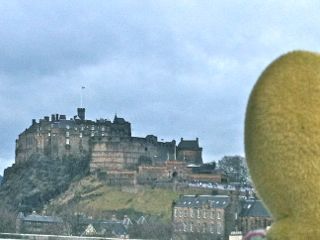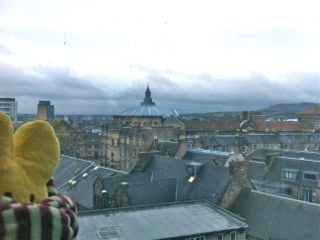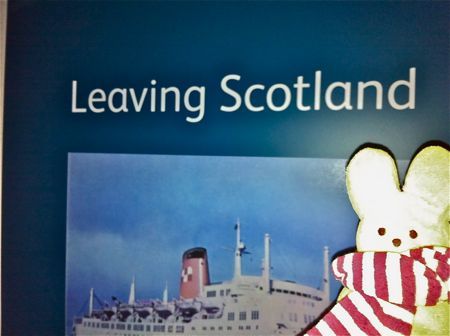 ===========================
Books make lovely
gifts
for you or someone you know, or someone you may know sometime. If you'd like an autographed book o' mine, order from
Vroman's
. Be sure to tell them that you'd like me to sign them, and include the name(s) of who the books should be made out to. Then Vroman's will mail it/them to you!"

Disclaimer: No proofreaders were harmed (or even used) in the creation of this blog.
Want to check out Lisa's NEW AND IMPROVED website? Simply
CLICK HERE
.
Interested in having Lisa speak at your school, library or conference?
CLICK HERE
for more information.
Lisa Yee
Subscribe to Lisa Yee's Blog and get her fresh baked blogs e-mailed to you!

Or you can click this for a RSS feed...