Hello? Where are we now? Why, even though we've been
here
, blog-wise we're
there
, in New York.
How does that work? Well, we had just had
a wonderful day
at the Brooklyn Book Festival, and then it was time for EATING FOOD WITH LITERARY PEOPLE.
Let's start with multi-Caldecott-ian winner
Paul O. Zelinsky
. He's the newest
SCBWI board member
. (I'm on the board, too.) Paul and I both suffer from memory loss, and we couldn't remember if we had ever met before. However, that did not stop him from treating his favoirte Peep to coffee and a muffin!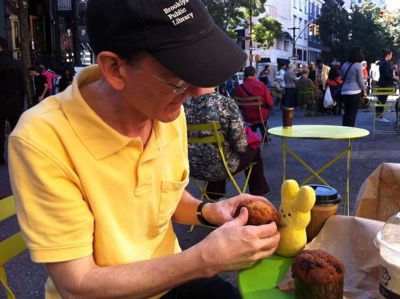 Then, that night, it was off to Park Slope to dine with my editors,
Arthur Levine
and
Cheryl Klein
. . .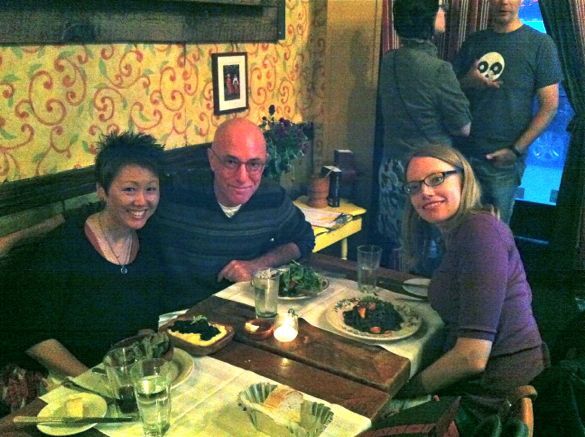 It was Cheryl's birthday the day before so
Peepy
bought her a handmade mug!!!
(It's possible that the mug was from Arthur and Peepy was taking credit for it.)
Arthur also had a present for me . . .
Yes! A sock monkey. Eons ago when I was writing
MILLICENT MIN, GIRL GENIUS
(which just celebrated its 9th birthday), I could write without a sock monkey. (Don't you hate when that happens?) So Arthur sent me an imaginary one.
The next day it was lunch with author
Phil Blinder
and editor/author
Kevin Lewis
. I met them at their loft, and Kaniss, their puppy greeted Peepy. Um, for a while it looked like we might stage a remake of THE HUNGER GAMES . . .
Everyone survived, and we went on to have a great meal! Speedy Romeos. (That's the name of the restaurant -- and/or the two guys.)
Dinner with my agent was that night. I gave myself plenty of time to get lost -- something I can count on happening when in NY.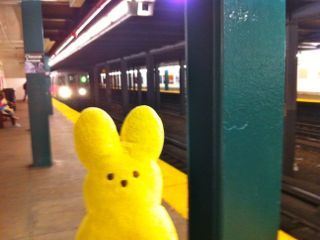 I got to Koi, the restaurant almost two hours early. So that gave me time to go to the library and wander around the area . . .
We made sure to visit the
Children's Center
and visit our dear friend
Winnie-the-Pooh
, and his friends . . .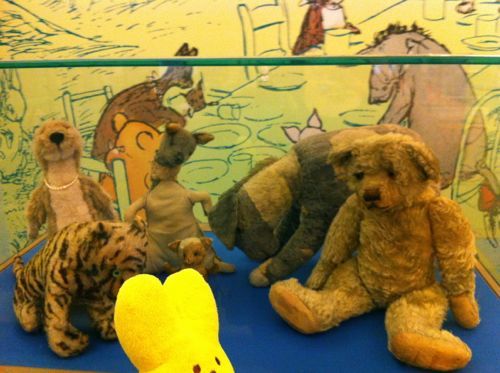 (As some of you know, I have the second largest collection of Poohs in America. Most of my collection resides in the White River Winnie-the-Pooh Museum in Canada.)
Then we admired the rest of the Children's library . . .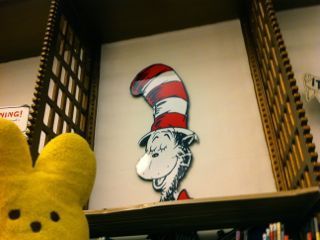 There was still time before our dinner, so we hung out at Bryan Park, where there appeared to be a mass hoe down happening, and other stuff, too . . .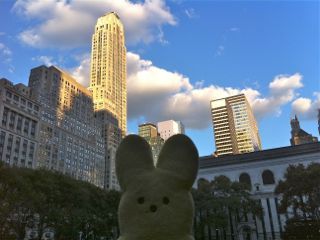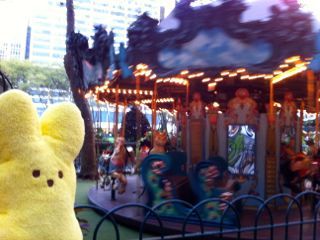 My
Writers House
agent,
Jodi Reamer
, and Peepy, along great, for the most part . . .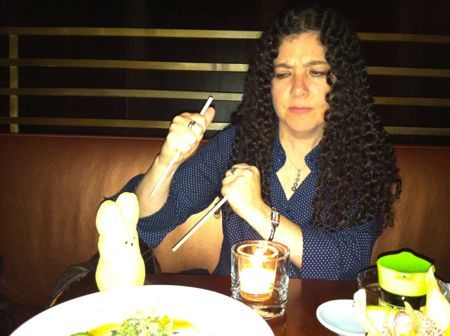 When we last saw Jodi, we were
in jail at Disneyland
. . .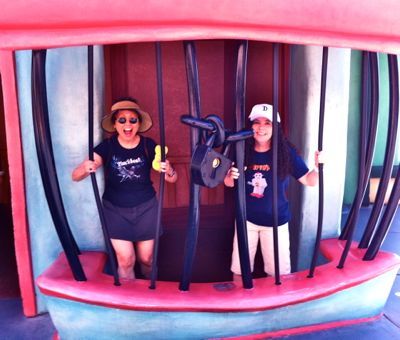 Later, we hopped on
our space shuttle
. . .
(
CLICK HERE.
if the video above is invisible.
We were headed to Sioux Falls for the South Dakota Festival of Books. But I'll tell you all about that next blog.
In the meantime, since we're being all authorly and agently and editorly (but clearly not proofreaderly), I want to tell all the published authors out there about this . . .
A couple of years ago, I wrote a letter to Alan Silberberg when he was selected as the Thurber House Children's Writer-in-Residence. He went on to win the Sid Fleischman Humor Award, something I won in 2004 when I was the first recipient.
Later,
Donna Gephart
went on to be selected at the Thurber House Children's Writer-in-Residence. She also won the Sid Fleischman Humor Award.
And then after that, Colin Firth as Mr. Darcy was selected as the Thurber House Children's Writer-in-Residence, and then won the Sid Fleischman Humor Award. No wait, that hasn't happened yet, but here are some of the
other authors
who lived in James Thurber's home.
Here's what happened when
I had lunch
-sort-of-maybe-kinda with Colin Firth . . .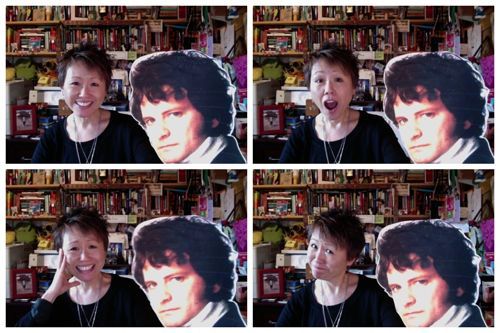 Oops. Sorry for that Darcy digression. Anyway, if you are a published children's book author and would like to be considered for the Writer-in-Residence position,
CLICK HERE
for more information.
Here's the letter I wrote to Alan, re-engineered for the next Thurber House Children's Writer-in-Residence . . .
Dear YOUR NAME HERE,
Congratulations on being named this year's
Thurber House Children's Writer-in-Residence
. I remember when I got
the call
. It was sooooo exciting! I can't believe that last year at this time I was living in Thurber House. I just know your residency is going to be great.
Since you asked (okay, you didn't, but I'm going to do this anyway), here are some helpfulhintssuggestionsthings to make the most of your month living in
James Thurber's childhood home
:
The house is TOTALLY cool . . .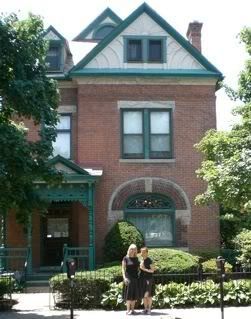 (That's me and my friend
Julia deVillers
. If you have a friend visit you, Thurber House rules are that you must wear matching outfits at all times.)
Feel free to explore and soak up the atmosphere. You get your own swell two-bedroom apartment in the attic where the
bed fell
on James's father--AND the
rest of the house
(which is a museum during the day) is all yours at night!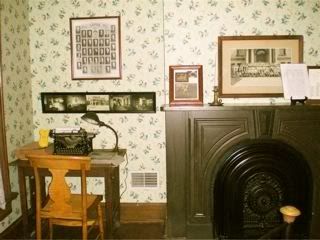 (Above:
James Thurber's
room where James and I wrote, though not at the same time)
Beware of the (friendly)
ghost
. . .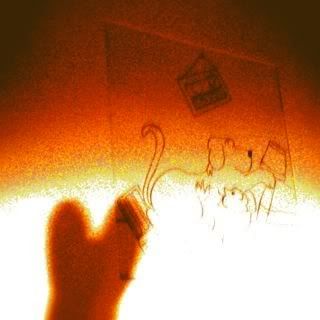 Don't go running
. You may fall flat on your face and end up in the hospital looking like a color palatte . . .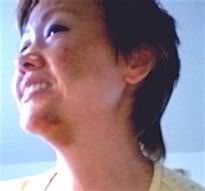 Write in the garden. So nice to be sitting among the dogs!
Enjoy
the hospitality
. There are lots of
friendly people
in Columbus, OH.
Get ready for enthusiastic
Thurber writing camp
authors . . .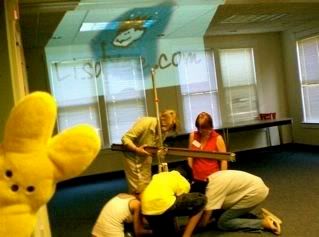 (Ummm . . . it took us a while to figure out the screen, but once that was up, we really got going!)
Have fun at the
Dowd Center
. Those kids will amaze you with their creativity. Earlier this year Scholastic donated
500 books
to their library . . .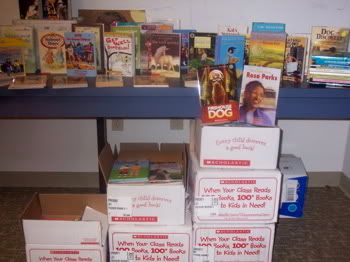 Walk around town (don't run) and take in the sights. There's
art everywhere!
. . .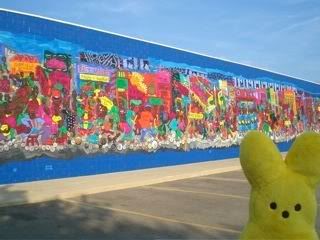 The Columbus
Main Branch
is only a couple blocks away . . .
If you can catch a ride, check out the award-winning
Worthington Libraries
. . .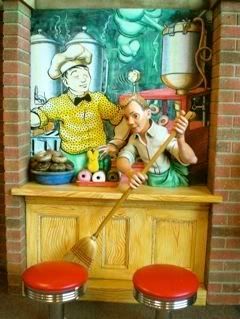 Watch your Peep at all times, she could get in dangerous situations . . .
The
amazing women
who run
Thurber House
are wonderful . . .
The men aren't so bad either . . .
Here are the stairs to your own private writer's apartment . . .
And here's your official plaque . . .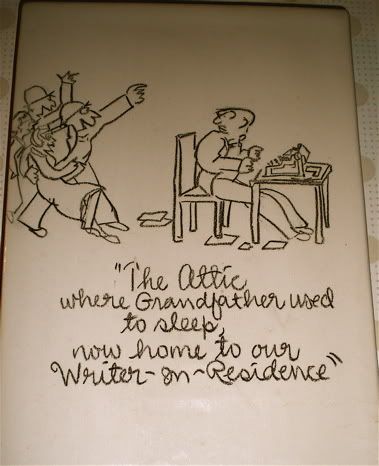 So then. If you are a published children's author, or know of one,
check this out
. Maybe you (or they) be the next Thurber House Children's Writer-in-Residence.
Oh, and speaking of books, my friend Mike Jung just had his first-ever launch party!!! You can see/hear about it
HERE!
Subscribe to Lisa Yee's Blog and get her fresh baked blogs e-mailed to you!