Are you a mom? Do you know a mom? Did you have a mom? How about a daughter? Are you a daughter? Do you have a daughter? Do you know a daughter? If so, read on . . .
Last week was the third annual Mother Daughter Book Party at
Flintridge Bookstore & Coffeehouse
. . .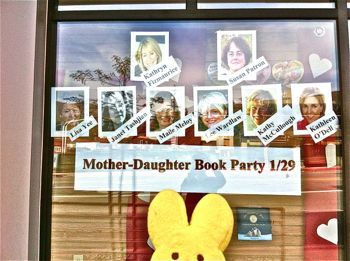 (Um, part of the sign got cut off because -- because Peepy was goofing off and distracted me.)
The
first time
I was part of this event, it took place off-site . . .
That's because a four-wheeler truck had crashed into the center of the bookstore and demolished it. Here's a photo of when
I had taught a writing workshop
at the old location, and what it looked like about one month later . . .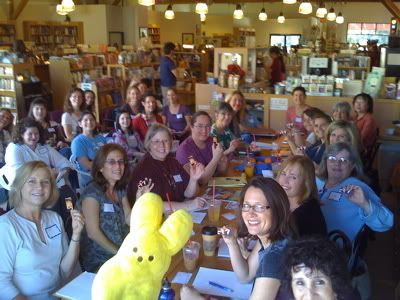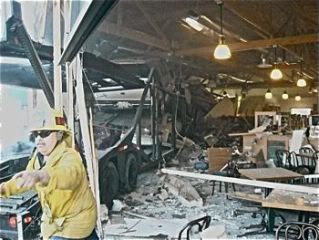 Happily, a new bookstore was been built and has been up and running!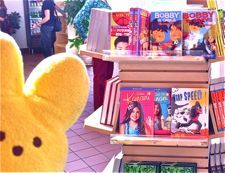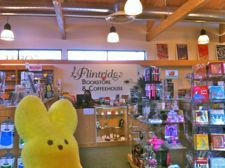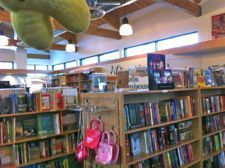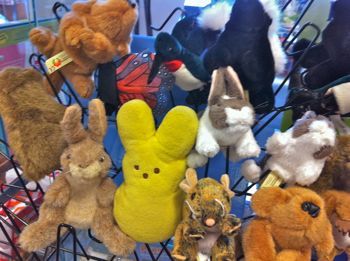 It even has two espresso machines. One for printing books (
Espresso Book Machine
) and for pouring coffee . . .
BTW, I'm not sure if you are aware of this, but I have started drinking COFFEE!!! on a regular basis, and I'm not sure what the big deal is. It doesn't affect me in any way . . .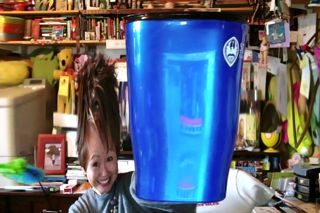 Anyway, back to books. Before we started,
Peepy
and I chatted with
Susan Patron
,
Janet Tashjian
and
Catherine Linka
, the children's books buyer and mastermind behind the event. We discussed particle/wave duality and the Copenhagen Interpretation of quantum theory . . .
In case you weren't able to eavesdrop on us, I've diagramed the conversation for you . . .
Here we are with
Kathleen O'Dell
and
Kathryn Fitzmaurice
. . .
The authors were in different areas of the store. Oh, look! There's
Lee Wardlaw
and friends, and Kathryn getting ready . . .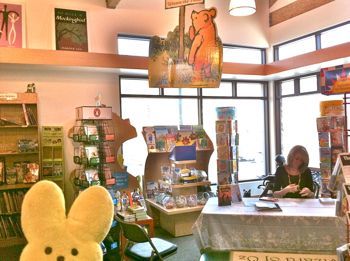 I was in the back of the store, and Catherine The Bookseller (for the record, there was a Catherine the bookseller, and authors Kathy, Kathleen and Kathryn there), said I was "the milk."
I wasn't sure what that meant, but she went on to explain that in a grocery store the milk is always in the back because people gravitate toward it!!!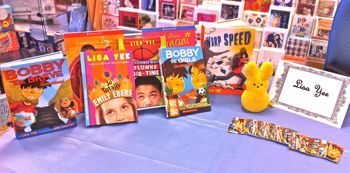 We had over 80 moms and daughters attend! Here are some of girls I spoke to . . .
I loved being the milk!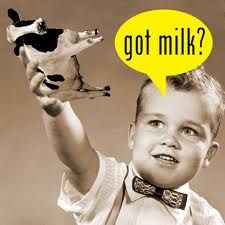 Speaking of typos (pretend we were), here's a lovely little Storycorp video that shows us that
not all typos are bad
. . .
NEXT BLOG: My private personal lunch with Colin Firth.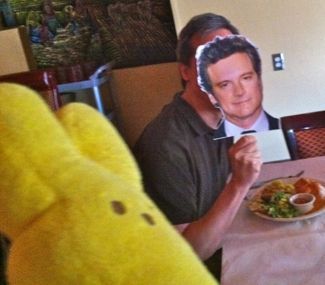 ----------------------
Disclaimer: No proofreaders were harmed (or even used) in the creation of this blog.
Want to check out Lisa's NEW AND IMPROVED website? SImply
CLICK HERE
.
Interested in having Lisa speak at your school, library or conference?
CLICK HERE
for more information.
Upcoming Events . . .
This month, I'll be in Austin, TX for the
SCBWI Regional Conference
and I'll also be in Vancouver for the
Serendipity Conference
. . .


In March, I'll be at
LitFest Pasadena
, and in April, you can find me
here
. . .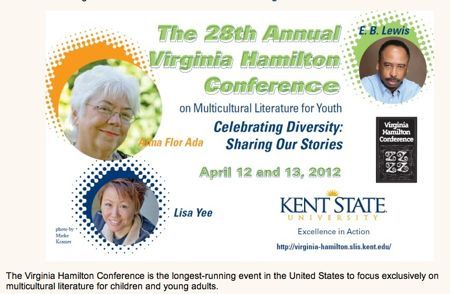 Lisa Yee
Subscribe to Lisa Yee's Blog and get her fresh baked blogs e-mailed to you!

Or you can click this for a RSS feed...