What's that? Where are you?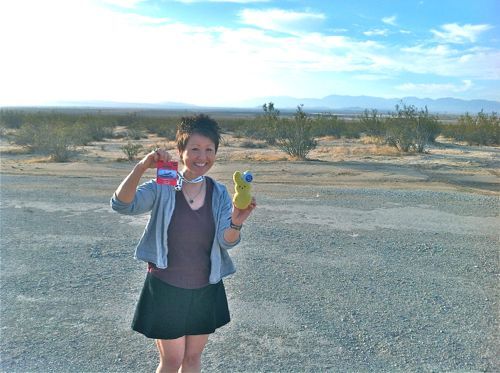 It began a short while ago. My friend Linda Bernfeld, who's husband works with NASA, sent me a link to a
NASA website
.
It seems they were looking for people who were involved in social media -- Twitter, Facebook, blogs. Those selected would have unprecedented access to the space shuttle
Endeavour's
arrival via a 747 carrier at Edwards Air Force Base.
I thought I had no chance, but applied along with over 2,000 people. But then, this happened . . .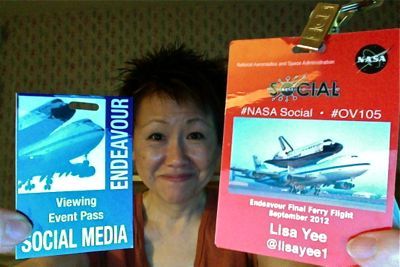 The event took place over three days, but this blog will focus on Day 2, the day Endeavour arrived at Edwards Air Force Base. (I'll blog the other days later.)
That said, I need to tell you that on Day One, I got lost in the desert. I was sooooo upset about being late, I cried. NASA Social Media/ Dryden Flight Center knew I was lost and even Tweeted trying to find me . . .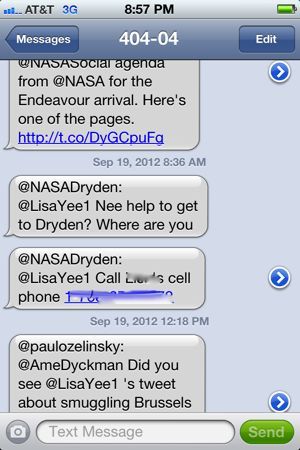 (Um. Ignore that bottom Brussels sprouts Tweet.)
Luckily a nice Sparklett's truck driver gave me directions.
The next day, Day Two, I was determined not to be late. We were supposed to arrive at 8 a.m. I got there at 6:40 a.m. and was the first of Nasa Social Media to arrive . . .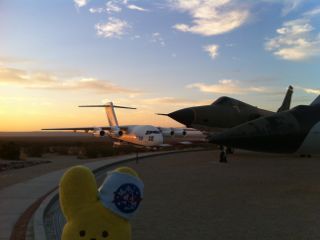 The only others there were a TV crew from CBS. While we waited,
Peepy
made new friends . . .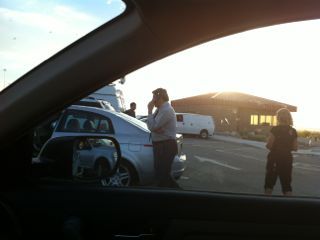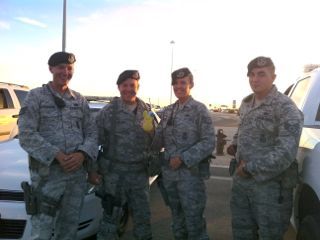 As before, our car was search by a bomb-sniffing dog. Only this time THERE WAS A BOMB IN MY CAR!!!!!! Okay, so it was a smoke bomb. And the military put it there with my permission to test their dog. Still, it was quite exciting. The dog was to heel if he found the bomb . . .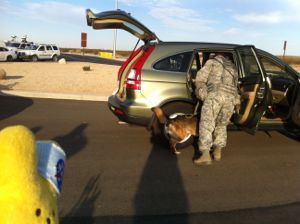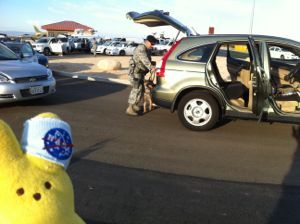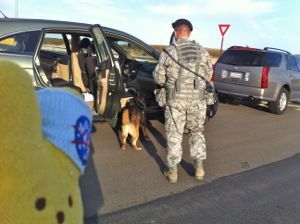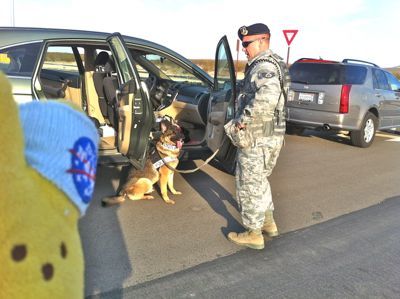 Once inside we were given our schedule. Here it is, along with the witty, charming and attractive NASA Social Media-ites, all listening to Peepy go over the day's agenda . . .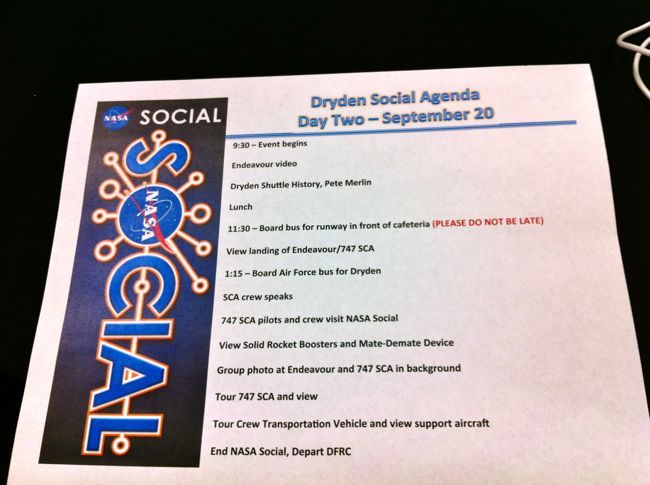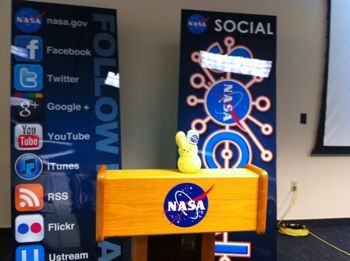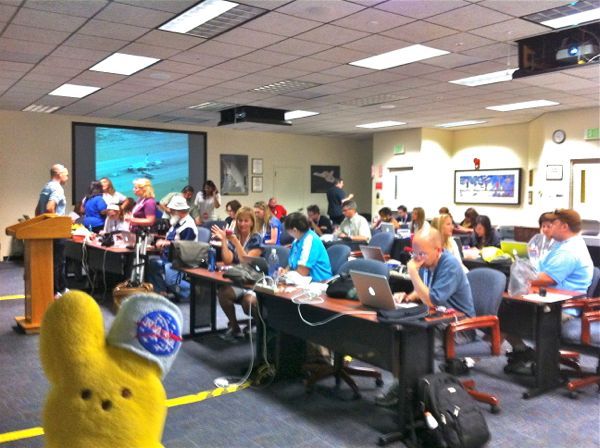 The head of the California Science Center, where Endeavour will make a permanent home, spoke to us, and then we boarded a bus to the runway . . .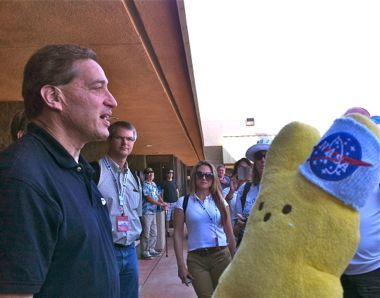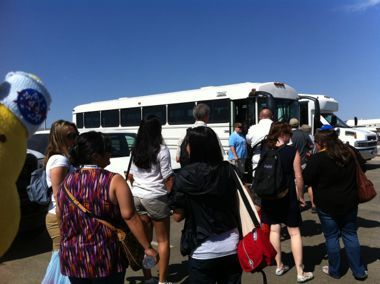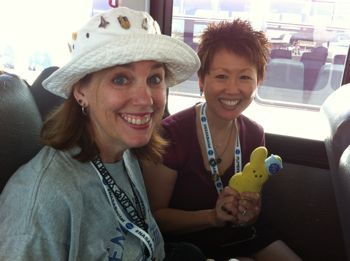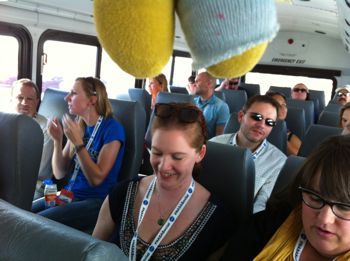 Here's a
Daily Trojan article
about Endeavour and the science center, which is next door to my alma mater, USC. And speaking of USC, in case you missed it, who's the USC Alumni author of the month with her list of Five Must-Read Books???
CLICK HERE
to find out the mystery person who gets lost in cars and in books.
Oops. Digression. Back to the Endeavour arrival.
Were we excited? Well, duh, yeah!!!
The desert was hot. I forgot to check the temperature when we were out there, but I think it was about 147 degrees, maybe more. Here's the 5:53 p.m. temperature . . .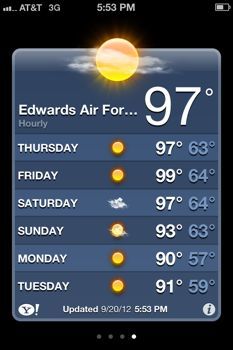 We marched down a rocky road to the runway . . .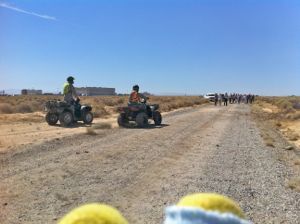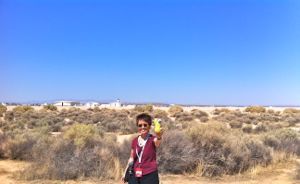 There were some false sightings and everyone got all exciting thinking it was Endeavor, but it wasn't . . .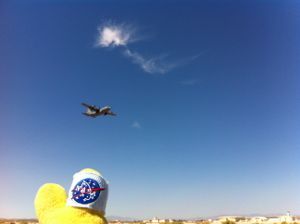 To pass the time, NASA Social Media-ites took photos of a celebrity . . .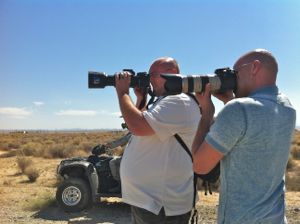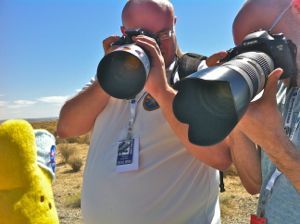 Then we spotted the real thing! The 747 carrier with the Endeavor piggybacked on it did a flyover first . . .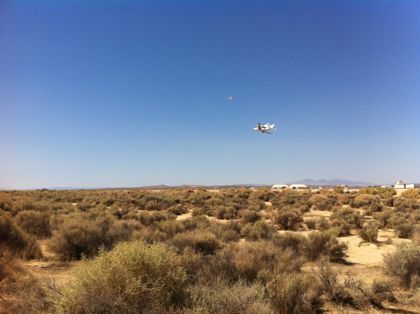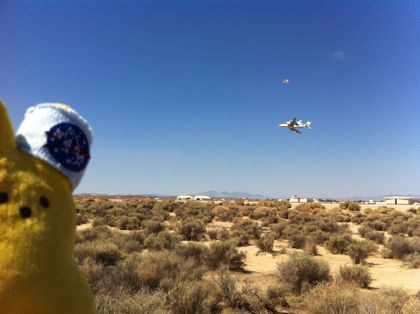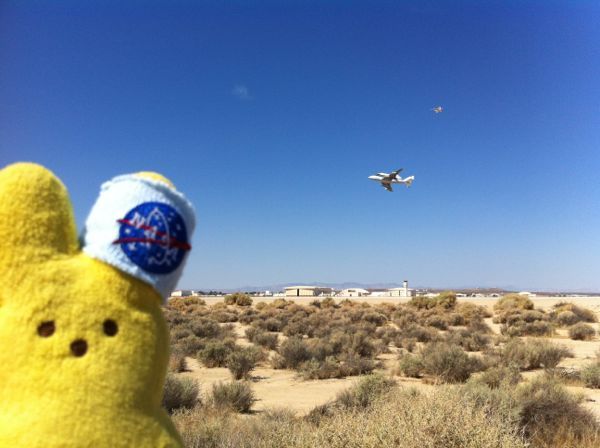 It was a beautiful site.
Before we could catch our breath, Endeavour came right toward us for the landing. We were just 500 feet away. Squeeeeee!!!!!!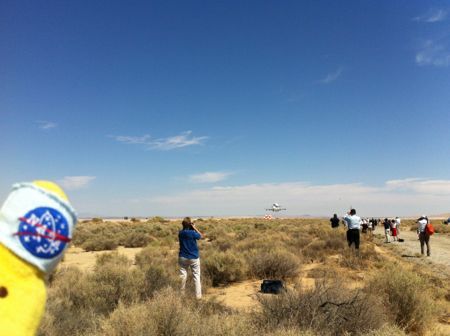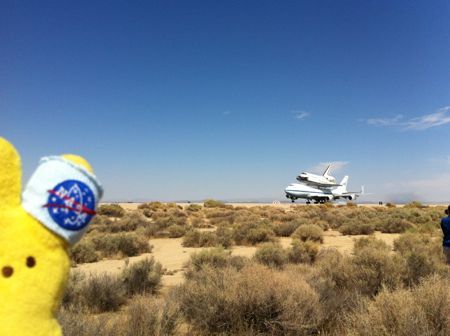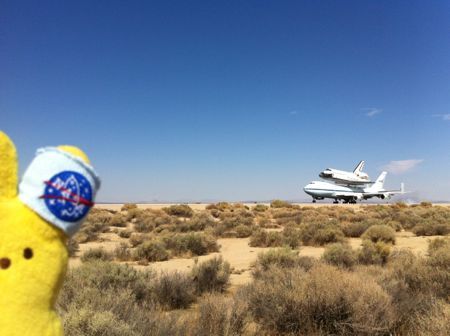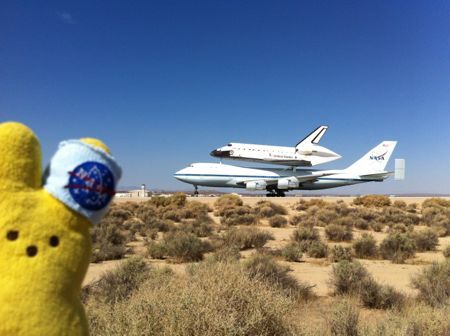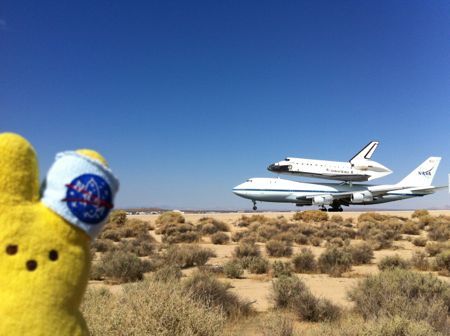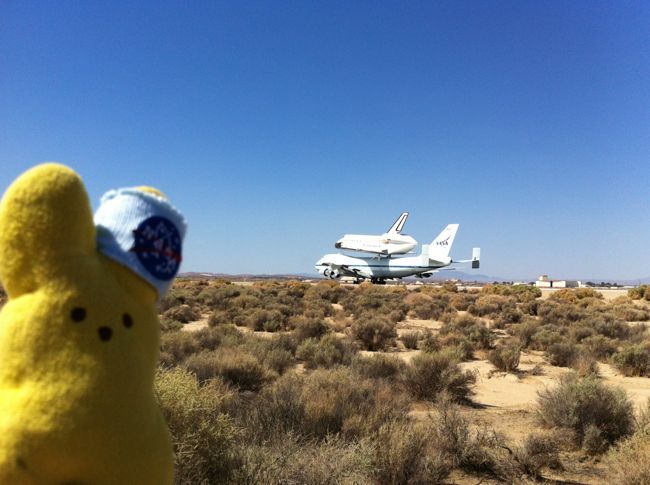 Yes, it was a VIP (Very Important Peep) viewing!!! On the bus ride back, everyone was flushed with excitement and sunburn . . .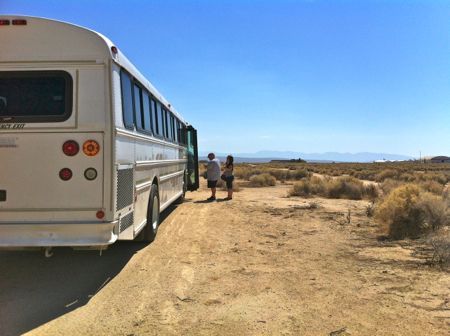 Our NASA Social Media group even scooped the traditional press!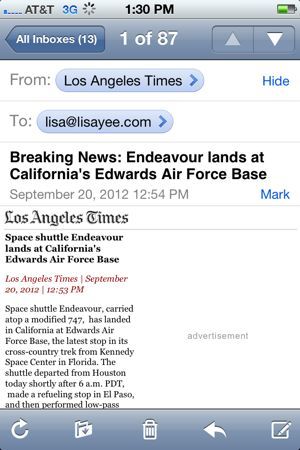 But that wasn't the end of the day. I'll blog in more detail next, but we also met the pilot of the 747 Carrier and got to go inside the 747 itself . . .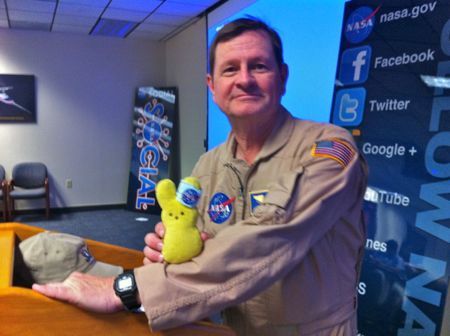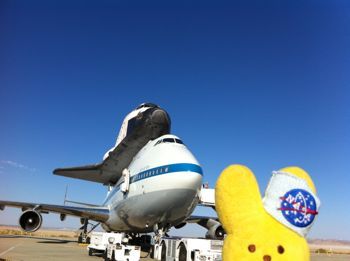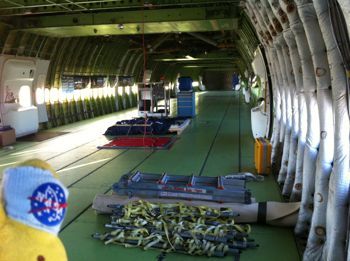 So then. How would I rate this experience? Well, honestly, it was one of the highlights of my life, even ranking higher than the time Son did the dishes without me having to ask him.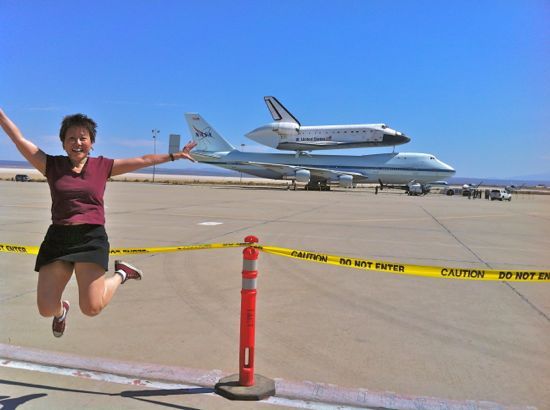 ===========================
Wheeeee . . .
BOBBY THE BRAVE (SOMETIMES)
is now out in paperback!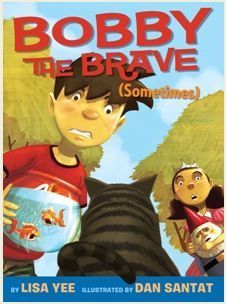 September events:
Brooklyn Book Festival
Youth Stoop (Borough Hall Plaza/Columbus Park)
10:00 A.M. Humor Me. Franklin is a fourth grader with a big imagination and an alter ego named Frankie Pickle; fifth graders Lydia and Julie are best friends who observe "the popular girls" at their school to discover the code of popularity; and Robert is a normal fourth grader who gets into crazy situations! These hilarious characters spring from the minds of authors Amy Ignatow (The Popularity Papers), Eric Wight (Frankie Pickle series) and Lisa Yee (Bobby the Brave [Sometimes]), all of whom have an uncanny knack for writing laugh-out-loud funny, illustrated chapter books that elementary school kids love. Moderated by Lisa Graff (Mothership).
1:00 P.M. The Balls' In Your Court. Guys will want to get reading with humor author favorite Jon Scieszka (Spaceheadz, Stinky Cheese and others), Gordon Korman (39 Clues) and Joseph Bruchac (Wolf Mark) as they discuss the latest Guys Read Volume 3, which combines the great pleasures of sports and reading. Moderated by Lisa Yee (Bobby the Brave).
South Dakota Festival of Books
SATURDAY, Sept. 29
12 – 1:30 PM ~ SPECIAL EVENT — Holiday Inn, Starlite — Tea with American Girl author Lisa Yee — Lisa Yee, author of the Kanani series, will host a tea party for kids and adults that includes beverages and desserts, with a Kanani American Girl doll to be raffled at the event! TICKET REQUIRED ($15)
3 - 3:45 - WARP SPEED! Lisa Yee will be talking about her kids' novels, and strange and hilarious journey to becoming a bestselling author. FREE
Disclaimer: No proofreaders were harmed (or even used) in the creation of this blog.
Want to check out Lisa's NEW AND IMPROVED website? Simply
CLICK HERE
.
Interested in having Lisa speak at your school, library or conference?
CLICK HERE
for more information.
Lisa Yee
Subscribe to Lisa Yee's Blog and get her fresh baked blogs e-mailed to you!

Or you can click this for a RSS feed...